Though aging is a fact of life, we all struggle with the inherent challenges of getting older. Gray hair, tress fall, wrinkles, and fine lines are among top beauty concerns— yet shifting societal views plus a wealth of new, efficacious products have also made this a better time than ever to embrace our age. We consulted top experts and hit up the hottest pro brands for the latest developments in antiaging.
Gray Days
To be clear, there's nothing wrong with going gray. It's a natural part of life and aging, as evidenced by dames like Diane Keaton and Helen Mirren who've chosen to embrace their inner silver goddess. But why does hair turn gray? Chalk that up to melanin, a pigment found in human hair and skin, of which there are two types. Eumelanin is dark (brown or black), while pheomelanin is light (yellow or red). As we age, the pigment cells in our hair follicles gradually stop reproducing. Some doctors call it the 50/50/50 rule: Roughly 50 percent of people have 50 percent gray hair by age 50. Caucasians gray first, followed by Asians, then African-Americans— though scientists haven't quite determined why.
This beauty concern may feel sensitive, but stylists can help. "Communication is key to solving issues, so offer clients a complimentary consultation before booking an appointment," suggests Jack Martin, owner of Jack Martin Salon in Tustin, California. "Prepare the questions you want to ask in advance, then determine which coloring solution might work best according to specific lifestyle needs." While some may choose to color silver strands on a regular three- to four-week basis, for others, a salt-and-pepper look appeals. "Rather than removing white, I often o er to add additional silver accents around the face, and discuss modern cuts to suit such styles," Martin explains. Even natural gray hair needs maintenance: At the very least, purple shampoo boosts icy-silver highlights while nixing brassy undertones. "Here's one important tip I give clients worried about going fully gray: Go to a shop and try on a gray wig," Martin relays. "That will give you a better sense of whether you're ready for a major change."
RELATED: 5 Ways Hairstylists Can Make Their Clients Truly Feel Heard
Brittle Burden
Cellular turnover slows down with aging—that's a fact. When it comes to scalps, decreased rejuvenation causes hair to lose elasticity, leading to dry or brittle locks. "As we get older, we also produce less protein and amino acids, which are the building blocks for strong, youthful tresses," says Jackie Yochim, Surface vice president of product innovation and development. Yet here's the good news: Scalp-specific services, as well as the right products, can stimulate growth and nourish follicles. "You'll see results from antiaging botanicals, such as peppermint, cayenne, lysine, saw palmetto, and amaranth protein found in masks," says Yochim. An in-salon—or even at-home—scalp exfoliation can revitalize by first removing excess sebum, then nourishing dry tresses. Vitamins containing biotin and silica have likewise proven effective at combating brittleness.
Less Tress Stress
It's normal to lose approximately 100 hairs per day, regardless of age. But as we mature, follicles diminish in size, until eventually they produce a strand that's hard to see. When that happens, scalps can present with the appearance of baldness. Genetics are further responsible for tress loss. "Androgenetic alopecia, also known as male- or female-pattern hair loss, is caused when a person has a sensitivity to the hormone DHT," says Hannah Reid, American Hairlines women's hair replacement specialist. 
Those susceptible to DHT's effects on the scalp may experience shrunken follicles and shorter hair-growth cycles, thus causing strands to fall out faster. "In many cases, if women are beginning to experience thinning, they'll tell their stylist right away," notes Reid. "Be compassionate, and try to read your client's comfort level when addressing this topic." Maintain some level of privacy; don't talk loudly in front of other guests. Those interested in cosmetic treatments now have a wide array of options, ranging from hair additions and wigs to medical lasers and hair replacement. "The best way to help clients is to first educate yourself on the basics of tress loss, so when guests come in with questions, stylists can be prepared with sensitive answers," says Reid.
RELATED: Experts on What Constitutes a Color Correction and How to Fairly Price It
Skin You're In
"There are a variety of reasons why skin begins to show discoloration, fine lines and wrinkles, loss of firmness, and lack of radiance with aging," says Leslie Baumann, MD, board- certified dermatologist, author and researcher based in Miami. A lifetime of accumulated sun exposure and free radicals plays a big role in hyperpigmentation, which may occur as flat, dark spots called solar lentigines. These appear on faces and hands when melanocytes (cells that produce the pigment melanin) increase in skin. Seborrheic keratosis (SK) is a raised brown or black mole-like growth that's harmless—but should be distinguished from melanoma skin cancer by a dermatologist. "Solar lentigines are best treated with Intense Pulsed Light (IPL) therapy or lasers, because the pigment is deep in the skin, so topical lighteners won't work," says Baumann. Offering clients a retinoid- or alpha hydroxy acid-containing product can also help diminish their appearance over time—so long as they apply it regularly. "SKs can be burned with liquid nitrogen, or via a new in-office treatment called Eskata that uses hydrogen peroxide safely and effectively," Baumann reveals.
Wrinkles mainly happen due to loss of collagen, caused by UV light pollution and free radicals that break the protein down. "Like scaffolding for skin, collagen gives our dermis strength," Baumann explains. "When it's lost, skin gets thinner and develops fine lines." She notes that the top way to help minimize the appearance of wrinkles is vigilant sunscreen use. Retinoid cream or retinol further works to prevent collagen breakdown.
Loss of dermal radiance and firmness, combined with increased dryness, occurs when skin's natural barrier gets damaged by "lazy" cells making less lipids. "UV exposure, free radicals, friction, and stress all further lead to dehydration," says Baumann. "Transepidermal water loss, or TEWL, refers to skin that can't hold onto water." Advise clients to avoid foaming cleansers, as they strip lipids. Retail them barrier-repair moisturizers containing ingredients like shea butter, stearic or palmitic acid, which help restore skin's balance of beneficial fats.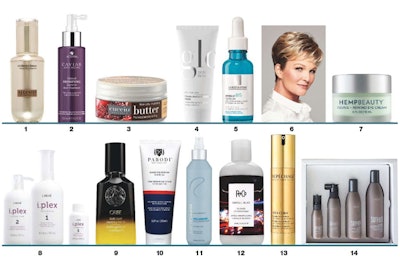 Strand and Skin Solutions
Put the kibosh on premature aging with these powerhouse formulas.
1. Sustainably produced Algenist AA Barrier Serum uses algae to fortify skin's barrier and guard it against pollution for decreased discoloration and improved tone. 
2. Alterna Caviar Antiaging Clinical Densifying Leave-In Root Treatment stimulates scalps with an energizing mix of nutrients and creates natural defense against DHT, allowing thicker-looking locks to surface. 
3. Cuccio Naturalé Pomegranate & Fig Butter employs time-released moisturizers for hydrated, smooth-looking hands and feet. 
4. An exclusive blend of glycopeptides, plant stem cells and collagen promises age- defying results—read: firmer skin after one hour—when using Glo Skin Beauty Phyto-Active Firming Mask. 
5. Hyaluronic acid, long a dermatology darling for increasing moisture and plumping skin, fuels the revitalizing properties of La Roche-Posay Hyalu B5 Serum. 
6. Women's hair most commonly starts thinning near the crown and temples, which makes Sonata Transformations Top Pieces by Raquel Welch the perfect clip-in topper style, ideal for layered cuts. 
7. HempBeauty Revive + Rewind Eye Cream calls on the buzziest ingredient du jour, CBD oil, to reduce puffiness and infflammation while stimulating new cell production.
8. Start at the salon and then finish at home with Lakmé i.Plex three-step antiaging hair formula, which combines a bond strengthener, reconstructive treatment and protective mask— perfect for aging strands. 
9. Luxuriously light yet deeply conditioning, Oribe Gold Lust Nourishing Hair Oil penetrates shafts to impart intense moisture to damaged locks, making each drop worth its weight in gold. 
10. PARODI Professional Care Hydrating Body Moisturizer packs a powerful antiaging punch with its proprietary blend of antioxidants, omegas and rich nut oils, which protect dermis from damage. 
11. Redavid Volumizer features patented Dynagen-R along with hyaluronic acid to plump and moisturize each strand for utmost fullness. 
12. R+Co SUNSET BLVD Blonde Conditioner maintains and brightens blonde, gray or white tresses, and helps bestow moisture to coarse strands. 
13. Repêchage Vita Cura B3 Serum Complex works to provide youthful smoothness with visible lifting: 58 percent of users saw a reduction in the appearance of wrinkles. 
14. Surface Awaken Advanced Therapeutic Treatment System replaces missing proteins and amino acids hair may lack, transforming it from dull and brittle to soft and full.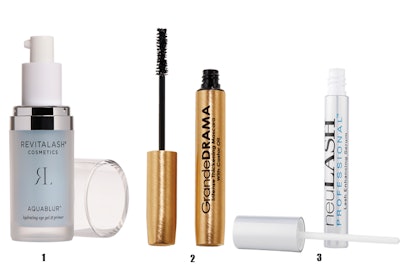 At Long Lash
Lashes (and brows) are likewise prone to brittleness and decreased density that comes with aging. These offering can help.
1. RevitaLash Cosmetics Aquablur is a gentle gel that moisturizes delicate eye areas to support lash and brow health. Oil-free and infused with beneficial ingredients like biotin, sea kelp and panthenol, it further guards against environmental stressors.
2. Castor oil, best known as a beloved DIY treatment for fortifying lashes, is the hero of Grande Cosmetics GrandeDRAMA Intense Thickening Mascara, a new launch promising density and fiber vitality.
3. ​neuLASH Professional Lash Enhancing Serum boasts five bioengineered polypeptides, essential proteins and antioxidant vitamins to help short, brittle or sparse lashes look noticeably softer, lusher and longer in as little as three weeks.
[Images: Courtesy of manufacturers; iStock]
This story first appeared in the October issue of Beauty Launchpad. To receive the magazine, click here to subscribe.