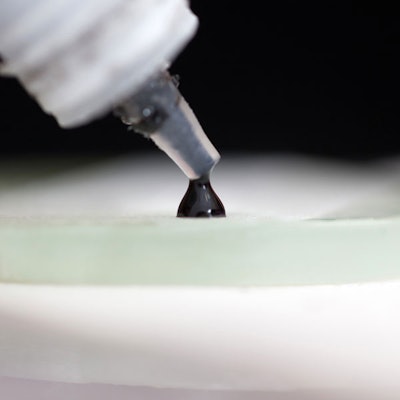 Staying power, safety, storage, sourcing—when choosing the best adhesive for you and your clients, many factors come into play. And let's face it: The proper formula can make the difference between a booming business and disastrous client experience. Here, experts break down the basics to help you avoid service breakdown.
The Right Stuff
When selecting the best lash adhesive for your needs, first evaluate your environment. "The formula should fit with your humidity," explains Lindy Williams, owner of Extensions by Lindy in Pleasant Grove, Utah. "Otherwise, you may experience a too-slow or too-fast drying time, which can affect retention."
You may also want to stock various kinds of adhesive to tackle different clients or services. Though Williams believes that a client's allergy to one adhesive should nix extensions altogether, others reach for formulas made especially for sensitive skin. Justine Ivaldi, owner of Lashed in Fresno, California, stocks three options: classic, sensitive and high-speed for Volume. Some of her clients may even switch to sensitive at certain times of the year—i.e., when seasonal changes activate allergies.
RELATED: Tips and Tricks on Keeping Lower Lashes on Lockdown
"Clients with dry skin, sensitive or dry eyes, or who have an inflammatory health condition like rosacea, eczema or psoriasis need something gentler," agrees Sophy Merszei, CEO and founder of Houston-based NovaLash. "You want to tailor the product to the client and offer something for everyone." And, for all clients, Merszei adds that a rubberized formula prolongs wear, since cyanoacrylate (the main ingredient in adhesive) creates a very brittle bond that can break down.
Aside from sensitivity requirements, Diane Lytle, founder and CEO of TheLashChick in Wasilla, Alaska, believes that choosing adhesives comes down to personal choice. "Many companies offer different adhesive options for Volume or Classic," she says. "However, finding an adhesive that works for both can be more convenient and cost-effective."
Safety & Storage
Purchasing adhesive from a trusted brand is key, because freshness and formulation are paramount. Merszei explains that adhesive, like produce, is perishable. "It must be fresh and made in small-lot numbers by the brand itself, close to the countries where it's sold and shipped quickly," she says. "Factories in Asia may dilute (and therefore weaken) adhesive in order to increase shelf life, so it's not very durable."
Similarly, Lytle recommends choosing a company that guarantees freshness and can provide documentation of manufacturing date (such as a batch number) and a Manufacturer Safety Data Sheet (MSDS) upon request. "Purchasing adhesives from a source such as eBay or Amazon is not recommended, as these items don't usually come from reputable companies, or they're resold by unauthorized individuals and neither freshness nor ingredients can be guaranteed," Lytle explains. "The saying 'you get what you pay for' rings true—don't skimp on your adhesive purchase!"
RELATED: 3 Products to Keep Brows on Point
At minimum, choose an adhesive that's designed specifically for eyelash extensions and is therefore safe to be used around the eyes. "Your adhesive should be manufactured without formaldehyde and latex, as many individuals have sensitivities to latex," Lytle says. "Also, avoid chemical color pigments; stay with natural carbon for a black color." Meanwhile, Merszei advises avoiding toluene in formulations. Ask the manufacturer for lab reports on its products to determine ingredients and, thus, verifying the company's reputation.
Finally, for peak performance, mind your storage: Some adhesives may be refrigerated before and/or after opening, while others are kept at room temperature—check manufacturer recommendations. Lytle warns, for example, that storing adhesive in a fridge or freezer can break down the products' chemical integrity. Experts also advise keeping adhesive away from heat and direct sunlight, storing it in an upright position and replacing it every four to six weeks.
Troubleshooting Tactics
If there's ever service breakdown, you can be sure that your client will be the first to let you know. The most common complaints are early shedding of lashes and eye or eyelid aggravation. Here, experts weigh in on how to address these common concerns.
Client: "My lashes barely lasted two weeks. What's going on?"
To figure out what caused the lack of retention, Lindy Williams, owner of Extensions by Lindy, recommends going through the following question checklist in this order:
1. Is your client on any medications that can alter the growth cycle?
2. Was there makeup residue on her natural lashes? 3 What did you use to prep the client's natural lashes?
4. How secure was the attachment of the eyelash extensions?
5. Did you use enough adhesive?
If all of your questions check out and you're still left stumped, go over lash care once again in detail with your client to make sure she's caring for her extensions properly.
Client: "My eyes are really red and itchy. I think I'm having an allergic reaction."
It's important to address any sensitivity immediately. Diane Lytle, founder and CEO of TheLashChick, offers this advice: "Assess the concern, and if it looks like an allergic reaction [or infection], remove the extensions if they're not too swollen or irritated for lash removal. Then refer the client to a physician," she says. If a client is reacting due to seasonal allergies, for example, her doctor can recommend an appropriate antihistamine to quell the symptoms.
Tips & Tricks
Experts share their best adhesive-related application practices:
"Replace your glue drop once viscosity thickens—about every 20 to 30 minutes, depending on your room environment and what applicator you're using (glue ring, jade stone, etc.). If your adhesive has high fumes, place the glue away from the client's head. Make sure that your lashing room has stable humidity and temperature. Use a small dot of adhesive, about the size of a pea, and dip from the middle, where it's most fresh. Finally, don't overdip your extension; too much adhesive creates a slower drying time and clumping of neighboring lashes." —Diane Lytle, founder/CEO, TheLashChick, Wasilla, AK
"To increase retention and improve wear, using more adhesive can help, especially if you aim to bond more surface area. We still want a thin connection, but if you bond the extension to the length of the hair, you create a strong bond, and the lash extensions will grow out more naturally and last much longer than lashes that are just glued to the base." —Tussanee Luebbers, owner and lead trainer, Integrity Lash, Pasadena, CA
"I use the glove technique, putting the product on my gloved hand to speed up application— and it's safer, because I'm not taking my eyes off the guest. Start with just a little adhesive on the glove and add more as needed." —Jessica Gadzalinski, esthetician/lash artist, Savoye Salon Spa, Green Bay, WI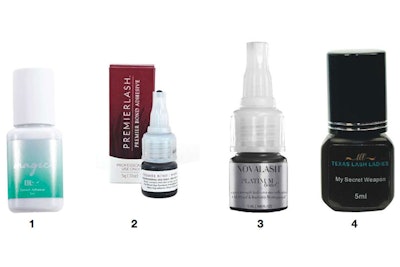 1. Extensions by Lindy Magic Adhesive dries in one to two seconds, performs in a range of humidity levels, and offers versatility for both Classic and Volume lashing. 
2. TheLashChick ProBond Eyelash Extension Adhesive, a low-carbon adhesive, offers top-notch retention for Volume and Classic application in a fast-drying, low-viscosity formula. 
3. NovaLash Platinum Bond Extra Strength Adhesive features a flexibility agent that allows for extended wear and more comfortable, natural-looking lashes with a dark, lush lash line. 
4. Texas Lash Ladies My Secret Weapon works in 30- to 70-percent humidity, has a thicker consistency and super-low fumes, holds for up to seven weeks, and is great for both Classic and Volume lash application. It's also formaldehyde- and hydroquinone-free.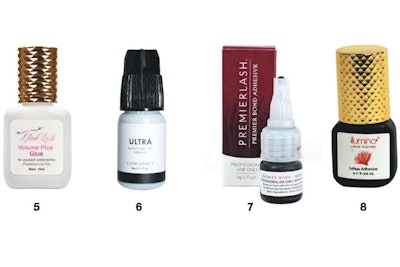 5. GladLash Volume Plus Glue is designed for intermediate to advanced lash artists applying Volume lashes, thanks to its 1- to 2-second dry time and seven- week bonding. 
6. Lash Addict Ultra Adhesive is best for Classic lash applications and offers a low to medium viscosity, 2- to 3-second dry time and performs in 45- to 60-percent humidity. 
7. PremierLash Premier Bond Adhesive is a medical-grade adhesive for Classic and stacking techniques. Designed for maximum strength and flexibility using pulverized rubber polymers, this low-odor, nonclumping formula offers seamless adhesion. 
8. Illumino Liquid Lehua is a summer weather must. Not only does it have great retention, but it's extremely versatile for both Classic and Volume lashes. It dries quickly and maintains a strong bond from cold to hot temperatures and low to high humidity.
[Images: Courtesy of manufacturers; Getty Images]