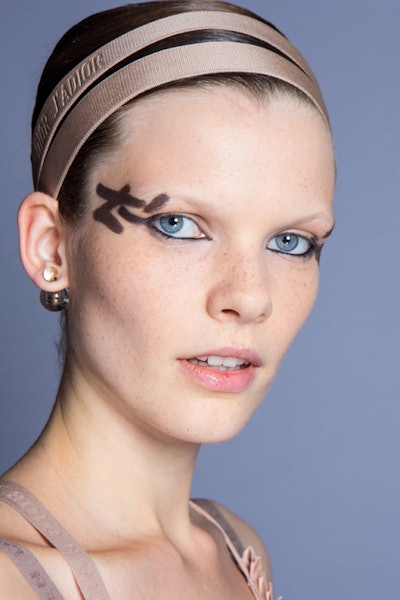 The time has come, once again, to break out the black eyeliner. Editorial makeup artists showed off their line art skills by creating graphic black eye makeup looks at a number of spring 2019 fashion shows. At Christian Dior, creative director Maria Grazia Chiuri selected Israeli artist Sharon Eyal to choreograph her show with dancers from her troupe, a decision that had a strong effect on the makeup direction. "It was an aesthetic choice that incited me to create pure and natural makeup that puts the focus solely on the eyes," explained creative and image director for Dior Makeup Peter Philips in an interview on dior.com. For a handful of models, Philips channeled Eyal's own eye makeup style by drawing thick black lines that extended from the outer corner of the eyes to the temples.
RELATED: 5 Spring/Summer Makeup Trends Straight From the Runways
Meanwhile, Pat McGrath turned heads at Marni, where she created an extreme negative- space black cat eye, while at Coach 1941, she enhanced the eye by drawing a black triangle with liquid liner under one eye. Also putting a new twist on the classic feline look, black arrows replaced the ubiquitous "wings" at both Rahul Mishra and Rochas. Indeed, creative approaches like these are proof that sometimes black can be anything but basic.
This story first appeared in the May/June issue of Eyelash magazine. To receive the magazine, click here to subscribe.
[Images: Getty Images]