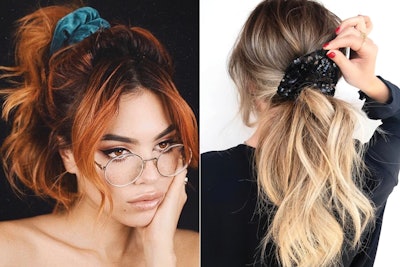 Are you with the band? We've been seeing the '80s and '90s hair tie staple—affectionately known as the scrunchie— cropping up all over Instagram lately, and our nostalgia is real! We asked Beauty Launchpad education team members Michelle Zeller Porumb and Aly Davis to share their thoughts on the scrunchie's comeback and why you need one (or more!) now.
What do you like about scrunchies?
Michelle Zeller Porumb: They add so much spice to a ponytail. Not only are scrunchies great for hairstylists, but they're also great for Instagram pictures since they change things up a bit. Our salon's Silkies scrunchies are especially good for nighttime use so you don't get indentations in your hair or breakage. I also love to use them as arm candy to match my outfit.
RELATED: Top Predictions and Techniques for Summer Music Festival-goers
Aly Davis: I love scrunchies because they're so fun. They're a great addition to any easy hairstyle. Also, they're much less aggressive on the hair and cause less tension and breakage than regular hair elastics. What's more, you can style so many different ways with scrunchies. My personal favorite is using one in a half-up, half-down style with some texture.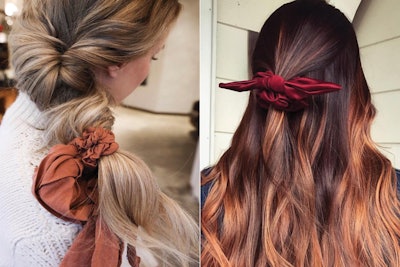 Michelle, you have your own line of hair scrunchies. How did this begin?
MZP: It was actually kind of a joke when we first thought of the idea. My girlfriend Tiffany is super-talented and we thought it would be fun. Little did we know it would blow up into something big. I had to go to a manufacturing factory for larger quantities because Tiffany couldn't sew enough to keep up with demand—it was crazy! [NOTE: Mane Ivy is now wholesaling scrunchies. Visit maneivyshop.com or email maneivyshop@gmail.com for more info.]
RELATED: 5 Hot Styles Straight from the 2019 Spring/Summer Runways
How do today's scrunchies differ from those of decades ago?
AD: Scrunchies in the '90s were primarily used as an alternative to a traditional hair tie to help diminish tension on fragile, overprocessed hair. Today we can use them for the same purpose, but even more so as a fashion statement; we have so many awesome options for wearing them.
This story first appeared in the April issue of Beauty Launchpad magazine. To receive the magazine, click here to subscribe.
[Images: Instagram]