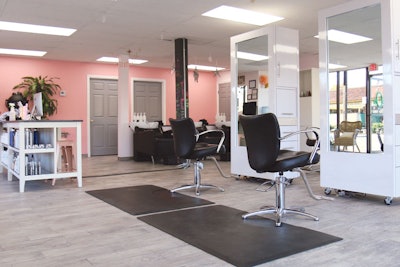 Hailing from an entrepreneurial family, Mirella Manelli understood how immersing herself in the beauty industry's creativity would only play a part in opening a salon—business acumen would be the other key to success. After a nine-year stint as a salon manager at Ulta, where she had her hand in all levels of management plus oversaw the Orange Country, California, market, training and on-boarding of stylists, she joined Kenra Professional as a regional education manager, teaching salons up and down the West Coast. It was during this last job where she developed a taste of the power of media—soon to be a big part of her salon, Rebel Femme. "I created the first-ever upstyle collection for Kenra, participated in trade shows and photo shoots for ad campaigns, and even managed a small team of brand ambassadors," she says. then came Rebel Femme.
Opened in 2018, the 2,300-square-foot space boasts character galore—a freestanding building amongst countless area strip malls. Large windows spill natural light into the salon; an open floor plan promotes flow, mobility and opportunity for education and events. But it's Manelli's smart additions, along with lead stylist Yadira Munoz's DIY prowess and "Girl Pop!" vision, that gives Rebel Femme its unique spirit. "Yadira and I discussed how we want clients to feel when they're here: empowered, uplifted, confident, beautiful in their own skin," says Manelli. That mix translates to cheery, shiny decor outfitted in pink, gold glitter and flamingos—what Manelli readily admits breaks Rebel Femme "out of that rich, glam, bougie mold" of conservative-leaning Mission Viejo. Front and center in the space, an "inspirational post" blackboard contains words of affirmation and empowering quotes scribbled in chalk. Books championing women pepper the salon; pillows adorned with the faces of influential ladies like Frida Kahlo and Audrey Hepburn provide a quirky dash of female whimsy. "We also DIY'd a lot of elements in our salon, like the reception desks, gold glitter restroom walls and even our Rebel Femme moss sign," Manelli says proudly.
RELATED: Salon of the Month - Salon Ingá, Tampa, Florida
But the single most impressive aspect, a media room, sets this social media-savvy salon apart from the rest. Having previously recorded content for Instagram and YouTube in her home dining room, Manelli dreamt of owning a salon where she could have a controlled area for content creation. With four backdrops and a myriad of different lights, the Rebel Femme media room fulfills that dream—with some unexpected bonuses. "Having [the media room] in the salon encourages the rest of the team to utilize it during their downtime," Manelli shares. "Plus, our clients love it; they ask us if we're going to take their picture after their service rather than the other way around!"
What's Unique
Total Transparency: "All of our pricing is very transparent so our clients don't book appointments without knowing the end cost," says Manelli.
Multimedia Haven: A separate room in the salon boasts four backdrops, a variety of lights (ring, soft boxes and hair) and enough area to create content, shoot video and snap images in a controlled space.
Mobile Education: Six stations on wheels allow Manelli to scoot them aside to facilitate education classes. "We have enough room for about 50 stylists," she says.
RELATED: Readers Choice Awards Winners - New Launch, Haircare, Styling and Extensions
Typical Clients: The mostly conservative affluent area delivers a broad spectrum of clients, from professionals to stay-at-home moms.
Most Popular Service: All things color: corrections, creative and extreme brunette-to-blonde makeovers. "I think people know that when they come here they can show us an inspo photo of pink or blue hair without judgment," Manelli says.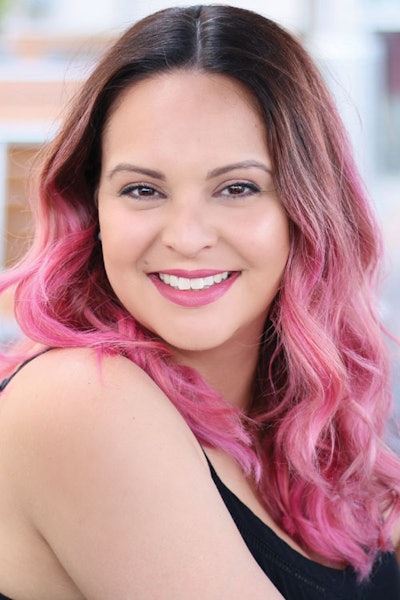 Goods
Retail Lines: Moroccanoil, Privé, Kenra Professional, Color Wow.
Color Lines: Kenra Professional, Davines, Pulp Riot, Redken.
Refreshments: Coffee, tea, wine, champagne.
This story first appeared in the March issue of Beauty Launchpad magazine. To receive the magazine, click here to subscribe.
[Images: Courtesy of Rebel Femme Salon]