Your lash extension clients likely come to you for one of two reasons: They seek to shave a few minutes off their daily beauty regimen or they desire a more glam eye fringe—or both. Good news for those who fall into the latter camp: Minimalism is taking a back seat to glamorous beauty this fall, especially for eyes. Bold brows, 15-step smoky eyes, pigmented lashes: Double-take- provoking looks offer pro artists much to be inspired by this season.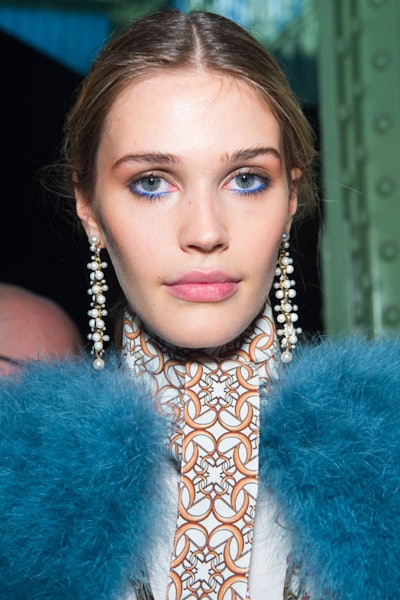 Liner Art: It's a well-known beauty fact: A single stroke of black along the lash line brings new dimension to the face. But when you alter your flick with artful touches (seen at No. 21) or swap in a powerful pigment (seen at Elie Saab), eyeliner truly serves to highlight the eyes' beauty. At Tommy Hilfiger, lead makeup artist Mark Carrasquillo lit the lower lash line with hyper-reflective silver, citing the chrome details found on racecars as his inspiration. You can take the fast track to nailing this trend by stocking up on metallic and vivid liners—the more variety in your shop, the better.

Lash Fashion: Not that you need any further affirmation, but the fall runways certainly proclaimed lashes the statement feature. While colorful mascara in a range of unexpected hues (think: neon pink, orange, green and white) coated lashes at a variety of shows (Area, Concept Korea and Dries Van Noten, just to name a few), a trend within the trend started to emerge: Makeup artists dragged the same color used on the eyelid to the tips of the eyelashes—an extremely striking detail worth imitating even if you choose to use color lash extensions rather than mascara. Of course, voluminous lashes—both spikey and feathery— continued to dominate backstage beauty, but makeup artists deemed the oft-ignored lower lashes a worthy feature, too. Either drawn in lacy detail (seen at Kenzo) or enhanced via falsies (seen at Anna Sui), adorned lower lashes elevated eye designs above and beyond the norm, meaning you'll want to focus your attention on clients' dainty lower fringe as well.

The Several- Step Smokey Eye: Don't dare watch the clock with this trend: It demands a solid chunk of time to layer and blend to absolute perfection. Often times taking more than 15 steps to complete, the show-stopping smoky eye caused quite a few makeup artists to scramble backstage this season. At Carmen Marc Valvo, makeup lead Romero Jennings worked like a surgeon (wearing a headlamp!) to create an eye design meant to "almost look aquatic," he says, adding, "Reflection is still huge for fall, so I used glitter at the corner of the eye to catch light." Equally arresting: a scarab-inspired green-and-gold full-lid design spotted backstage at the Naeem Khan show. "It took us at least 15 minutes per eye," makeup lead Gato admits, but the end results was worth the stress. While the clients likely won't be pursing this trend at home, they'll certainly seek out a professional–you!–when they desire such painstaking artistry.

In–Your–Face Brows: No shocker here: Makeup artists continued to reject over- tweezed brows in favor of full, carefully groomed arches. While naturally bushy-browed models like Meghan Roche (seen here at Max Mara) racked up serious runway miles this show season, makeup artists assisted those with "less than" using brow pencils and waxes a few shades darker than their own hue. At Bibhu Mohapatra, lead makeup artist Marc Reagen went so far as to fill in arches with a wine-to-burgundy ombré effect, noting, "Bibhu wanted an element of color on the face, but not your typical element, so we decided to give the brows something a bit more unusual." Not as successful: the drawn- in mono-brow at Gucci, which certainly pays homage to model Sophia Hadjipanteli's #UnibrowMovement hashtag, but acts more as a motivator to get your hands on a pair of sharp tweezers—stat!

Fantis–Eyes: The one constant, season to season, for eye makeup has centered around a dazzling idea: sparkle—and plenty of it. While glitter jazzed up smoky eyes (see Trend #3), rhinestones and gold leaf became the gleam-givers of choice. At Akris, lead makeup artist Diane Kendal gingerly adhered gold leaf overtop a swarthy eye design using tweezers and lash glue to ensure no flake fell on her watch. Lead makeup artist Romi Soleimani dotted shadow-free lids with crystals from lash line to brow at Kate Spade, noting a "millennial Dolly Parton" as her muse. In fact, Soleimani may have single-handedly driven the glitzed eye to its top trending status this season: The innovative makeup artist also dusted holographic glitter on "techno" lids at Milly and gilded lash lines in gold leaf at Ulla Johnson—two more twinkling designs to mimic when your clients long for a hint of glint!
[Images: Getty Images]