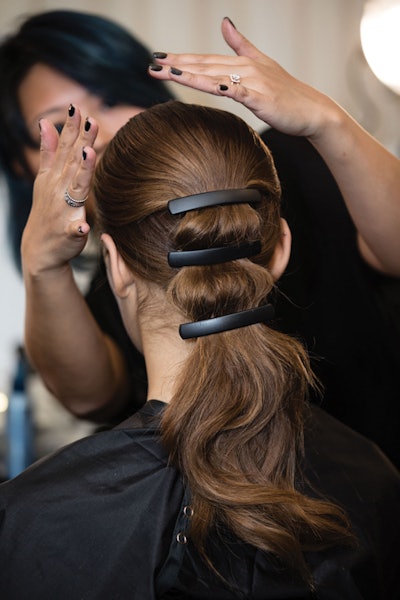 One look at Christian Siriano's body-positive gowns, and you know the designer relishes beauty in all details—right down to every last strand swooped, slicked or swirled in the hair. Backstage at his 10th anniversary runway show, the designer rushes over to Sebastian Professional hair lead Anthony Cole's station and pokes his head over his shoulder, sizing up the hair. As frequent collaborators, Cole mind-melds with Siriano—so much so that he capably transforms the designer's 18th-century British art inspiration into a 21st-century look. "When I researched the hairstyles of that era, they were very simple," Cole relays as he "pleats" flat waves into actress (and Siriano runway model) Selma Blair's hair. "But if women dressed [their hair] up, they used embellishments. I wanted to modernize that idea. Rather than using ornate flowers—which they did back then—I decided to stack three thick black barrettes." As basic as these barrettes appear, the manner in which Cole places them on models' heads makes a sizeable impact.
RELATED: ​amika Hair Lead Esther Langham Creates a Maze of Tight Plaits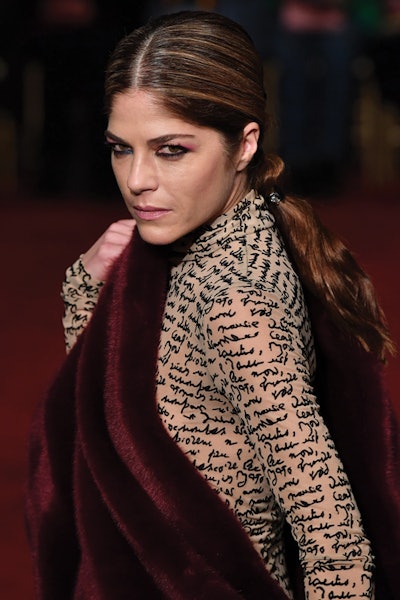 RELATED: Fall Beauty Looks For Your Clients Spotted on the Autumn/Winter Runways
To achieve the style, Cole coats hair with Dry Clean Only dry shampoo, noting, "This is giving me the strong texture I need to hold the barrettes." After securing a ponytail and spraying Shaper hairspray throughout the lengths, Cole employs a "pleat" technique, bending sections of hair into "s" shapes and clamping a flat iron over each hairpin turn to seal the waves. With the three barrettes secured in place, Cole sets to work "puckering" the hair between each bar with a tail comb. "We're spreading the hair to lend it a more contemporary shape," he explains before adding glassy shine with Shine Shaker. Clearly every element of this gorgeous hairdo pleases Siriano, who nods with satisfaction, snaps a photo with Cole and—just like that— disappears into the backstage flurry.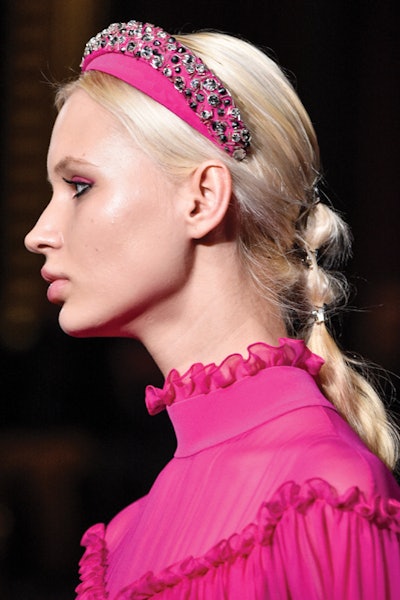 The Inspiration: 18th-century British art.
Hero Product: Sebastian Professional Dry Clean Only dry shampoo grants barrettes stay-put grip.
Key Step: Gently pull apart the hair between each barrette using a tail comb until you achieve a more modern shape.
Fun Fact: 120 barrettes were used in the show. 
[Images: top - courtesy of Sebastian Professional; middle and bottom -  Getty Images]