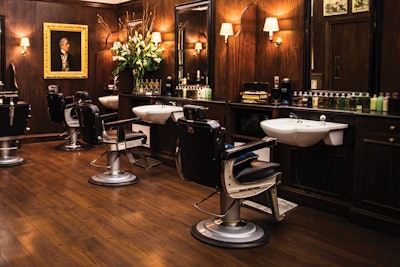 It may be hard to imagine that a barbershop has been operating since the days that Napoleon was trooping all over Europe, but it's true. In October 1805, Francis Truefitt opened his doors in Mayfair, a posh area of London, as a barber, perfumer and wigmaker. "In fact, Truefitt's reputation as a very talented wigmaker soon earned him the custom of King George III," says Joanna Broughton, Managing Director, London/Worldwide, Truefitt & Hill. Since then, Truefitt has served nine generations of British royalty, and continues to do so to this day. Grooming products were introduced in 1875, and in 1935 Truefitt acquired salon Edwin S. Hill and Co., giving rise to the modern version of the brand we see today.
RELATED: Portland Shave Shop Revels in Classic Barbering With a Focus on Forward Thinking Cuts
Although its flagship location is on St. James's Street in London, Truefitt & Hill boasts locations worldwide, including Beijing, Mumbai and Kuala Lumpur. In fact, the line has recently made its way across the pond and is looking for partnerships and investors. "During Truefitt's long and illustrious past, we have been privileged to count some of the history's giants as our patrons; today we inspire men to be flawlessly groomed and we provide knowledge, expertise and guidance as we continue to groom men for greatness," says Brougton.
[Images: Courtesy of Truefitt & Hill]