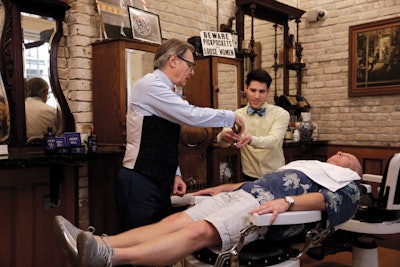 When you step inside Aidan Gill for Men it's like stepping back in time. An avid collector of barbershop antiques, owner and 48-year barbering veteran Aidan Gill started amassing his stash 35 years ago. "I decided that if I was going to do this for the rest of my working life, I needed to do something special, and build the best barbershop
in the world," he says. When the '80s unisex movement all but killed traditional barbershops, Gill set out on a mission: to save the barbershop from extinction. "I started collecting antiques to keep it alive so I could re-create it in a glorious way," he explains. Nestled throughout the "barbershop museum" you'll spy artifacts such as 1885 safety razors; a 1920s electric vibrating razor; 1900 brass and copper dome-shaped towel steamers; 1907 back bars; and Archer, Koken, Koch and Emil J. Paidar chairs manufactured between 1860 and 1960. "There are no reproductions; it's the real deal," says Gill, who cheekily coined the shop slogan, "Here, everything's an antique. Including me."
RELATED: Portland Shave Shop Revels in Classic Barbering With a Focus on Forward Thinking Cuts
Another shop motto: unapologetically male. In both of Gill's New Orleans shops—the first opened in 1999 followed by the second in 2008— men can feel free to be themselves as they throw back gratis Guinness drafts or Irish whiskey shots, chill and smoke cigars on the back patio, peruse copies of Playboy and shoot the breeze. "It's an easy place to relax and be a man," explains Gill.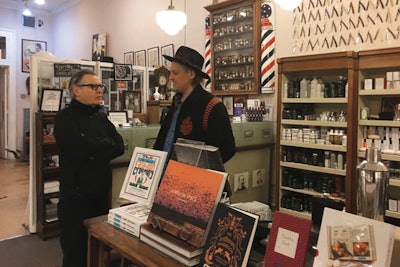 While clients certainly enjoy the refuge, the shop's signature service, The Shave at the End of the Galaxy, keeps them coming back time and again. Whisked off to a private room known as the Inner Sanctum, guests often snooze during the luxe 30-40 minute service, which includes hot, steaming towels and a frozen one plucked out of an ice bucket as a finish. "It closes the pores and brings them back to the land of the living," notes Gill. And despite the "old-fashioned" theme, there aren't any straight-razor shaves performed here. The barbering pioneer swears against them, so his team arms themselves with Gilette MACH3 Turbo Razors instead. "The engineering and design work better than anything on the market—and I've used everything," says Gill. Barbers undergo a rigorous two-to-three hour weekly training for two months when learning the shave from the master himself. "I'm very particular about how my barbers do the shave, so it's a strict training in the beginning," adds Gill. "Once they've mastered it they can introduce their own techniques."
PHOTOS: Top Tools for Men's Grooming
Aidan Gill for Men also boasts a gigantic 630-square-foot retail space that easily captures passersby attention through its large storefront windows. "We leave the door open, even when it's 100 degrees outside, and air condition the sidewalk," laughs Gill. Guests, tourists, women and locals can score an array of men's accessories, from bowties to watches to pocket knives and, of course, grooming products from brands such as Truefitt & Hill, St. James of London, Santa Marina Novella and the shops' namesake line, which rolled out a slew of new elixirs this fall. "It's been a long haul, but I'm very proud that our new products will compete with—and out-compete—most of the stuff we sell," boasts Gill.
[Images: Courtesy of Aidan Gill For Men]