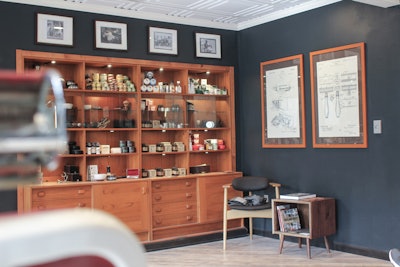 Back in 2014, Portland Shave Shop cofounder and creative director Alex Pletcher, founder and master razorsmith Scott Miyako, and honemeister and senior razorsmith Hunter Lea moved to Portland, OR, for greener pastures—in more ways than one. Not only were they looking to uncomplicate their lives while living a more mindful, eco-friendly existence, but they also had this idea of making small-scale, handcrafted razors. "We were really looking for a culture that supported a green lifestyle, the idea that handmade is better and small business is better," explains Pletcher. Thus Portland Razor Co. was born.
PHOTOS: Top Tools for Men's Grooming
Initially the brand was only intended for the home-consumer, but the team quickly set their sights on the pro. The professional razors can be fully submerged in disinfectant, meaning they're reusable. "The blade is able to be maintained," Pletcher explains, "and being non-disposable means they're better for the environment." To showcase their products, the team at first decided they needed an area of the showroom where they could demo their razors, and about halfway into installing a sink, they decided on turning the space into an actual barbershop. "We're quick to make decisions," Pletcher laughs.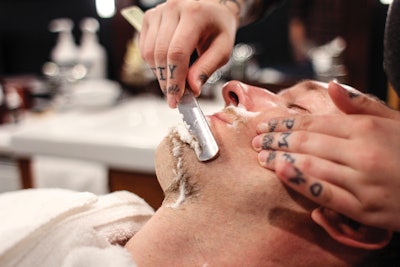 RELATED: The Fraternity at SHED Barber and Supply in Austin, Texas
Today, Portland Shave Shop is a two-chair, two-barber shop that revels in the history of classic barbering while focusing on forward-thinking cuts and styles. The shop is decorated with archival prints from barbers around the world and patent drawings from early 20th century inventions. Wooden decor and accents further underscore the shop's commitment to sustainability and mindfulness. It's appointment-only, Wednesday through Saturday—Sunday is reserved for education for both pros and the public. Not only are there no walk-ins due to space limitations, but the idea also dovetails with the founders' belief system. "Appointments are our way of respecting our clients' and barbers' time," Pletcher says.
Pletcher recommends that shops and salons offer shaving and beard- grooming education, whether or not they provide shaving services. "There are so many new products for beards and skin, many men are left wondering what to use," she states. What's more, the education you offer will be more than skin deep, she says. "Afterward, whenever they touch their face, they'll remember where they learned how to take care of it."
[Images: Courtesy of Portland Shave Shop]