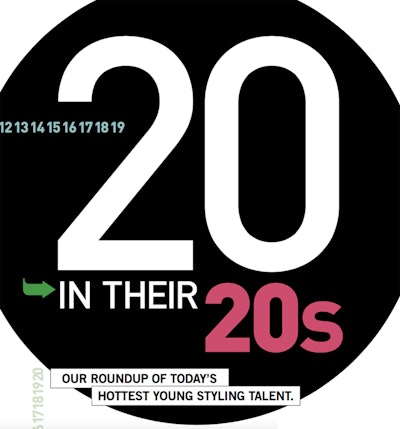 From the start, we knew the search for tomorrow's tress superstars wouldn't be easy. But at Launchpad, we're loath to shy away from challenges. Though many were considered, only a few made the final cut—which makes this a group worth getting to know. Through hard work, discipline and the sheer grit of determination, these stylists hit defining career milestones. Even more impressive: All 20 accomplished these feats while in their twenties. Read on to learn about their proudest professional highlights, where they find inspiration, and what drives them to constantly move forward.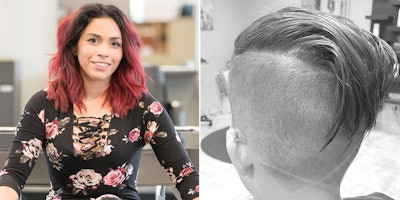 1) April Amarillas (29) Wahl Professional, Owner of Stay Fly Hair Studio in Phoenix, AZ
Aha moment: A combo of cutting my brother's hair in middle school and grooming horses in high school made me think I could do this as a career.
Top tips: Always show clients how to style their hair after cutting it. You can recommend new products and simultaneously impart invaluable tips—a double win.
Inspiration source: The desert. I'm an Arizona native and obsessed with cacti, which actually remind me of hair. 
2) Megan Duchi (29) Matrix, Stylist at the Last Tangle in Chico, CA
Current obsession: Lived- in textured cuts of any length. And I'll forever love natural curls.
Mane mentor: I wouldn't have discovered my passion without my mom, Sharon. And salon owner Irene Garcia took me in when I felt lost and helped me find my place as a stylist.
Words of wisdom: Even after 10 years, I still have a small anxiety attack every time I do something new with a client's hair. But that's valuable because it keeps me on my toes.
3) Nicolas Flores (29) Trissola, Stylists at Sally Hershberger Los Angeles in West Hollywood, CA
Career highlight: Styling John Mayer for his performance at The Forum in Los Angeles. From the celebs backstage to the team of people prepping him pre-show, the energy was incredible.
Aha moment: I'd moved from Orange County to West Hollywood to follow my dream, and when I got to assist Sally Hershberger herself, I knew I made the right decision.
Challenges: Giving up my personal life. I worked six to seven days a week when first starting, and pretty much still do today.
4) Heather Buchanan (26) Eufora, Stylist at 3 Bowls of Color in Newport News, VA
Early days: My first job was a a stylist at Hair Cuttery Salon when I was 17. My friend Cierra and I walked into that interview Step Brothers style and both got the gig.
Current obsession: Waves and topknots.
Fun fact: Some are surprised to hear about my love of musicals and operas, or that I'd do hair 24/7 if I didn't have kids or need sleep.
RELATED: 30 Under Thirty - 2018 Colorist Winners Photo Gallery
5) Cassandra Levine (23) Rejuvenol, Sytlist at Erika Cole by Raquel Salon & Spa in Syosset and Plainview, NY
Top tips: Never rush your work or clients. Give yourself ample time to do exactly what you need to do. And stay updated with education. In this industry, we're never too old to learn something new.
Hottest spring trend: Beach waves and textured cuts. They're low-maintenance and can be styled to look professional, fun or flirty.
Inspiration source: A song, an outfit, something I saw on TV, or even just that woman on the street with stunning hair I'd love to get my hands on.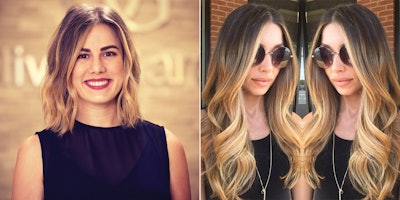 6) Dana Lobetti Erwin (28) Olivia Garden, Owner of Eight.Six.Five Studio Salon in Nashville, TN
Aha moment: At age 12, I styled my cousin's hair for a mini photo shoot, and to my family's amazement, I was pretty good. My aunt jokes that was the start of my career, and she is right.
Top tips: Don't cheat your blowout. Knowing how to style can set you apart. Pay attention to small things that lend a big impact, like body and finger position, tress dampness and tension. 
Challenges: Patiently putting in the time. I remember doing 12-hour days without a customer and feeling so frustrated, but that's key to building strong clientele. 
RELATED: Mane Masters Share How They Fell in Love with Hair
7) Katrina Cahill (29) Sexy Hair, Stylist at Shag Hair Salon in Pittsburgh, PA
Career highlight: Being included in this feature! I've also done hair for commercials and music videos, photo shoots, New York Fashion Week and last year's Miss World pageant.
Key skills: I'm a texture fanatic; it can make or beak your cut. Product expertise is equally essential. I used to worry about overusing, but now I layer multiple products to ensure a look lasts all day or night.
Fun fact: A complete Harry Potter nerd, I have two tattoos and more wands than I'd care to admit. I'm still waiting on m Hogwarts acceptance letter.
8) Casey Terramoccia (24) Agadir International, Owner of Iconic Barber Shop and Shave Parlor in Glen Rock, NJ
Career highlight: I opened my shop when I was 20, and it was one of the scariest and best things I've ever done.
Words of wisdom: In a world of facades and deceit, successful people are genuine and real. Be true to your quirks and imperfections.
Challenges: Getting people over their initial prejudice that someone so young must have no idea what he's doing. My passion helps clients realize I'm not just some kid pulling the wool over their eyes.
9) Alyssa Champion (28) Unite, Stylist at Gods & Heros Salon in Costa Mesa, CA
Career highlight: Styling Mark Ruffalo for the SAG Awards.
Hottest spring trend: Super short and choppy blunt cuts.
Life goals: Jen Atkin is a big role model. I aspire to have my own brand one day. Like her, I hope to turn my personal industry into an empire.
10) Lacey Smith (25) Keune, Stylist at Genesis Salon/Salon 124 in Lawrenceville, GA
Aha moment: When I was in seventh grade, my brother's girlfriend, who had just graduated beauty school, gave me one of her mannequins and taught me how to braid. Now we work together.
Inspiration source: Celebrity red carpet events. They're my homework. I pay close attention to the styles, then bring that information behind the chair.
Life goals: Breaking into fashion to style hair backstage for top brands and designers.
11) Lizeth Carbon (24) Lakme, Stylist at Depasquale the Spa in Morris Plains, NJ
Current obsession: The lob. It's stunning on anyone and can be styled so many different ways, from tousled to tamed.
Top tips: Master the basics of how to do clean sectioning throughout a cut. Know what works best for every face shape so you can enhance each client's unique features.
Mane mentor: Dolce Puzo taught me all I know about how to add my own personal touch to every haircut.
12) Megan Porter (26) Paul Mitchell, Stylist at Curriculum Barber Shop in Salt Lake City, UT
Words of wisdom: Attack what scares you most. As DJ Muldoon says, "Knowledge destroys fear."
Top tips: Study your guest's head, then mentally map out your cut to create the shape that best complements their face while still making the style pop.
Inspiration source: I take photos at punk rock shows because I love the DIY scene. Folks who aren't classically trained create really awesome abstract shapes when they cut their own hair, and I find so much inspiration in that freedom of style.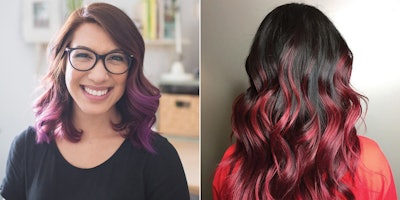 13) Amanda Fagan (26) Sola Salon Studios, Studio Owner at Sola Salon Studios in Novi, MI
Words of wisdom: Rather than trying to replicate a style or copy a photo, I use trends as inspiration to create a finished look that caters to my client's specific hair type, texture, personality and lifestyle.
Current obsession: Dry cutting. I love instantly seeing how hair layers, rather than snipping wet strands and going back to blend. It's like creating a sculpture.
Fun fact: I got married at 19 and am the proud mom to two sweet girls.
RELATED: Sebastian Brought Out its Best for the 2018 What's Next Awards
14) Sara Caroline Gault (26) Bosley Professional Strength, Stylist at Aura Hair & Makeup in Alpharetta, Sandy Springs and Atlanta, GA
Key skills: How to cut curly and fine hair, and how to blow-dry super textured hair silky smooth without high heat.
Current obsession: I love a good tease. Texture spray and a teasing brush can craft ultimate volume in an updated way.
Fun fact: I'm obsessed with sloths. My fiancé took me to meet one in Tennessee for my birthday, and it was one of the greatest days of my life.
15) Sierra Nicole McKirahan (24) Surface Hair, Stylist at Roots Salon & Day Spa in Russells Point, OH
Career highlight: Switching to an all- natural product line for the health of the planet, myself and my guests.
Current obsession: Razors to cut texture, blend and frame. And flat irons for effortless beach waves.
Mane mentor: My former beauty school teacher and current friend, Kim Johnson, taught me that it's not about how much you earn, but about the smile on a client's face when viewing your finished work.
16) Chad Gabrie (29) GIBS Grooming, Freelance Barber and Stylist based in San Francisco, CA
Aha moment: One day I came home from school and realized there were 20 people in my garage waiting to get haircuts. I was 16, doing hair for friends just to get crafty, share a laugh and financially help my family, but that day I decided to pursue it as a profession.
Key skills: Blending fades or transitioning hair from long to short, line work like edging the hairline around the nape, sideburns and temples, and creating overall shape to frame features.
Inspirational source: Natural movement and shapes relate to hair textures and lines. Gradient shadows, for example, teach me how to craft precisely blended fades on hair.
17) Sofie Pok (29) Schwarzkopf Professional, Freelance Stylist/Barber based in West Covina, CA
Hottest spring trend: For men, long hair on top, sometimes mixed with shorter sides.
Aha moment: Once I handed a guy a mirror for the big reveal, and he just about cried and told me how emotional he felt seeing what his hair could do.
Top tips: Understand your tools. The more you know about their functions, the more options you have on deck. For example, if working a skintight fade, small tweaks make the process efficient.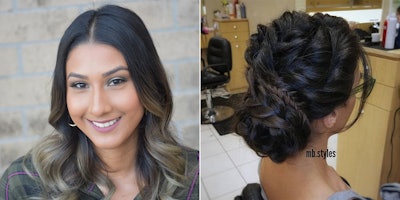 18) Monica Barrera (24) The Salon by InStyle inside JCPenney, Stylist at the Salon by InStyle Inside JCPenney in Pleasanton, CA
Early days: The youngest of four kids and the only girl, I was a tomboy who hated brushing my own hair. "Hot mess" was a good description for my childhood look! I never thought I'd end up loving beauty.
Career highlight: Going from a level one apprentice to master stylist in less than a year.
Life goals: The next five years will be spent continuing my education and networking to create more opportunities so I can become a platform artist or salon owner.
19) Ruben Javier (23) BaBylissPRO, Owner of Faded Fresh Barbershop in Lake Wales, FL
Career highlight: Opening my barbershop and school, Ruben's Five Star Academy, where I teach on the days I'm not cutting hair.
Current obsession: It's all about shears, shears, shears.
Fun fact: I've been drawing since I was a kid, and I'm also a tattoo artist, though I haven't had much time to ink since going into the beauty business.
20) Maggie Arnold (29) Neuma, Stylist at Adara Hair & Body Studio in Edmonton, Canada
Current obsession: Blunt textured shapes and beach waves. I know they're trendy and might disappear soon, but I'm still loving that done-yet-undone look.
Early days: My sister-in-law helped me score my first gig at Eveline Charles Salon in South Edmonton, where she was working as a receptionist. I remember walking into that beautiful space full of inspiring people and knowing I'd found my niche.
Fun fact: My husband Ben and I are urban beekeepers. It's fascinating to learn how vital those little insects are to pollination—and the honey is a great bonus.
[Images: Courtesy of stylists]