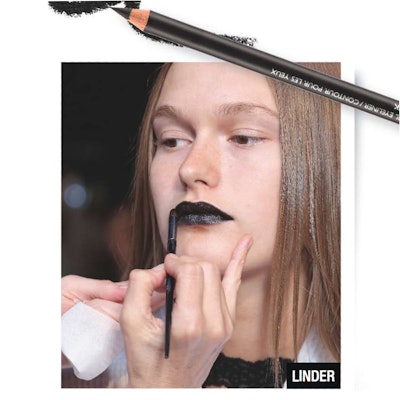 As far as statements go, the overdrawn tomato-red pout smacking voluptuously at the Sies Marjan show certainly caused a cosmetic commotion—which didn't surprise lead makeup artist Thomas de Kluyver, who's lipstick injection aimed to mirror beauty's "bigger-is-better" zeitgeist. "Especially in the past few years, people are obsessed with having bigger lips and bigger eyelashes more than ever in beauty," he explains—a not-at-all overblown statement. Though the season's most inventive lip artistry wasn't all about inflation, mouths certainly took on a more sizeable role with backstage makeup. Strangely omnipresent: negative space lip designs that proved a semi-naked pout can be extremely alluring. The best rendition: At Maison Margiela, makeup lead Pat McGrath painted heart shapes that broke down the middle of models' pouts—a sliver of lip left bare to blood-pumping effect. Load on the lipstick or keep a measure of the mouth exposed—either way, the pout deserves your undivided attention this season.
RELATED: Makeup Artist Add Sparkle and Glitter to the Spring/Summer 2018 Catwalks
"The black lip is a very aggressive kind of look, but in this context with the fresh, very clean- looking skin, it gives it a different kind of edge," says Mehron makeup lead Dick Page of the lip at Linder. Mehron L.I.P Color Cream in Noir and E.Y.E Liner Pencil in Black.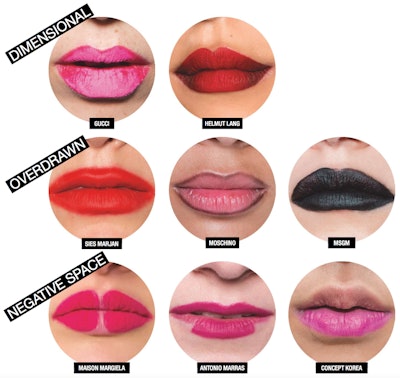 [Images: Top - Getty Images; Gucci, Sies Marjan; Moschino, MSGM; Antonio Marras: Andreea Angelescu; Helmut Lang: Luca Cannonieri; Maison Margiela: Getty Images; Concept Korea: Imaxtree]