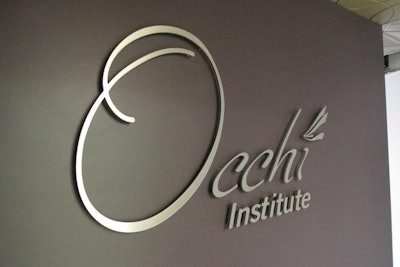 Good news for newbie and established lash and brow artists wanting to sharpen their skills: The Occhi' Institute for Lash & Brow Training in Oakbrook Terrace, Illinois, is expanding—both in space and offerings. In the new location (just down the hall from the old studio), Occhi' erected a new state-of-the-art training center that includes proprietary software and video training techniques with the aim of helping students long after they leave the classroom. "We've partnered with a well-established training company from a completely different industry. However, their training methods are exactly what the lash and brow industry needs," opines Tom La Palermo, co-owner of Occhi' Lash & Brow Studio. According to La Palermo, "These new training techniques represent a paradigm shift in the way lash and brow training will be done in the future."
RELATED: Everything You Need to Know Before You Add Microblading to Your Menu
How does Occhi' plan to revolutionize training? La Palermo explains that the new software allows for real-time feedback for the student regarding her work—even after completing her initial training. A live feed to a 75-inch HD monitor will allow student and instructor interaction regarding technique, creativity and learning all phases of lash and brow work.
RELATED: Lash Artists Need Top-Quality Training to Stay Ahead of the Curve
As for class size, La Palermo says, "the Institute is purposefully designed to be an intimate setting. Each student has her own Lash/Brow station (there are only ve) that is equipped with a lash bed, esthetics chair, up-to-date lighting and all the tools she'll need to learn." Classes are kept small—ve students in total. After all, he says, "individual attention is what Occhi' strives for." Visit occhilashes.com or call 630.785.6668 for training dates.