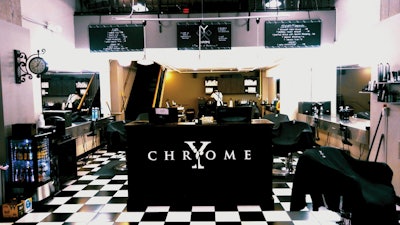 Portland, Oregon, is widely recognized as one of the birthplaces of the American microbrewing revolution, so it's only fitting that all guests of the city's Y-Chrome barbershop are offered a craft brew from Widmer Brothers Brewery upon arrival. "People love good beer here, and we have a ton of breweries," says Celeste Trapp, Y-Chrome's president and founder.
Like many urban areas of the country, Portland has seen a proliferation of trendy barbershops opening in recent years, but when Y-Chrome arrived on the scene in 2009, they were much less common. "We came at the beginning of all that, when men started recognizing that they wanted to have a better experience than what they were getting, i.e. cheap chain salons, the wife's hair salon or the old barbershop," Trapp says. No stranger to men's grooming, Trapp opened Portland's Hair M—an upscale, full-service men's salon offering a luxurious experience in a modern but comfortable setting—in 2003, adding a second location in 2005. Despite the salons' success, Trapp recognized that some clients weren't visiting Hair M for monthly services. "They just didn't need the whole experience—the scalp massage, the neck rub," Trapp says. "I thought, well, I'd rather keep these clients in the family; that's how Y-Chrome was born."
RELATED: Haven Spa is Now Offering a Geek Massage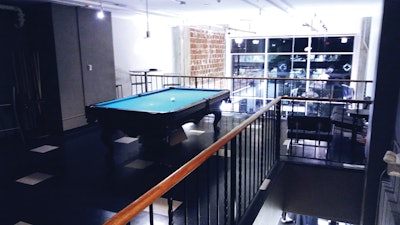 Located downtown near numerous hotels and shops, Y-Chrome caters to businessmen visiting from out of town, students and young service workers. Menu items include expert haircuts, shaves and the Grey Camo color service, all offered at affordable prices in a contemporary, welcoming environment—complete with a billiards loft, fully outfitted with a pool table, dart board and leather chairs. Unlike many other barbershops, Y-Chrome is an employee-based business, providing all staff members with health benefits, paid vacation and sick time, and advanced training.
RELATED: Get Treated Like a King at Throne Barbershop
Trapp has been partnering with Widmer since she opened Hair M. "Widmer is one of the originals here, like we've been for men's grooming, so it's been a good partnership," she says. Since Y-Chrome opened, Trapp has seen an emergence of barbershops catering to a "hipster" crowd offering Pabst Blue Ribbon. "That's not who we are," she says. "With our whole family of salons, it's about the client's experience, and making sure that we're not only delivering a great haircut, but also great customer service and amenities in a clean environment—the whole package, really." 
– by Lotus Abrams