Channeling London's plastic-like. over-the-top looks of the '80s. Paul Mitchell editorial director and former Brit bird Lucie Doughty flashes her brights with her colorful new collection. Pop Glam.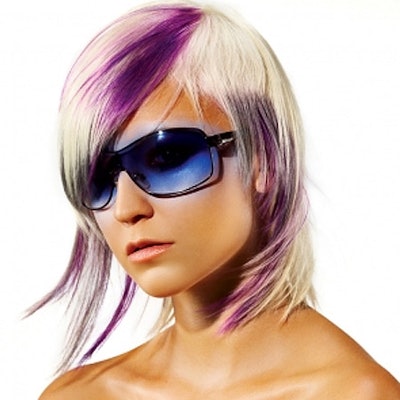 "I really went crazy with my paint box this time around." Doughty grins. "I used so many different colors that traditionally wouldn't be placed next to each other. yet they fit together beautifully when taken into context of the entire collection: neo-mod glam." As for the sunglasses. Doughty gushes. "I love the reflection they produce for the camera. I picked ones with different color lenses and treated them like makeup. If you look closely at the pictures. you'll see that our makeup artist. Kelsey Deenihan. placed a light blush of lens-blending color around the perimeters of the frames. The result is a glamorous pop of color that extends from the top of the cheek to the haircolor."
You can view a pdf of this complete article as it appeared in the magazine here.