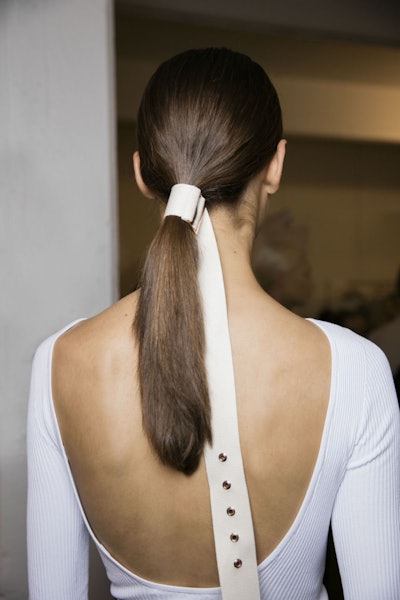 The Belt Way
With corseted waistlines a focus at the Tibi spring/summer 2017 show, figuring out how to carry over the nip factor to hair is, well, a cinch for Aveda lead stylist Frank Rizzieri. "It's really a modern take on old glamour," he says of the ponytail he's crafted for the runway. To keep it extra neat and glossy, he runs Aveda Damage Remedy Split End Repair (@aveda) through the ends. Then, he applies Thickening Tonic from the roots to ends to "add a little grip to hold the style.". After blow-drying hair straight, he draws an off-kilter parting tailored to flatter each individual girl—a small detail that helps modernize the look.  "The girls are looking really clean but with center parts that are slightly off-center," he says.
Once Rizzieri gathers the hair into a low ponytail at the nape of the neck, he introduces an element that takes this style to a whole new level: A long belt buckle tie, specifically designed to mimic the exaggerated belt silhouette heavily used in the Tibi collection, winds its way around the base of the ponytail; its lengthy ends left to swing with the ponytail as the girls walk. It's a style that's literally a cinch and one your clients can easily replicate whenever they want to elevate a simple ponytail.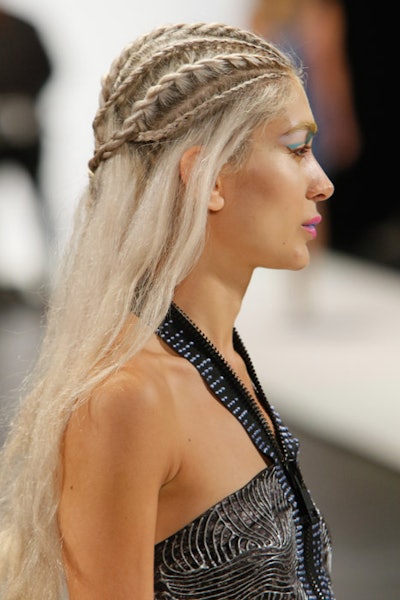 Step Up to the Plait
Why has braiding exploded over the last few years? It's not as though the plait hasn't been around for eons—we're talking thousands of years. Historically, braids have been signifiers of age, religion, ethnicity and status—and that's a lot to bear for such beautiful hair. These days, the meaning behind a braid may be nothing more than the wearer's desire to try something new.
Braids have become a way for stylists to flex their creative chops, orchestrating increasingly complex versions (like the French rope braids seen at Jeans For Refugees) that inspire and boggle the mind. For clients, the pull to weave could be as simple as capturing memories past. Certainly, braids can reflect youth; weave one on each side of your client's head like the style seen at Simone Rocha, and you instantly transport her back in time—maybe to her grade school days, when her biggest worry was getting caught passing notes in class. Or, perhaps clients plait to manifest elegance; regal styles, like the looped and twisted braided bun at Erdem, demand their wearer hold her head high, confidence becoming a requisite offshoot.
While braids can be precise or deconstructed, thick or thin, inlaid or 3-D, rope or fishtail—they demand some dexterity of the brain, and your clients might not be able to execute anything more than a simple three-strand braid on their own. But as the runways reflect, there is so much more to plaited styles than wham, bam, three strands this season—and that's where you step up to the plait.