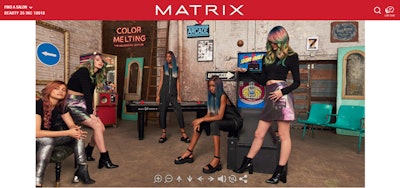 Color Melting is gearing up to the be the hottest trend of 2017. The soft gradient effect can be achieved with any color while the seamless transitions make any color look natural. 
The Spring/Summer 2017 Holographic Color Melt  collection, from the global artists at Matrix, showcases four, exciting new color melt designs. The collection was created by an international team of Matrix Artistic Directors—Chrystofer Benson, Mila Belova, Danielle Keasling and Dan Csicsai—and the stylists they each mentored—Dennis Rombout, Francis Bouchard, Vitaliy Pimenov and Victoria Yeremchuk. The stylists banded together to create 4 core looks for the trend:
Opal Melt.  A holographic interpretation of the ever-changing colors of the sky, this striking design marries memorable hues of azure, rose, gold and even emerald.
Mermaid Melt. Inspired by the inside of an oyster shell, this modern color design melts from a natural shadow root into rosy violet, pool-toned blues and finally sparkling silver.
Rose Gold Melt. Here, vertical and horizontal sections are combined to produce a Boho blend of berry, violet, coral and rose quartz.
Mocha Melt. Three shades of mocha plus a touch of indigo are combined for a masculine take on the color melt trend.
Meant to work in conjunction with a comprehensive training program, Matrix has introduced it's new 360 Digital Hub specifically designed to promote and support the looks across the web and mobile platforms. The Holographic Color Melt Collection comes to life in an immersive experience for stylists and consumers. Set in the relaxed Matrix "Arcade," viewers are treated to effects like manual rotating functions and full 360 degree views of individual models in order to experience the collection like never before. It also offers step-by-steps as well as before and after views. This digital hub will be implemented across a variety of social media and online and mobile platforms, placing this Matrix color trend at the fingertips of trend-conscious clients and their stylists everywhere.