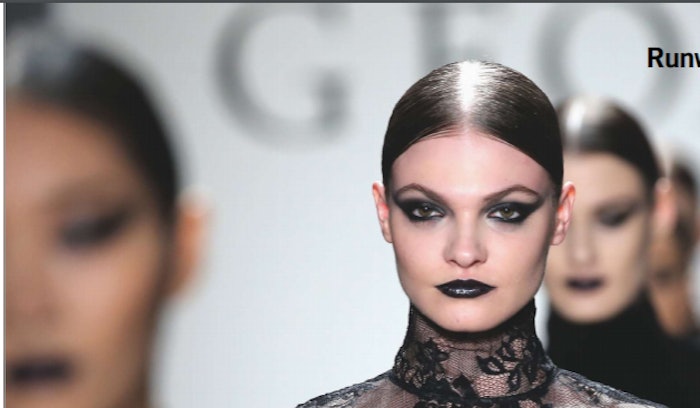 Hairstyles at Georgine reflect the fairest of them all, be they heroines or villains. —KARIE L. FROST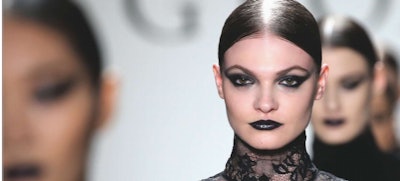 In fairytales, good typically trumps evil—but when these children's stories are used as the inspiration for beauty, both heroines and villains are put on equal playing ground. Just witness the three looks Moroccanoil creative director Antonio Corral Calero conjures for the Georgine Fall/Winter 2016 show: for his take on Cinderella, a half-up textured downstyle or a meticulously mussed topknot; for his evil stepsisters, a severe low chignon. For the half-up style, Calero envisions "girls [who] look like they were walking in the forest and [their hair caught on] the trees and leaves," he says. This tale starts with Moroccanoil Treatment (moroccanoil.com) tamped into damp strands to increase manageability. Then he draws a deep center part, and bumps up each girl's natural texture using the Ceramic Hair Dryer and his hands. A generous spritzing of Dry Texture Spray from roots to tips boosts grit. To cap this hair story, Calero gathers a few pieces from around the face and secures them loosely in the back with a velvet pink bow, adding hold via Luminous Hairspray Medium. The messy topknot is more for the active heroine; she's chasing the bad guys down yet maintaining her femininity.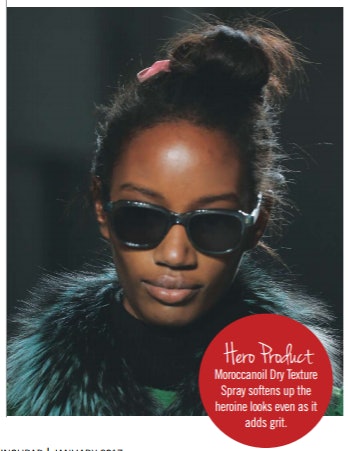 Calero rakes the lengths up into a high, off-center topknot, and delicately releases a baby hair here and there (After all: She's in pursuit; not every hair will stay in place). To further the managed mess of this style, Calero spritzes the fl yaways with Dry Texture Spray to heighten the rough-and-tumble feel. And, because he wants to keep the style sweet, a pink velvet bow rests right below the knot in the back—a reminder that she's still a fairytale princess, after all. The baddie beauties are 100-percent strict. "This look is much more severe. She's like the mean girl," he notes. Severity often equals high gloss and tight silhouettes, and on these two fronts Calero delivers. A heavy application of Heat Styling Protection spray grants that coveted shine; a deep center part projects a sternness worthy of the most wicked; and a meticulously brushed-back, woven knot keeps the look sharp and streamlined. Is it a style simply suited for bad girls? Though these hairdos fi nd their roots in fi ction, Calero insists that "it's very important for us to not only create looks that go with the collection and theme, but also looks that a real woman can replicate"—whether she's good or evil.