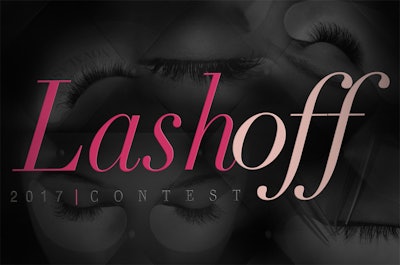 Submissions are now open for NovaLash's LASHoff 2017, the eyelash industry's first annual eyelash stylist contest. All NovaLash certified lash artists may enter to win the coveted titles of Lash Artist of the Year 2017 and Fans' Choice 2017.
Now in its 7th year, LASHoff aims to highlight the industry's top lash stylists and salons from around the world to help further develop their business. The contest also increases awareness for both stylists and the public on proper application techniques and how a proper set of lashes should look.
LASHoff has two winners: Lash Artist of the Year and Fans' Choice of the Year. All entrants compete for Lash Artist of the Year. To enter, entrants must submit a video and still images, including two before and two after images, for judging. Finalists will be judged by a panel of lash professionals comprising elite, highly experienced Advanced Master stylists, education professionals and industry insiders, including NovaLash's own Sophy Merszei. The panel will select the 2017 Lash Artist of the Year, while fans will vote for their favorite to be selected as Fans' Choice winner. Entrants will be judged on application technique, products used, what they teach their clients and their overall spokesmanship.
PRIZES
Both Lash Artist of the Year and Fans' Choice winner may receive:
The opportunity to automatically become a brand ambassador for the year
Marketing, advertising and PR opportunities to help their business
Photoshoot opportunity
Travel to trade shows and other events
A spread announcing the winner in a national magazine
Lash Artist of the Year also will receive over $25,000 in cash, prizes, advertising, marketing, and travel with NovaLash
Fans' Choice also includes over $10,000 in cash, prizes, advertising, marketing, and travel with NovaLash
Winners will be flown to Houston, Texas in February 2017 for the annual NovaLash LASHoff party. A celebration will be held in their honor, as well as NovaLash's award ceremony. Guests will consist of past LASHoff winners, media, celebrity stylists, and industry influencers.
HOW TO ENTER
Submissions accepted between Monday, October 3rd 2016 and Monday, December 5th, 2016
Complete the application in accordance with all rules and requirements
Provide a five minute maximum video
Submit four still images: two before and 2 after images
Furnish one headshot image
For more details, including how to enter and the full rules and requirements, please visit novalash.com/lashoff.