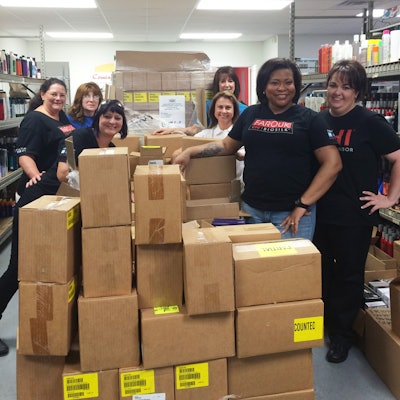 Since the devastating floods that hit Louisiana last month, one of the worst natural disasters to hit the US since Hurricane Sandy, Farouk Systems, Inc. has delivered over one million dollars' worth of haircare and tools to victims who lost everything. The catastrophic flooding destroyed homes and businesses throughout the state, including those of fellow hairdressers.
When the call to help the people of Louisiana came, Dr. Farouk Shami immediately took action. His goal was to not only support salons and fellow hairstylists with the products and tools needed to re-open their businesses, but to also supply them with basic necessities for proper hygiene. Farouk Systems loaded up their trucks to deliver the products to Baton Rouge, Lafayette, Mandeville, New Iberia, Lake Charles and Marrero. To assist with the distribution, Farouk Systems' distributor Armstrong McCall (AMCO) and their employees worked countless hours to seek out the hardest hit salons in order to restock their shelves. They also delivered products with the help of Baton Rouge Mayor Kip Holden's office to the residents of these devastated areas.
According to Dr. Farouk Shami, "First and foremost, it was important for Farouk Systems to help the people of Louisiana and our fellow hairdressers through this difficult time. Lafayette is where I began my career as a hairdresser and I will never forget how wonderful the people and salon industry was to me. I owe them a debt of gratitude for giving me a chance and now, it is my turn to help them regain what they have lost."
For more information, please visit www.farouk.com. For ways to help victims of the Louisiana floods, click here.