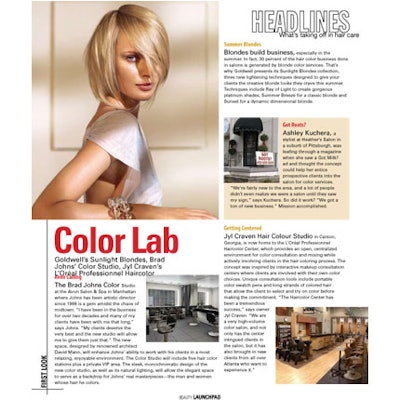 Goldwell's Sunlight Blondes, Brad Johns' Color Studio, Jyl Craven's L'Oréal Professionnel Haircolor
Got Roots?
Ashley Kuchera, a stylist at Heather's Salon in a suburb of Pittsburgh, was leafing through a magazine when she saw a Got Milk? ad and thought the concept could help her entice prospective clients into the salon for color services. "We're fairly new to the area, and a lot of people didn't even realize we were a salon until they saw my sign," says Kuchera. So did it work? "We got a ton of new business." Mission accomplished.
Avon Calling
The Brad Johns Color Studio at the Avon Salon & Spa in Manhattan where Johns has been artistic director since 1999 is a gem amidst the chaos of midtown. "I have been in the business for over two decades and many of my clients have been with me that long," says Johns. "My clients deserve the very best and the new studio will allow me to give them just that." The new space, designed by renowned architect David Mann, will enhance Johns' ability to work with his clients in a most relaxing, enjoyable environment. The Color Studio will include five hair color stations plus a private VIP area. The sleek, monochromatic design of the new color studio, as well as its natural lighting, will allow the elegant space to serve as a backdrop for Johns' real masterpieces—the men and women whose hair he colors.
Summer Blondes
Blondes build business, especially in the summer. In fact, 30 percent of the hair color business done in salons is generated by blonde color services. That's why Goldwell presents its Sunlight Blondes collection, three new lightening techniques designed to give your clients the creative blonde looks they crave this summer. Techniques include Ray of Light to create gorgeous platinum shades, Summer Breeze for a classic blonde and Sunset for a dynamic dimensional blonde.
Getting Centered
Jyl Craven Hair Colour Studio in Canton, Georgia, is now home to the L'Oréal Professionnel Haircolor Center, which provides an open, centralized environment for color consultation and mixing while actively involving clients in the hair coloring process. The concept was inspired by interactive makeup consultation centers where clients are involved with their own color choices. Unique consultation tools include portable color swatch pens and long strands of colored hair that allow the client to select and try on color before making the commitment. "The Haircolor Center has been a tremendous success," says owner Jyl Craven. "We are a very high-volume color salon, and not only has the center intrigued clients in the salon, but it has also brought in new clients from all over Atlanta who want to experience it."