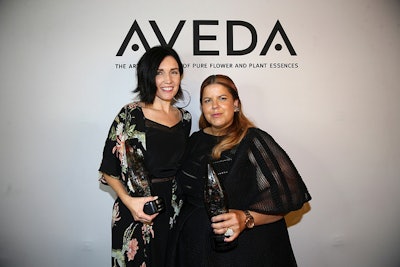 Aveda™ The Art and Science of Pure Flower and Plant Essences had a big showing at the 2017 North American Hairstyling Awards (NAHA). Three of its artists won awards, and nine others were nominated.
Aveda Artist Heggy Gonzalez, won Editorial Stylist of the Year; Diana Skrabanek won Styling Finishing and Aisling Campbell won Student Hairstylist of the Year.
Gonzalez was surprised and excited, and she accepted her award, noting that she had entered the competition every year since she was a student in 1999. She thanked her Aveda family and shared that her greatest passion in life is giving back to the industry as an Aveda Educator. Later in the evening, Campbell, a mentee of Gonzalez's won for her work coming out of the Aveda Institute Tucson.
RELATED: See All the Looks that Won NAHA 2017
"To the amazing institute Inspire Greatness, I'm so blessed and honored to be part of this family and tribe," Campbell said in her speech. Like many in the Aveda network who give back to the world we live in, Campbell also spoke about her work with the Gospel Rescue Mission, a women's and children's center in Tucson, and how the women inspire her every day to be determined and to succeed.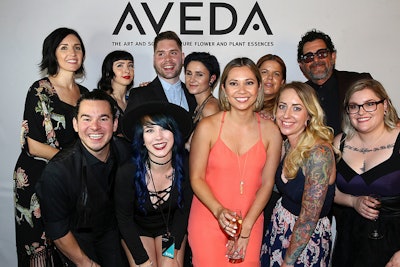 Aveda's five model theatrical presentation "Liquid Life", led by Aveda Global Creative Director Antoinette Beenders, set the precedence early in the evening for showcasing stunning couture hair styling, as inspired by the Aveda network's passion to the Aveda Mission and protecting clean water.
"Liquid Life is an homage to our incredible network of artists who work diligently to protect clean water throughout the world, every April, during Earth month and beyond. Since 2007, the Aveda network, along with our guests, have raised more than $50 million dollars for clean water, and I am in absolute awe of our network's dedication, passion and drive to caring for our planet."
With an Earth Month campaign in place since 1999, the Aveda network and guests raised more than $56 million to help support organizations that directly affect environmental change, and since 2007, more than $50 million has supported projects that protect clean water at home and around the world.
To honor this, the artistic tribute "Liquid Life" featured models in distinct hair styles that appeared liquid-like when they walked the runway wearing dresses of acrylic that evoked the look of splashes. Eco glitter, sequins and recycled crystals adorned intricate hair styles that included finger waves and geometric cuts colored in vivid hues by Ian Michael Black, Global Artistic Director, Hair Color.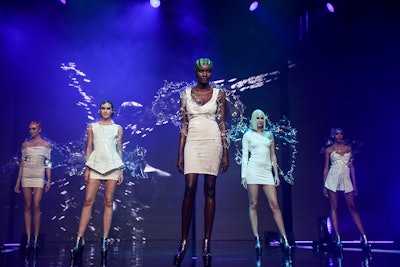 Looks included a striking chic blue bob embellished with eco-glitter adhered with Aveda Control Force™; a sleek blonde with tips encrusted in recycled crystals; an on-point vibrant green pixie cut, styled with perfect finger waves and finished with eco glitter; and a superbly detailed constructed style of silver sequins meticulous placed to create the look of water swirls. The wave and sculptural styles were created using Flax Seed Aloe Strong Hold Sculpturing Gel before the embellishments were added.
Featuring all Aveda Makeup, the models' faces highlighted fresh, lush skin with a water-like dewy effect and sultry moments of glamour with rich smoky eyes and lids lavished in glitter. The dresses were also recycled as they were first used in an evening performance segment by Beenders at Congress 2015.
"It's very important for me to review everything I have on hand before buying new. Every item can be reused in creative new ways to bring a whole new life to that material, creating looks that have never been seen before," Beenders says. "Even the blonde crystal wefts were used very long ago in a show I did overseas and today I am able to give them a new artistic life."
Along with Black, Beenders was assisted by a team of Aveda stylists including winner Gonzalez and Robert Grimes, NAHA Nominee in the category of Master Stylist of the Year; Allen Ruiz, Aveda Global Artistic Director, Hair Styling; Janell Geason, Aveda Global Artistic Director, Makeup; and Anne Skubis, Aveda Makeup Purefessional™.
[Images courtesy of Aveda]