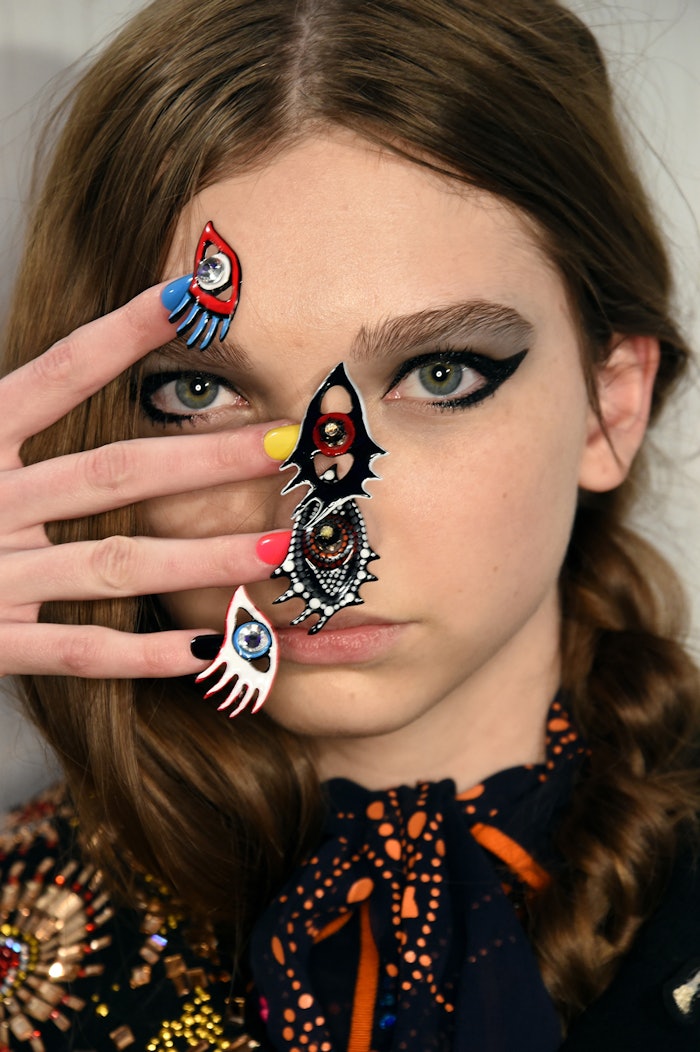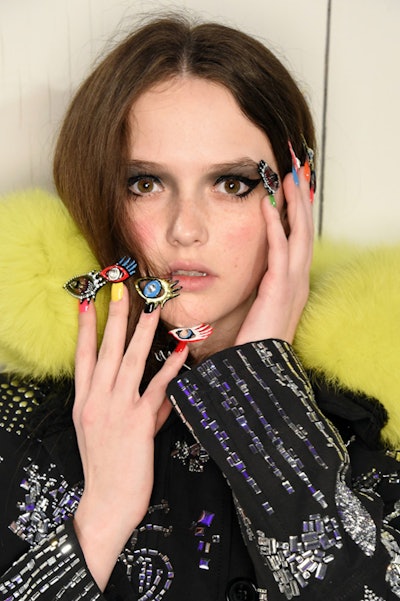 On the runway, you can see several eyes peering at you. They don't belong to front-row regulars nor are they centered on the catwalkers' photogenic faces. No, these eyes rest upon the nail beds of countless models at Libertine's Fall/Winter 2016 show, and their optic verve has everything to do with the team of CND manicurists who spent more than 200 hours sculpting and polishing these mini masterpieces.
Every season of New York Fashion Week CND re-imagines nails as works of art—and the beauty industry fawns over the often outrageous manicures born of the CND team's brain trust. And though the results are trotted out under the runway's lens of glamour, the behind-the-scenes, from inception to creation, is the stuff of hard work—the blood, sweat and tears that often occur during intense bouts of creativity.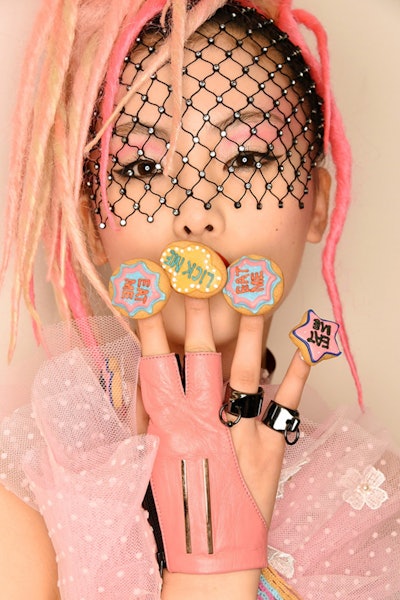 Whereas CND once tackled upwards of 15 fashion shows each season, in recent years the company decided to whittle the number down to only designers who "get" nail art and CND's boundless capabilities. For the two shows CND signed for the NYFW Fall/Winter 2016 season, Libertine and The Blonds, the design process differs for each, but the creative relationship between nail team and designers has a symbiosis that can't be denied.
"[Libertine designer Johnson Hartig] is super-clear. He knows what he wants and doesn't waffle on his vision," CND co-founder and style director Jan Arnold says. On the other hand, the design duo Phillipe and David Blond of fashion label The Blonds start at point A and end up at point Z, often with several twists and turns between. "They simply have a different process where they have this wild kind of obscure vision—and then it morphs," Arnold explains. This makes it so that nail production needs to be as close to the show date as possible (more on that later).
For Libertine, CND's first meeting with Hartig fell on December 4, 2015; fledgling ideas jived and Arnold sketched a preliminary design: an eye. From there, the lead CND nail tech for the show, Heather Davis, began pouring over research on the Libertine inspiration: French sculptor Niki de Saint Phalle. "Heather created this thick dossier, developing the story and conceptualizing things like, what will the scale of the eye be?" Arnold says. Six weeks later, on January 14, 2016, Arnold and Davis, with dossier and comps of some of the nails in hand, met with Hartig again.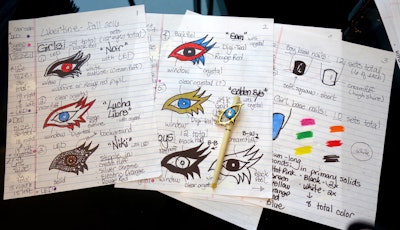 "We took 10 comps; we had so many looks for him," Davis says.
"We had to approach him right—not overwhelm him," Arnold chimes in. "We did a little pre-meeting the night before we saw him to strategize: 'OK, when we go and see him, do we unveil the designs one by one? Or do we just lay it on [all at once] and see where he gravitates?'" She pauses. "We laid it on him."
Some of the samples were rings boasting eyes, and Hartig immediately grabbed for them, plucking out all of the eyeball designs and slipping them onto his fingers. "He put them all on and then ran to the mirror and started posing in [it]. Started snapping pictures. And then the meeting could have been over," Arnold laughs.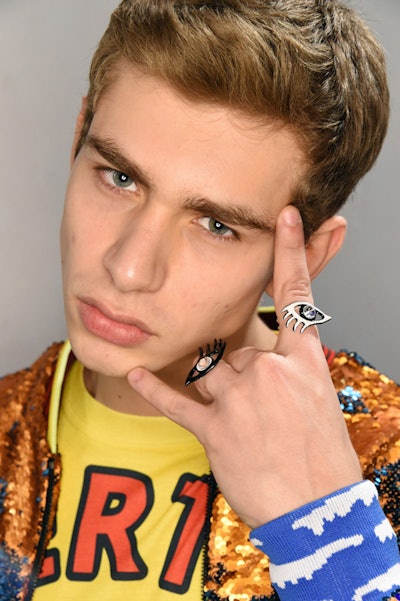 Of course, that meeting led to more back and forth until both sides were happy and the nails (and pins and rings!) could go into production. Over three weeks (Davis became sidelined with the flu, costing a much-needed fourth week—here's where those aforementioned tears come in) a team of CND artists fabricated the Libertine nails from CND Retention+ Liquid & Powder and capped them with high-shine color via Shellac. And just two days prior to this interview, and right before the Libertine show, Davis molded and perfected the eyeball rings for the runway—but this time, the fabrication happened in the CND Design Lab.
During NYFW, if you venture to the penthouse of a trendy hotel in Manhattan's Lower East Side, you'll find the CND beehive buzzing with productivity amidst pots of CND Additives, countless Swarovski crystals, UV/LED lights and nail charms of every sort. Two rows of stations line the penthouse, and at each station a tech sits, hunkering down over one look that will hit the runway. For fall, The Blonds have ordered up their usual whimsy infused with a hint of offbeat darkness: Alice In Wonderland as she falls farther and farther down the rabbit hole. Looks range from Cheshire Cat-striped tips topped in 3-D armor to edible—yes, edible—nails that read "Lick Me" to pink flamingo nails where the bird's legs and neck flail fitfully from the nail tip, mimicking the broken-limbed demeanor of Alice's bird-brained flamingo-cum-croquet mallet.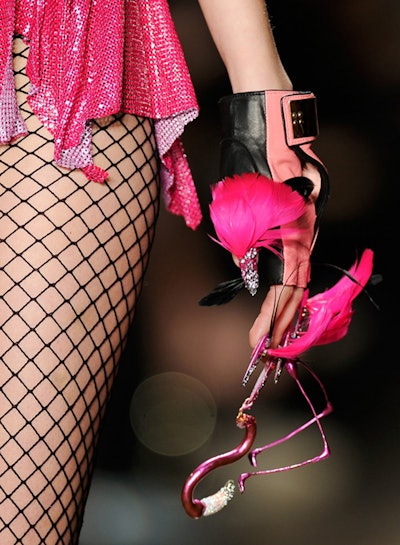 CND has set up its makeshift lab because, frankly, many fashion designers tend to change their minds all the way up until the presentation—and CND needs to be able to deliver modifications on the fly no matter the countdown until show time. As part of The Blonds' process, original ideas evolve as the weeks and days and even hours pass; it doesn't make sense to invest the time to pre-fabricate four weeks out. Davis is quick to say that this isn't necessarily a bad thing; in fact, it shows just how commingled the nail artistry is with the clothing. "What's cool about that is when we have tests with Phillipe and David, their vision tends to change with ours. They'll see what we're doing and they'll tell us that what we're doing is inspiring them to change some things in their collection," Davis says.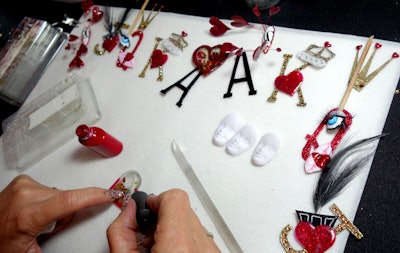 Such symbiosis between creative minds nets the most amazing results, like the Royal Flush nails that CND Design Lab Team member Amanda Fontanarrosa has been painstakingly sweating over for days—days! Most everything has been sculpted to perfection, but not until the last moment will this set be done. "I'm going to assemble them here at the Lab on a slightly smaller tip, then I'll put blank white nails on the model backstage, and then at the last minute after the model gets all of her clothes on—then, I'll piggyback these nails on top of the white nails," Fontanarrosa says breathlessly. "I mean, it's hectic as anything!"
Hectic, yes, but CND has well over a decade under its belt working backstage at shows, and the current iteration of the CND Design Lab proves that with each passing season, the team works more and more like a well-oiled machine—one that inspires not only the fashion designers it works with, but the beauty industry as a whole.
Model images: Courtesy of CND