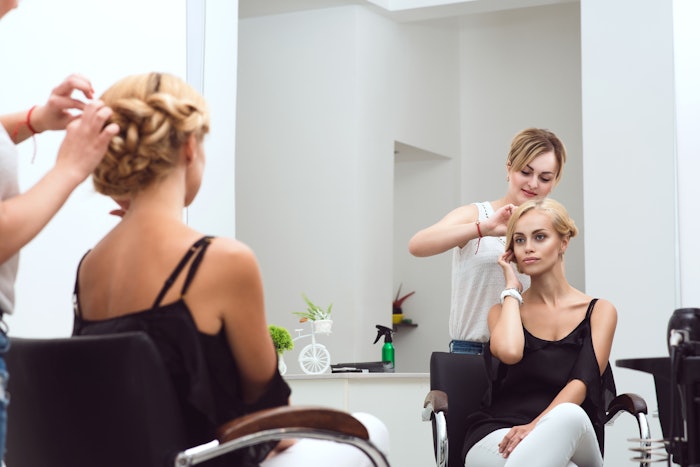 The emergence of independent stylists as a growth channel has opened the door for untapped revenue potential for salon hair care brands. Globally, the number of hair salons has declined almost five percent from 2019 levels. While the door count decreased, many of the previously salon-employed stylists decided to venture into opening independent hair-related services—driving their need to build their own inventory of products for service provision and consumer resale.  
In the United States, the number of independent hairstylists is well above half a million and is gradually increasing every year. Their collective spend on professional hair care products is more than $2 billion, making them an attractive target for professional hair care brands.  
The characteristics and behavior of independent stylists are quite different from those of full-service salons. Here are three key differences:   
Challenges linked to mobility 
While a salon is a fixed location, U.S. stylists who operate independently work on average in two to three different places, which makes it difficult to physically carry all products along with them. Additionally, they often face challenges linked to procedures that can be easily done in the salon, such as washing their clients' hair. 
Different clientele, adapted services 
A quarter of stylists provide services in care and retirement homes, translating into a particular age group—women over 51 years old. Interestingly, the vast majority of independent stylists surveyed in our soon-to-be-published Independent Stylists: Global Market Brief provide services that many salons dropped or that represent a fraction of their revenues. An example of such services is perming and straightening, representing an important share in the overall independent stylists' revenues. 
Retailing products:  an emerging area of improvement 
Of all independent stylists surveyed in our study, only 15 percent sell products regularly. With the rise in the popularity of online platforms that allow product retailing without worrying about logistics, such as Salon Interactive, stylists' behavior, in all likelihood, may change. However, there are still barriers to overcome as many of the independent stylists surveyed stated that they do not like selling products or feel comfortable doing it, or it is not a part of their offering.