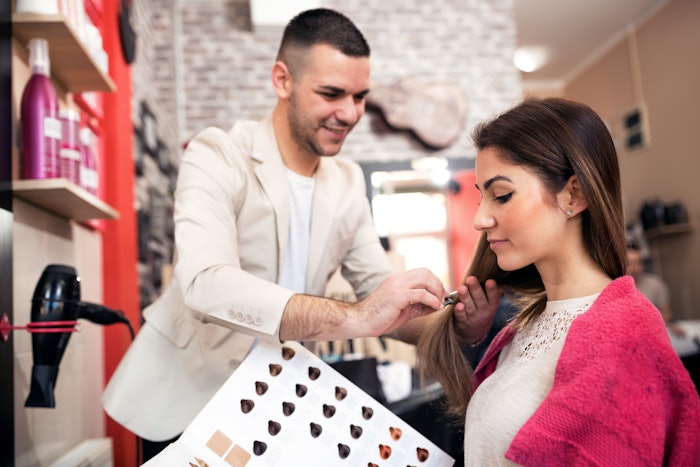 Courtesy of Dreamstime
By Patrick Shanahan, CEO of DaySmart
Some good news: As the world reopens, many are anxious to return to the salon. People want a whole new look, or even just a fresh trim, before heading back to the office or catching up with friends. Though while everyone's happy when the appointment books are full, you and your team may still face one income challenge: tips.
A recent DaySmart study of U.S. salon owners discovered that more than one-quarter (27%) of respondents say customers tip less often than they did before COVID-19. And while one-half (53%) of respondents say customers are tipping just as often as before, the value may not be the same. In fact, less than half (45%) of the respondents say customers are tipping the same amount as before the pandemic, with 29% saying the value is distinctively less. While we can all understand that many customers may not have the same income they did a year ago, that doesn't mean the value of your team's time has decreased.
But with many salons already looking leaner than they were a year ago, what can owners and managers do to offset this reduction in tips? Where can you find money in your business that you can reinvest in your staff? 
1. Take advantage of the technology available.
When things are hectic and resources are tight, it's easy for salon owners to feel like they're juggling jobs, switching between stylist, receptionist and problem-solver. Consequently, dividing your attention means that you're missing invaluable face time with clients or losing out on new business by not fielding inquiries in a timely manner. 
By adopting an online appointment book, you give clients the ability to request and schedule appointments when it's convenient for them. This means you can still be open to new business opportunities even outside of regular business hours. You'll stop frequent client call-backs, as well as free up time to handle potential new clients in real time. Clients will see this agency over scheduling as a value-add, which contributes to a positive experience and increases their chances of tipping.
An online system can also eliminate double-booking, which might happen when you're taking appointments by hand or through other manual methods. Plus, a digital appointment book keeps calendars up to date, ensuring you're adequately staffed for the day's demands. Similarly, you can avoid staff overhead and maximize your revenue per square foot.
Once clients leave the salon, use reputation management tools to automatically prompt them to leave a review for your stylists' service. That way, even if clients can't tip, they can at least share a good review to entice future business.
Behind the scenes, you can reinvest the time saved into using software to stay on top of your business. By spending time with your payroll, inventory and performance reports, you can identify areas where you might be underperforming or overspending. A software-powered salon means you're equipped to calculate employee performance, move inventory with automated targeted campaigns or generate historical reports to anticipate seasonal trends. Additionally, you'll be able to spot extraneous expenses, invest strategically and power your growth through business insights—benefits that may be more challenging to achieve with paper calendars and pen-and-paper bookkeeping. 
2. Consolidate how you process payments.
Even with pre-pandemic spending habits, contactless payments like credits cards will remain the go-to payment method for most consumers. This means you have to have software for processing those payments. Investing in these systems can be daunting and the terms can be difficult to understand, especially the fee structure. 
There are two ways to approach payment processing. One option is a "third-party" system that sits at the front desk, or with your stylists, that processes these payments independent of your accounting and operations software. The other approach is integrating your payment processing with the systems that run your scheduling and manage your business. This approach speeds client checkout, improves customer satisfaction, eliminates data entry errors and keeps your business reports complete and correct. No more reconciling bank statements to make sure that you were paid correctly for all services. 
Bundling these systems frequently means a better processing rate, which increases the amount of each transaction that stays in your business. Besides cutting down your processing expenses, integrated payment processing saves staff time, which they can invest in the client experience. Additionally, you can use a card processor that offers the ability to tip during check-out. When clients automatically see a suggested percentage or pre-calculated value to add to the cost of their service, they're encouraged to tip better than if they were to calculate the number on their own.

3. Protect your most important asset—your employees.
Clients might not be able to tip as often, or as much, but that doesn't mean they aren't still fiercely loyal to their stylists. In fact, 76% of customers consider themselves more loyal to individual employees than to the business itself, which means keeping your best staff happy and productive is essential for consistent service levels and predictable revenue. 
Keeping more staff means keeping more clients. Depending on your situation, it may be critical for retention that you consider how to make up for losses in tips in other ways until clients are back to their usual spending habits. Think: What can you do to keep employees satisfied at your salon? For instance, can you provide new (or more) tools to help your staff work efficiently and enjoyably? 
Likewise, how can you help your stylists increase the value of a client transaction? One option is to enhance your service menu to include quick services that can easily be added on to appointments to generate more revenue, like eyebrow waxing or a deep-conditioning treatment. Work with your staff to train them on how to effectively suggest these services to their clients and incorporate them into their schedules. Similarly, you can have front-desk staff suggest these add-on services when booking clients' next appointment, as well as retail products when they're checking out.
Tips are an integral component of stylists' livelihoods, so until your employees can depend upon them for a larger part of their revenue, you'll need to work more resourcefully to ensure their financial needs are being met. With the right digital tools, you can work smarter and save critical resources, best positioning your salon to overcome today's challenges and grow into the future.