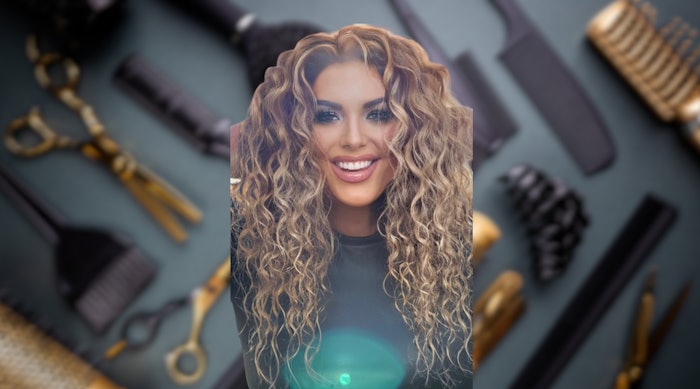 Courtesy of Sherette Fabi-Parker
Today, you will get to know Sherette Fabi-Parker (@salontrendnewyork). She is a salon owner and hair artist at Salon TREND in Vestal, NY.
Q&A: 
Beauty Launchpad (BLP): What is a fun fact about you? 
Sherette Fabi-Parker (SFP):  I once trained and ran a full marathon! After months of hard work and dedication, I was able to prove to myself that I could mentally and physically accept and prepare for anything life throws my way. The feeling of accomplishment was indescribable, and I can truly say that I am proud of my achievement. 
BLP: How did you get your start in the industry? 
SFP: I started my career with Regis Corporation, the largest hair salon chain in the world. Through my time there, I was able to hone my natural talent and acquire valuable industry knowledge. With this experience, I won numerous awards and went on to create SalonTREND. With many years of experience in the industry, an artistic vision and persistent ambition, I was able to make my dream of having my own salon a reality. 
BLP: What is your proudest accomplishment? 
SFP: I am proudest of my accomplishment of opening SalonTREND, despite facing a tremendous amount of adversity. It was a long and difficult journey, but I never gave up. Seeing the success that SalonTREND has become today is a testament to my perseverance and dedication. I am incredibly proud of what I have achieved and am motivated to keep pushing forward. 
BLP: What is your current favorite hairstyle trend? 
SFP: For haircuts, all of the long layers and face framing and blunt bobs with texture. For color, all of the GOLDEN blondes making a comeback. 
BLP: What is a tip you have for your fellow stylists who are looking to grow their following on socials? 
SFP: Get to know your audience! Knowing your target market is crucial in gaining followers and increasing engagement. Post high quality photos of your work as much as possible and create posts that spark interest to your followers. Be true to yourself and your brand! Stay consistent with how much and what you post. 
BLP: What is a piece of advice about styling/working with hair that you have for your fellow stylists? 
SFP: It is so important to listen to what your client is looking for and provide them with a realistic approach to achieving their desired results. The integrity of the client's hair is first and foremost! Be honest and explain the process through every step. 
BLP: What do you love about your work? 
SFP: I absolutely love being able to share my techniques and skills with other stylists and my clients and helping my clients achieve their dream hair. Sharing my expertise and helping them discover their potential brings a sense of purpose and joy that fuels my love for what I do. The journey of constant improvement and mastering new techniques keeps my passion for what I do alive and thriving. 
BLP: What inspires your work? 
SFP: As a hairstylist, my inspiration is drawn from the limitless potential to transform not just hair but also lives. The artistry of crafting unique styles that align with clients' personalities and aspirations fuels my creativity. The satisfaction of knowing that I play a role in boosting their self-confidence and enhancing their overall sense of self inspires me to continuously innovate and perfect my craft. 
BLP: What motivates you about the industry? 
SFP: The hair industry captivates me with its boundless opportunities for self-expression and creativity. The dynamic fusion of artistry and technique in hairstyling fuels my motivation to push boundaries and constantly refine my skills. 
BLP: What is a career goal you have for yourself?
SFP: To continue to rise and grow; to have a profound impact on not just the beauty industry, but the world; and to grow my brand through stylists and clients all over the world. My knowledge goes much further than what I do behind the chair, and my ultimate goal in my career is to show that.
You can learn more about each of our winners in our September/October 2023 digital magazine.