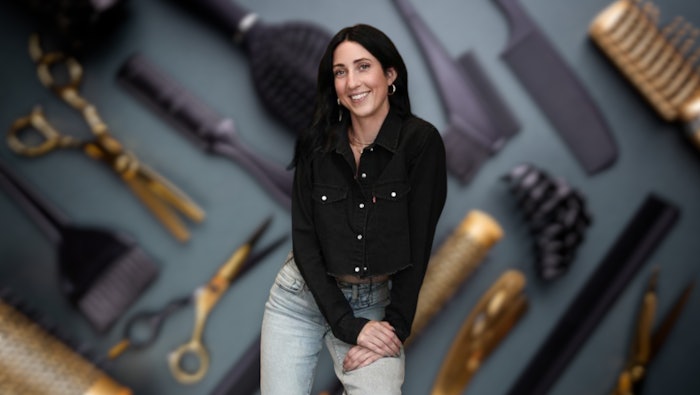 Courtesy of Ruby Farmer
Today, you will get to know Ruby Farmer (@rubystylistchicago). She is a hairstylist and extensionist at Brushed in Chicago, IL.
Q&A:
Beauty Launchpad (BLP): What is a fun fact about you?
Ruby Farmer (RF): Krekels cheeseburgers are my favorite.
BLP: How did you get your start in the industry?
RF: In high school, I had a good friend who's mom was and is still a hairdresser. I loved hanging in the salon.
BLP: What is your proudest accomplishment?
RF: Starting my own suite with my best friend Jessica.
BLP: What is your current favorite hairstyle trend?
RF: I love a good micro bob and a long lived-in hair moment.
BLP: What is a tip you have for your fellow stylists who are looking to grow their following on socials?
RF: Only post what you love and/or want to attract. Everyone has a starting point, and it's completely worth it!
BLP: What is a piece of advice about styling/working with hair that you have for your fellow stylists?
RF: Stay up with the trends for your clients and from a client's perspective. They want to feel like you're both looking at the same Pinterest board at 2 a.m.
BLP: What do you love about your work?
RF: Extensions are so fulfilling. Seeing someone so happy with hair they thought they could never have is incredible. I do mostly lived in styles and haircuts. I love how low maintenance these styles are.
BLP: What inspires your work?
RF: My clients, my hair colorist Jessica's ideas, stylists on social and absolutely new talent. I have chosen to only surround myself with people that keep me moving forward!
BLP: What motivates you about the industry?
RF: How you can do anything in this industry. It's always changing. There are always new versions of yourself waiting to develop and that is extremely motivating for me!
BLP: What is a career goal you have for yourself?
RF: Well, winning this award is definitely one of them. Expand our suite into a salon for sure. I would love to grow in the education world of hair, whatever that may look like whether that be training new stylists, current stylists or in person or through social media. I'm really just going with the flow right now and testing waters!
You can learn more about each of our winners in our September/October 2023 digital magazine.