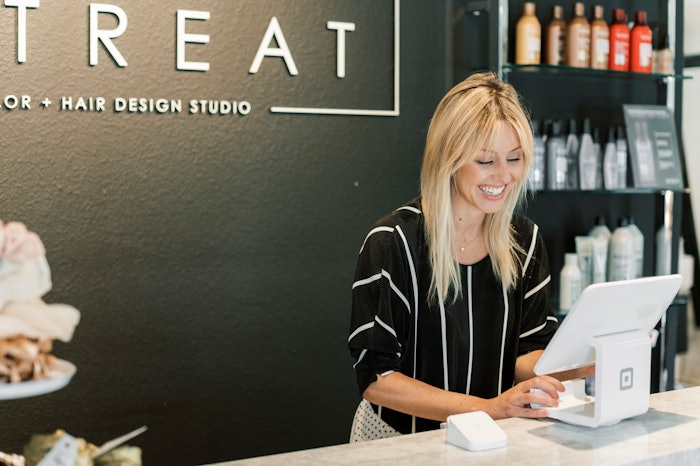 Courtesy of Anna Peters
As holiday season approaches, you may be taking time to start planning for 2024 and looking at ways you can make improvements for the new year. 
Whether you are a new salon owner setting the foundation for your business or a long-time owner looking to make meaningful changes, it's always important to evaluate your business model and find ways to boost your business, so it can grow and thrive. 
"As a stylist for 18 years, salon owner for seven and educator for over a decade, I can say it's a thrill to create the salon/career you've always dreamed of…and even more exciting to build a sustainable business that will continue to grow with you," shares Anna Peters (@annas_hair_retreat), salon owner of re:TREAT Color + Hair Design Studio. "A successful business requires time, focus, energy and the ability to stay flexible to change while continuously being innovative to stay ahead."
Below, Peters shares four tips that helped her boost business as a stylist/salon owner.
1. Costumer Retention 
Keep clients coming back and telling their friends all about you. 
Keep books open to new and existing clients. If your books are closed or new clients can't get in, growth can't happen. Hold space for them to book. If your books are too full, then consider raising your prices to open up space for those who want to pay your prices and value what you do.
Nurture your relationship with clients through consistent communication via text, email or social. Improve your customer service by personally reaching out directly to check in with clients about their hair, scheduling appointments, etc. In today's world, high touch customer service adds value and a personal connection that can be hard to find and will set you apart.
Share don't sell – offer valuable information and ways to improve hair at home vs. just selling products. Have guests record on their phone when you're styling their hair so they can reference back to it at home.
2. Embrace Digital Tools 
The more streamline business operations are the more professional the business will look and perform and the more time you will gain to use in other areas of your life.
Stay connected with automated messages, notices and policies that are important.
Allow clients to book online and post booking links everywhere so your business can grow effortlessly, even while you're sleeping.
Create a solid client flow from Google to website to social and straight into your chair. The easier it is for clients to book with you the more bookings you will get and the less likely they will go somewhere else.
Know your numbers. Use Apps like Salon Scale to track color inventory, exact usage and costs, so you can work smarter, not harder.
3. Network and Collaborate 
Step outside of the box and your comfort zone into a new circle of people and businesses that share the same values as you do. This can open doors to new business opportunities and get you in front of the eyes of future clients.
Host events that invite the community into your salon, a styling class or charity fundraiser.
Join your local Chamber of Commerce, attend monthly meetings and meet new people. Get in on their newsletters and share upcoming events/promotions your salon is hosting.
Find a local influencer that aligns with your style/values and offer to do their hair for a special event or as a regular client for special pricing in return for them spreading the word in person and on social.
Social networking is so important. In a sea of pretty hair pics, stand out by being you! Use this tool as a way to target your ideal client, speak to that type of client in your post and let them get to know the real you as well as your specialties. This is a great way to build a clientele that you align with and values you.
4. Invest in Your Future 
Time is our most precious resource. Stop planning on how to get more business tomorrow, instead use a slow day as an investing day for the months ahead. Time is money. If you don't have enough time to invest, then you won't have enough money to buy you more time.
Education is always an investment you can get an immediate return on. It's a guaranteed way to increase your value, salon culture and client experience.
Invest in systems that will make your business run smoother and save you time. Factor in the cost of these systems into your prices.
Know your numbers. If you're not good with numbers or you don't have time to do your accounting monthly, it is well worth investing in an accountant that can show you your P&L and keep you on track with real numbers that you can plan around.
Invest in your tools! Your tools are so important as an artist and play a huge part in the longevity of your career. Ergonomically designed tools will save your body, time and money in the end!
"While there are a million great tips out there on how to build a business or how to be more successful, I've found these 4 to be tried and true winners. I hope you experiment with them so you can see your business grow and live a better life," adds Peters.