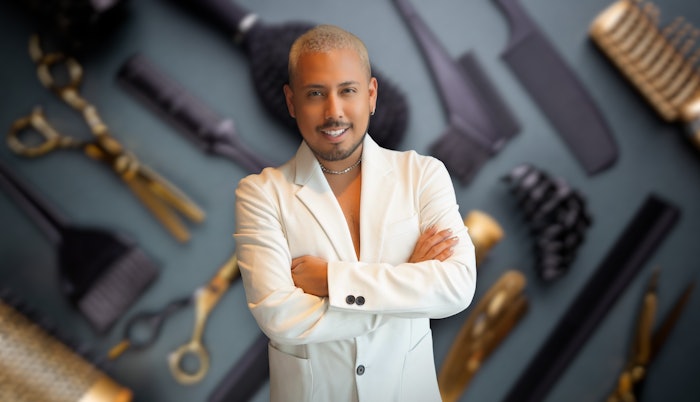 Courtesy of Louis Daniel Rocha
Today, you will get to know Louis Daniel Rocha (@the_louis_daniel). He is an independent hairstylist at The Hair Hub X Louis Daniel in Chicago, IL.
Q&A: 
Beauty Launchpad (BLP): What is a fun fact about you? 
Louis Daniel Rocha (LDR): My husband proposed to me on his unscripted matchmaking reality show Love Blows on WeTV. 
BLP: How did you get your start in the industry? 
LDR: I was the operations manager for luxury salons in Chicago's Gold  Coast before enrolling at Paul Mitchell The School. I won the Sydell & Arnold Miller Family's Art of Hair Coloring Scholarship through Beauty Changes Lives. I was asked to mentor fellow students as a result and knew I found my calling. 
BLP: What is your proudest accomplishment? 
LDR: My clients' trust. My clients trust me with all the most important moments in their lives: job interviews, weddings, first dates. They trust me to prepare them for all their milestones. My clients' trust is my biggest accomplishment because it's allowed me to own and operate my business. 
BLP: What is your current favorite hairstyle trend? 
LDR: Loving the switch to more warm/honey and bright blonde tones and layered cuts that give you big sexy hair.  
BLP: What is a tip you have for your fellow stylists who are looking to grow their following on socials? 
LDR: Document everything from day 1 in beauty school and throughout school - Start building that portfolio! Post consistently but also with reasoning behind it.  
BLP: What is a piece of advice about styling/working with hair that  you have for your fellow stylists? 
LDR: Learn to work with all types of hair and practice, practice styling. Always continue learning new trends.
BLP: What do you love about your work? 
LDR: The look: The look when you turn your client around and they see their reflection for the first time after you finish. That jaw opening look of joy is what I love the most.  
BLP: What inspires your work?  
LDR: I would have to say all the incredible stylists out there showing off their work on Instagram. It Inspires me to push myself and develop my craft daily.  
BLP: What motivates you about the industry? 
LDR: The boundless growth and potential within it – all the different routes you can take.  
BLP: What is a career goal you have for yourself?
LDR: I have a fierce passion for mentoring talent starting their career. I love building an incredible team around me and inspiring through education. I'm looking forward to launching my own collective of stylists in the near future to beautify the world. 
You can learn more about each of our winners in our September/October 2023 digital magazine.