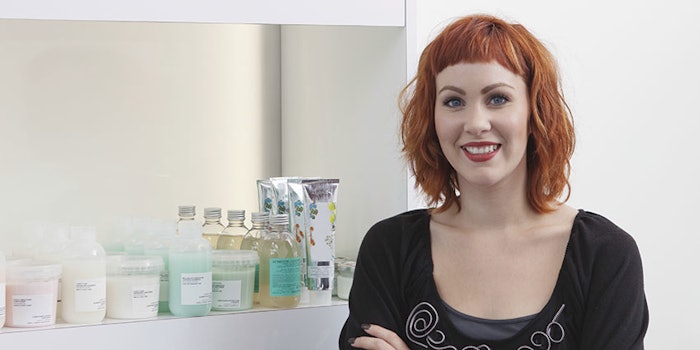 Most stylists enter this creative field for their love of people and doing hair, which means they're not always comfortable with the job of selling product; however, it's an essential component of any lucrative salon—and when done right, retail needn't seem slimy. We asked three industry experts to share their tips for how to best move product for a healthy bottom line.
1. Show Off
A successful display starts with good bones. "Think of your shelves as important pieces of furniture that tie into your salon's overall aesthetic," suggests Missy Megginson (@soyoureahairstylist), salon owner and business coach. Of course, it goes without saying that clean, dust-free shelves and great lighting are required, but avoid direct sunlight that can expose products to excess heat. Intentionally group offerings by color or product type, regularly rotating displays to encourage eye movement as clients search for their preferred items, and use signage to your advantage. For instance, "Our favorite dry shampoo" immediately conveys why that item is special. "Shelf talkers mean customers can also get quick info without asking for help, which is great for the introverted client," says Dawn Bradley (@dawnbradleyhair), founder of The Stress-Free Academy. Finally, consider location. "When clients are looking into your retail space while waiting for a service or while processing, it increases interest and instantly boosts familiarity with the salon's offerings," notes Amanda Fator (@amandafator), salon suite owner and SexyHair platform artist.
2. Straight Talk
When it comes to the product conversation between stylist and customer, think educating instead of selling. "Weaving aspects of home hair care into every part of the client experience, starting with the consultation, acts as an insurance policy for your work and does the sales job for you," says Megginson. As you continue through a service, explain the specifics of what you're using, why you chose it, and provide a price. "I feel least pushy when I simply state facts about how a product works," says Fator. "I also explain how purchases allow me to take classes or travel for shows, because my clients love partnering with my business in that active way." And if something isn't a good fit, don't push it just to close a deal. "Trust is most important," relates Bradley. "Not making a sale today could lead to numerous sales in the future."
3. Front and Center
Front desk staff should be educated and passionate about the products they're representing. "If your front desk staff loves what they're promoting, it will be contagious to customers," says Fator. Further, receptionists or managers can take responsibility for display upkeep and distributor relationships. If a popular product is backordered, front desk staff should pass that information to stylists who may subsequently make a different product recommendation. The front desk is typically a client's final point of contact, and as such presents a valuable selling opportunity. "Staff should always ask customers if they're interested in taking home a recommended product or trying a new offering," says Bradley. Added bonus: "Have a stash of samples for the front desk to gift clients, just because!" says Megginson. "Such freebies often lead to future sales."
4. Closing Time
Closing is the most important part of making a sale, but because the majority of sales work is done through education, it should also be the least strenuous aspect of a stylist's job. Remember, you empower and offer; the customer decides whether to pull the purchase trigger. "Coming to terms with the fact that you'll never get all 'yes' replies when suggesting a purchase makes taking the 'no' moments feel less scary," says Bradley. A close can also happen at the start. "At any point during the service, if a client tells me she'd like to buy a product, I take it off the shelf and place it on my station," says Fator. "That serves as a reminder for me, and begins the ownership experience for them." A no-no is to not talk about a product out of fear of seeming pushy. "When we don't like the feeling that being sold to has given us in the past, we shut down this process entirely, but that's a big mistake," says Megginson. "After all, retail sales equal home success and happier clients."
Make the Sale
Brands indicate their retail best sellers that can help boost your bottom line.
For the list of best sellers, check out Beauty Launchpad's January/February digital magazine.