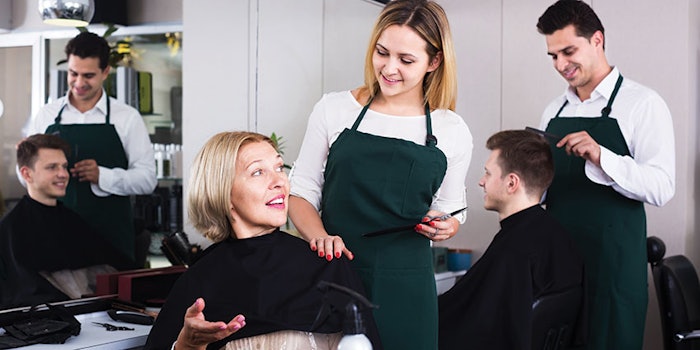 @spencerlaineartistry: When I experience an issue, I avoid texting. Texting about issues, rather than speaking on the phone or in person, is my biggest pet peeve. Text messages are a passive aggressive way of handling humans, especially stylists who are on your team.
@hairbyerinc: Every situation is different and requires customized finesse. If it is difficulty with a client or a staff member/stylist, I try to understand both sides and make sure there is mutual respect and resolution.
@row_house_hair: If it is an issue with a coworker or a client, all matters should be handled in a professional manner in a private setting. I pull the person, or people, aside privately and work through the problem by allowing all parties to speak and respond. Then I act accordingly depending on the situation without being catty, rude or unfair.
@arleneracquel: I practice accountability if I make a mistake or really did not give the client the results she was looking for. That's one of the reasons a thorough consultation is key. If the situation is that the client just didn't like what she asked for, I stand firm in a professional manner by reiterating what was discussed prior to the service and explain what can be done now to change (not fix) her hair. Unfortunately, it is not always a win/win.
@thegoldenponytail: I feel like honesty=integrity, integrity=trust, and trust is the foundation of any good relationship. People in difficult situations just want to feel heard—and a listening, gentle, open ear can make all the difference! Artists have a unique ability to be both honest and gentle at the same time, which can diffuse a lot of challenging situations.
@hairbysarayah: The greatest thing I did was only take clients and projects that fulfill my soul. More and more, I have less issues with clients. With staff, communication is key. Make sure the second a problem arises you talk about it, so it doesn't happen again. If it is an ongoing issue and a staff member is not matching the energy of everyone else around them, taking that staff member out of that equation is the only way to keep positive energy in the salon.
@themagicchair: I simply smile and say "We're all doing the best we can!" I try to keep in perspective what's important in this life. There's really no need to be difficult, now, is there?
@alkalibeauty: I run! Lol jk. I take the time to listen. Most people just want to be heard and when we listen, we solve the most problems.
@iamginabianca: I practice healthy boundaries. Remember, even though some people have no boundaries, that doesn't mean YOU aren't allowed to have them.
*Posts edited for length and clarity.