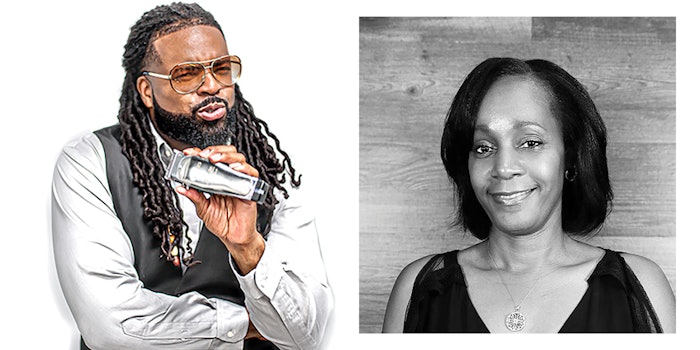 While independent education is vital to the professional beauty industry, so is brand education. Stylists must be armed with product best practices, in addition to acquiring techniques for both their art (read: cut, color, extensions, etc.) and retail acumen. And if you want to become an educator, it's oftentimes important to have brand support—for financial reasons, among many others. Here, Andis educator Eric Cheek (@eclipsllc) and Olivia Garden educator Michelle Swiney (@michelleswineyhair) share how to reach out to your favorite brands.
[1] Express Yourself Clearly Before broaching a career that encompasses education, make sure you're an expert in myriad aspects of your craft and can convey that information in a way that other professionals will be able to understand. "Don't narrow your focus too much," advises Cheek. "Be sure to have in-depth knowledge and comfort in various facets of the business to be a more well-rounded educator who can speak to a diverse group of individuals with varying client needs." Cheek also recommends reading out loud every morning for five to 10 minutes to help improve your speaking prowess—a must for educators who may be in front of a small group of stylists at a salon or a large audience at a trade show.
[2] Seek Out Brands that are the Best Fit for You Familiarize yourself with all types of brands and their offerings before you narrow down which ones you'd like to work with, shares Swiney. When deciding which manufacturers you'd like to forge a deeper relationship with, keep in mind that this company needs to actually have the products you need to deliver effective results in different scenarios—and you need to have a comfort level when working with these products. For Swiney, who specializes in curly hair, it was of utmost importance to join a brand with products that cater to a range of hair textures.
[3] Build Relationships Educate yourself about the brand, its history and the quality of its products, recommends Swiney—then, post daily on social media, tagging the brand to build rapport. "Go to expos that the brand attends and familiarize yourself with the brand's lines," says Swiney. "Introduce yourself to the brand's team leaders at shows, and let them know you're interested in working with them. Attend their classes. Be visible and ask questions. Once that is established, reach out to the company's marketing department and inquire about joining their team."
[4] Have Something to Offer "Show the brand team that you're willing to work for them, whether it be through participating in editorial shoots or regularly tagging the brand on social media," suggests Swiney. Cheek agrees, relaying that both you and the brand should help one another achieve their goals. "Maybe you're great at drawing a crowd for their shows, but you want the brand to help boost your social media visibility—you and the brand should be lifting one another up," he affirms.