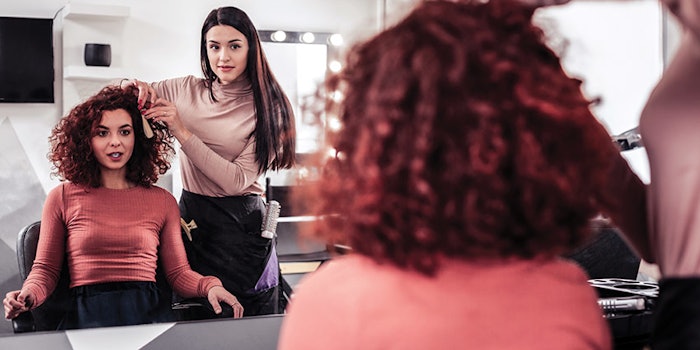 There are two sides to the salon talent pool: those who are seeking to hire talent, and those who are pursuing those coveted salon floor spots. But how do you find that perfect fit? Here, a primer for the recruiters and the recruited.
Recruiter Tips
#1 Know Your Brand When you're able to define the culture and experience your salon offers—in effect, knowing your brand—you better position yourself to attract talent that will stick with you in the long run. "If you don't know your brand, you can't possibly know who will be the right fit for your salon," says Moroccanoil artistic team member Shelby Connell. Sit down and write out what you believe your brand to be. What type of personalities fit this ideal? What does your salon staff currently project? What gaps need to be filled?
#2 Outline Your Perfect Employee "I always write out the person I'm looking for on paper—essentially a mood board of the stylist I want to hire. I list personality traits, strengths and the type of energy I want a stylist to exude," says Connell. She notes that this practice allows her to clearly define which characteristics will work best with her current staff, and prepares her to interview potential candidates with clear eyes.
#3 Ensure a Cultural Fit Speaking of current staff: Balanced work environments often contain a mix of personalities, and any new hire must be a cultural fit in the existing space, says Julie Vargas, vice president of career opportunities at Sports Clips. "Hiring someone who doesn't align could mean that you would disrupt the fluency of your team; one bad apple can mean the demise of a salon if it isn't managed well," she says. Vargas recommends drafting interview questions that will reveal personality. "We look for individuals who can answer three key questions integral to our brand: Can I trust you? Are you committed to excellence? Do you care about me?"
#4 Develop Relationships Cosmetology schools churn out a steady stream of young talent and can act as an easy pool for you to pluck new stylists. Connell follows her state's schools on Facebook and Instagram to learn about up-and-coming students, but has also developed relationships with the administrations. "You'll be invited to career days and can offer tours and mentoring programs through your salon," she says. "Most schools offer placement on their website to advertise that your salon's hiring, too." She also engages with peers and schools on social media, which "greatly increases the odds of your online presence being noticed. This helps spread word of mouth and will pique interest of potential candidates," she shares.
Talent Tips
#1 Define the Job You Want Commission or chair rental? "Each has their perks," Connell attests. She notes that commission often works best for newbie stylists because it affords more of a "team unit" that inherently offers more mentorship and education opportunities, while chair rentals can be a better choice for a more seasoned stylist looking to forge her own path.
#2 Identify What Appeals to You What do you want in a salon? "If you don't know exactly what you're looking for when you go into interviews, you could end up saying yes to a job that doesn't fit your vision of your career," says Connell. Once you determine the attributes you'd like in a salon, do your research on prospective opportunities: Look at the salon's Instagram and website to better understand its culture, aesthetic and work ethos—and make sure it matches what you want. Not only does this serve you well, but it also shows the salon owners that you're serious about working with them.
#3 Stay on Top of Trends "Let your interviewer know you stay current on the latest trends to offer professional input to clients," Vargas suggests. No matter where in the country you're interviewing, having a running knowledge of what's at the forefront of hair portrays a level of expertise that interviewers will appreciate. Read industry magazines, bone up on what is trending on Instagram and familiarize yourself with what your favorite hair brands are doing—bonus points if you brush up on the brands that your prospective salon carries!
#4 Master Teleconferencing We're living in different times. Your interview might not be in person—and that's alright. Exude professionalism with a clean background; you want to remove anything that could act as an unwanted distraction. Then, dress for the part. "Don't do this just from the waist up," Connell warns. "Get fully ready so that you feel like your best self." She also recommends building a mood board that represents your goals for your career and who you are as a person. Hang the mood board in the video conference's background, as it can serve as a memorable talking point.