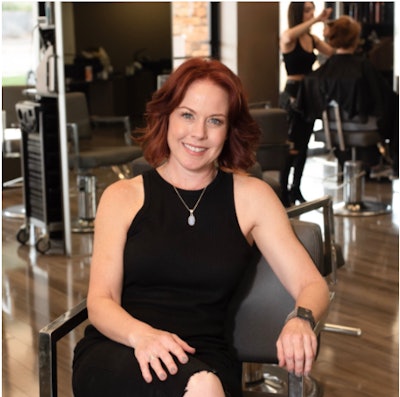 Bosley Professional Strength recently announced that Gretchen Friese is the brand's new certified trichologist and go-to education authority on all things hair loss and hair thinning. Currently salon director and hairstylist at Foushee Salon Spa in Denver, Colorado, Friese has more than 20 years of beauty industry experience and received a certification in trichology/hairloss in 2016. "As both a trichologist and a stylist, I love being able to help people find solutions for hair loss and scalp health issues," says Friese. "It allows me to use medicinal or holistic approaches as well as stylist techniques for the appearance of thicker and more voluminous hair on all clients." We reached out to her to ask about how stress from the global pandemic could be affecting hair loss, and how stylists can best help their clients (and themselves!) during this time.  
What are some of the different reasons for hair loss? 
​There are many reasons for hair loss. Hormones and stress are a couple of the biggest factors. So are thyroid issues, autoimmune disease and vitamin deficiencies. If sudden hair fall is a concern, a recommended visit to the doctor for some blood work may not be a bad idea. It can determine a change in hormones and/or rule out anything more serious.
With the world on lockdown and many people out of work or unable to go to work, stress levels have likely not been this high in quite some time. How does stress affect hair loss? 
Stress can cause a couple of different kinds of hair loss but with what is happening today we can see an increase of shedding. This is called "Telegon Effluvium," it is triggered by ongoing stressful events or chronic stress. The condition is generally temporary and hair will typically grow back within 6 to 9 months. Bosley Professional Strength BosDefense Leave-In Thickening Treatment is formulated for those who want to help protect against thinning hair. Designed to help inhibit DHT, this lightweight, foaming, alcohol-free intensive treatment may aid in rejuvenating the scalp and help support the growth of stronger, healthier hair. May assist in thickening hair, reconditioning fragile hair and providing instant volume.
How much hair loss is too much? Would a person be likely to see more or less hair loss due to wearing their hair in buns or ponytails, etc.?
Losing over 100 hairs per day or 700 hairs per week would be classified as excessive and may indicate an underlying issue. Wearing tight ponytails, buns or braids can cause the hair follicle to weaken resulting in "traction alopecia." Twisting the hair and using restricting hair accessories can also cause breakage. Anyone with a hairstyle that pulls on the follicle, such as someone with a weave or extensions can benefit from using the Bosley Professional Strength Follicle Energizer. It can be applied to the area of tension to strengthen the follicle and may help in the regrowth of hair that has already fallen out.
Because people are not able to go to the salon to get their hair colored, and because they likely aren't using as many heat styling tools on it during quarantine, is it unreasonable to assume that there would be less shedding/damage now?
Hair will generally stay healthier when the frequency of coloring and heat styling is decreased. However, because many people are feeling a lot more stress during this time in our world they may actually see more shedding and possible breakage from that element alone. A healthy diet and regular exercise will help decrease stress and the effects it has on the body and hair. Using the Bosley Professional Strength BosDefense Nourishing Shampoo will protect against thinning hair with sulfate-free formula that removes build-up, such as DHT, from the scalp surface, while cleansing hair of product build-up and pollution and Bosley Professional Strength BosDefense Volumizing Conditioner which is a weightless, daily conditioner will protect against thinning hair with DHT inhibitors that infuses body and shine without weighing the hair down.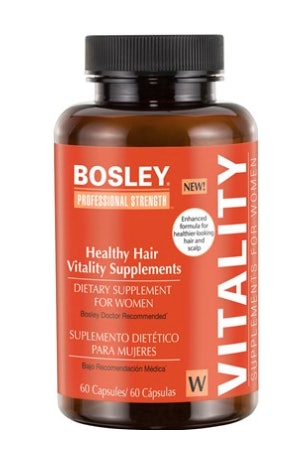 How can clients (and stylists alike) help reduce hair loss during quarantine?
Washing hair regularly will keep the scalp clean from free radicals such as smoke and pollution, which creates a healthy environment for the hair to stay in the follicle, remain strong and grow. Massaging the scalp helps with the blood flow and encourages healthy hair and scalp. Keeping a healthy diet, regular exercise and meditation will help with the stresses of quarantine and reduce hair fall. Taking a supplement like the Bosley Professional Strength Healthy Hair Vitality Supplements for Men and Women may combat hair loss with DHT inhibiting botanicals plus Biotin, Niacin and Zinc for thicker, fuller looking hair.  
If stress is a culprit in hair loss, when would a person be likely to see regrowth? Would all the hair return?
Hair that has been lost as a result of stress usually returns to normal within 6-9 months. The Bosley Professional Strength Follicle Energizer applied to areas of thinning twice a day may help speed up the process of regrowth. It can also be applied to the entire scalp.
How can stylists communicate with their clients about hair loss, how to prevent it and what to expect during this time?
Hair loss can be a very sensitive subject. It is best for a stylist to treat the issue with compassion and understanding. When a client knows they can trust a stylist the recommendations given can go a long way. They should discuss the client's hair care regime and make any suggestions for adjustment. Such as more frequent washing and because people are staying home and not styling their hair as often, looser ponytails, braids or buns. Silk pillow cases are a good idea to help prevent pulling of the hair during sleep. Some people may have more than usual hair fall during this time and some may not but assuring the client that the hair will go back to normal. It may take a little time but letting the client know that the stylist will be there for them when salons open again will go a long way.