We've tapped top colorists' informative and trending Instagram posts that'll help you nail your dream results.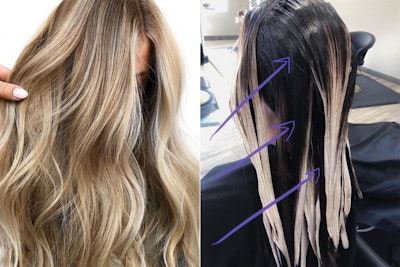 1. Moisture matters: Salt Society, an education platform spearheaded by Jamie Sea, recommends adding a mist of water onto strands to even porosity. is allows the color to glide easier onto hair, which helps to achieve a beautiful balayage blend.
2. Don't be afraid of contrast: Tabetha Carns explains that in order to nail a dimensional blonde, you need to create depth and contrast—and let go of the fear that your blondes will turn out too dark. "Concentrate on really building depth," she advises. "Stagger and bricklayer your colors."
3. Evaluate proper placement: Farhana Premji notes that while she generally prefers horizontal sections to create a seamless transition, you need to adjust according to each client. "When a client comes in with a short root, diagonal sections are my move," she says. " is placement is ideal for breaking up harsh lines that live 2 to 4 inches off the root, or for your Level 7 (or higher) guests who want lightness up to their root."
4. Remember saturation: Amy Bee stresses that when trying to achieve maximum lift, always remember saturation. "If your paint looks like the left picture, where you can still see the hair through the lightener, you'll generally not be able to lift the hair more than 1 or 2 levels," she explains. "If your goal is max lift, make sure you're getting enough product onto the hair! e whiter the brighter."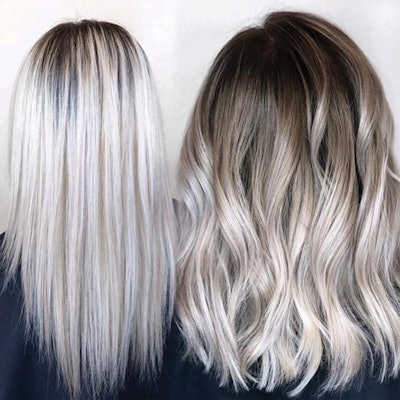 5. Analyze hair integrity: Lisa Walker dishes on how to add depth back into overly blonde, damaged hair with color and no lightener. "When I consulted with the client [pictured here], the first thing I noticed was breakage around her hairline from double-process blonding," she says. "I knew immediately that lightener was not an option. She wanted to remain blonde with less maintenance and dimension. I layered four different formulas from light to dark to erase the severe line of demarcation while creating a gradient blend, and added b3 Brazilian Bond Builder to rebuild strength."
[Images: Instagram]
This story first appeared in the February issue of Beauty Launchpad. To receive the magazine, click here to subscribe.