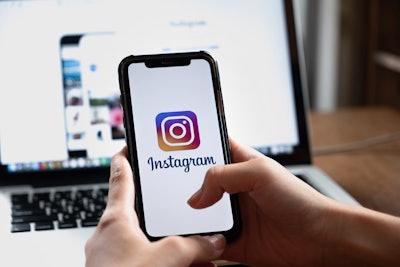 If you're struggling to find the motivation to post to your Instagram account, planning your captions in advance may help alleviate the pressure.
It's somewhat ironic, isn't it, that so many gadgets and gizmos that promised to make our lives easier and give us more time actually seem to suck it away and create new problems? (We're looking at you, smartphone!) So it may come as no surprise that "get organized" and "stop procrastinating" top many a stylist's New Year's resolution list, particularly when it comes to managing an Instagram account. It's more important than ever to create double- tap-worthy captions to accompany your amazing color correction posts on IG—especially in this increasingly like-number-free landscape. We reached out to Britt Seva, a business and marketing expert for hairstylists, to learn how to easily craft clever captions that can help you get your posting schedule back on track.
RELATED: The Best Video Editing Apps for Creating Engaging Content
First rule of thumb: It's vital to approach your captions with deliberation and care—not as an afterthought or spur of the moment. "It's hard to write a witty, inspiring caption sitting in the parking lot after a long day at the salon," Seva explains. Instead, she suggests writing captions even before you have the rest of the content ready. "I write six to eight captions at a time, a couple of times a month when I'm feeling inspired," she reveals. "Then I can drop them right into my scheduler as soon as I have a photo ready to post." (We use Later—later.com —which has a free version that allows you to schedule 30 photos a month and features linkin.bio, a clickable, shoppable landing page that looks just like your IG page to boost traffic and revenue.)
The goal with any IG caption, says Seva, is to drive action and grow your business. So rather than simply posting "New Year, new hue," use the caption to inspire your audience to try a new service or refer a friend. "The point here is to do more than simply entertain your followers with pretty pictures," she explains. is approach also allows you to talk more about who you are as a stylist and what makes you unique. By simply remarking on the color of the hair, Seva argues, you're not only stating the obvious, but you're also missing out on connecting more with your audience and clients. "Tell them about your philosophy as a stylist, your consultation style, your conversational style and what makes you special."
RELATED: How To Make Great Instagram Stories
Finally, Seva maintains that you should keep your new followers top of mind whenever crafting captions. is may sound counterintuitive—after all, people are already following you for a reason, right?—but not all of your followers are your actual clients, so create captions that will make potential clients take notice. "If you post something like, 'Who loves going blonde for summer?' you aren't going to wow people," she says. "Your captions should make potential clients think, 'Incredible! is stylist knows his or her stuff! is is who I need to see!'"
[Image: Bigstock]
This story first appeared in the January issue of Beauty Launchpad. To receive the magazine, click here to subscribe.