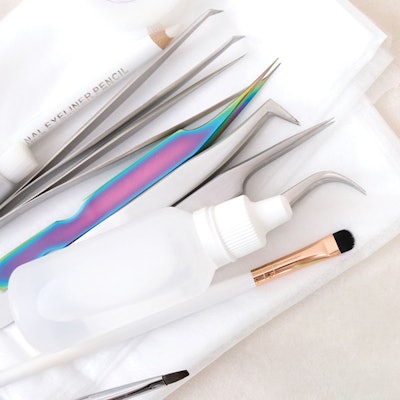 For new lash artists, setting up a kit can be an overwhelming—and expensive—endeavor. But launching a business with good equipment and a well-stocked kit will help pave the way for a successful business. To begin, "focus on setting up your kit to be able to service any client who walks through the door," recommends Courtney Buhler, founder and CEO of Sugarlash Pro. "If you have your bases covered there, you can ensure you head into each service with confidence." Still unsure? Fret not; we help you take some of the guesswork out of the process with advice from lashing veterans who explain what you need to get started.
1. Essentials: The three most important tools for your kit are also the most obvious: lashes, adhesive and tweezers. "But lashes are not one size fits all, so stock up on different sizes, curvatures and diameters," advises Lizeth Padilla, owner of DeVida Lash and NovaLash certified trainer from McAllen, Texas. Quality is also crucial when purchasing these items, as they'll directly affect your services. "Never purchase these items on discounted websites like eBay, AliExpress or Amazon," cautions DeeDee Marcoux, owner of Fabulash Faces in Neosho, Missouri. "We've found that a lot of times the products are inferior, counterfeit or may even be expired."
RELATED: In My Kit - Makeup Artist Lijha Stewart
2. Disposables: Items like gloves, doe-foot applicators, mascara wands, gloves and tape fall into the disposable category. These secondary items are equally as important as the lashes themselves when ensuring lasting and comfortable application. That being said, you can opt for less expensive alternatives for disposables. "These are not items that will affect your application or client's safety," says Marcoux, "unless you are reusing your disposable items, which is a whole different level of not OK!"
3. Extras: Nice, but not absolutely necessary for the beginner, items like nano misters and hygrometers can help with your application and offer a more luxurious experience for clients. "NovaLash has amazing equipment like the Reflector Lash Mirror, Mini Mister and Airnova that simplify your work and allow you to give your clients a spalike service," says Padilla. If you can afford them, feel free to splurge; otherwise, wait until you have a steady clientele before adding to your arsenal.
4. Aftercare: An oft forgotten addition to a new lasher's kit is aftercare products. New lashers often think only of the lash application, but forget that the way clients care for their lashes could have long-term effects. Therefore, it's important to always keep lash cleanser in stock to retail to all clients. "Teaching clients how to care for and maintain their lashes between appointments will avoid the revolving-door effect on your business," explains Claire Dottin, owner of Fabulash Barbados Aesthetics Boutique and NovaLash certified trainer in Christ Church, Barbados. "Retaining happy clients is much more profitable than spending time constantly trying to attract new ones."
RELATED: Lash Experts on Choosing the Right Formula and Successful Storage Practices
In a Pinch
Unsure which tweezers to choose? DeeDee Marcoux, owner of Fabulash Faces, suggests:
1 Needle Nose Tweezer 1 Curved Tip Tweezer
1 Angular Tweezer
1 5-inch Angular Tweezer
A Note on Adhesive
Lash adhesive can make or break your lashing career. It also happens to be the most expensive item in your kit, so make sure that you invest in quality adhesive from a reputable source. It's also important to understand shelf life. "Lash adhesive is only good for up to six months if the bottle has never been opened," explains DeeDee Marcoux, owner of Fabulash Faces. "Once it's open, it only lasts four to six weeks. If you're not performing a lot of lash applications, contact professional lash suppliers to inquire if they have a smaller bottle option; some offer a 5 ml bottle or even samples. Take advantage of those resources!" she enthuses. It may also be a good idea to have two different adhesives in your kit—"for the rare chance of encountering a highly sensitive client," says Claire Dottin, owner of Fabulash Barbados Aesthetics Boutique and NovaLash certified trainer.
Shopping List
B, C, D curls
.10, .12, .15 for Classic lashes
Adhesive
Primer and remover
Subway tile (to lay your lash strips on for easier use)
Gel eye pads
3M paper adhesive tape
5 pairs of tweezers (two pairs to rotate in and out of sanitizer and one extra in case of a drop)
Nano mister or cleanser to force cure at the end of the appointment
Disposable mascara wands
Nitrile gloves
Hospital-grade disinfectant and sanitation products
[Image: Bigstock]
This story first appeared in the September/ October issue of Eyelash magazine. To receive the magazine, click here to subscribe.