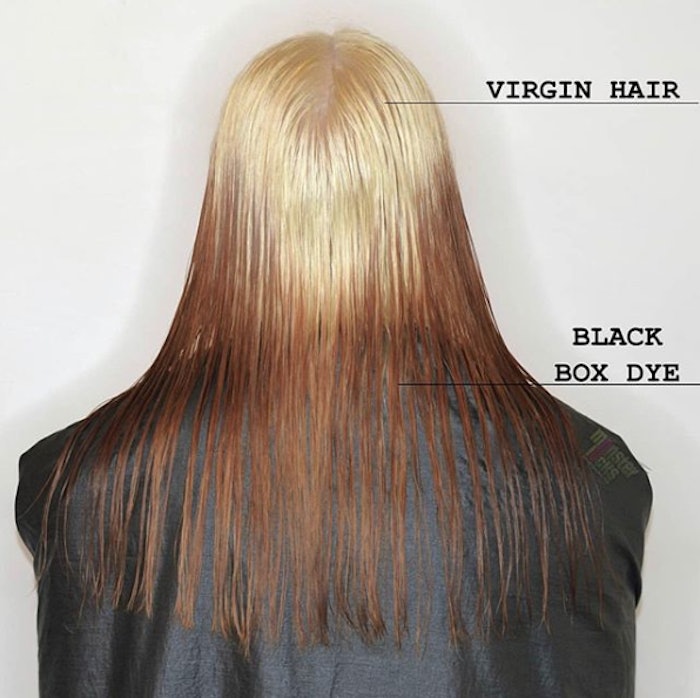 They say a picture is worth a thousand words, and when it comes to discussing hair color with your client this adage couldn't be closer to the truth. It's easy to forget that what is common knowledge in the salon isn't in the outside world (even though it should be!). So it's unfair to expect your client to know that they can't go months without retouching, or that products bought in a drug store are different than those bought at the salon (after all, they're often the same brands!)—unless you explain the reasons behind it. In the interest of helping you to educate your clients to the max, we've rounded up seven posts for you to save and improve your consultations and clients' long-term hair goals. 
1. Why She Needs Low Lights
Telling a blonde that you're adding low lights into her hair can make her panic. After all, most blondes only want to be blonder! But @suetyrrellstylist's post shows how much more blonde (and on-trend) hair looks when you create contrast in the hair. "When adding dark into a light palette it creates depth, dimension and contrast," she explains in her post. In other words, you can't have lightness without dark, and by adding in strategic low lights, the hair appears blonder by comparison. 
2. Why She Can't Go Blonde In One Session
Every stylist worth their salt has been there: A client wants a dramatic color change in one sitting because she's seen it done on Instagram hundreds of times. Unfortunately, what many of these viral dramatic before-and-afters don't show is either how long they really took or the fact that the before was virgin hair. In any event, a color correction can be tricky at best and traumatic at worst—especially when there's black box dye involved. @monsterlocks' dramatic visual perfectly illustrates the fact that previously darkened hair (especially if done in the privacy of their own home) is notoriously difficult to lighten, and it probably ain't gonna happen in one session. "It's not the stylist's fault," he writes, "we are limited to the canvas you bring us." By showing this visual to your client, you should be able to drive your point home. 
3. Why You're Charging What You're Charging 
Another common misconception among the general public is that hair transformations don't have to take money. Of course this isn't the case—not only are the products you're using expensive, but your time is valuable too. That being said, in order to fight this mistaken belief, education is key. @jessdeehair is one of many stylists who have begun posting price breakdowns (thank you, @iamginabianca!) to show clients (and other stylists) why their pricing is what it is. In this example, her client had eight inches of regrowth and it took her four hours just to apply the foils alone. 
But it can get tricky when discussing desired end goals and price. Sometimes a client is willing to sacrifice short-term goals to protect their hair health (or wallet)—and sometimes they don't even know that different options exist! This post from @lo_wheelerdavis shows how you can easily manage expectations and discuss pricing options for average blonding clients. 
4. Why It Is Better to Buy Products From You
Trust us when we say that no one outside of the beauty business has ever heard of the word "diversion." Clients shop like the rest of us: Searching for the best deal, period. However, some retailers both online and in real life sell salon products that are expired, diluted or entirely fake, and the average customer is none the wiser. This post from @nicoleoharehair perfectly illustrates the difference between a product purchased online vs. in salon. Show this post to clients who are spending hundreds in the salon but looking for cheap products online. After all, so often you get what you pay for. 
5. Why Regular Maintenance Is Key
For many clients, going blonde is pricey. Even if they don't have box color on their hair or require a huge transformation, there is cost in maintenance too. So while you may recommend 4-6 weeks in between appointments, they may hear money, money, money, and extend the time between visits even longer. But when you show them these posts from @hairbyfranco (Franco Hernandez) and @ultrafadebyrich (Rich), perhaps they'll adhere more to your recommendation and maybe even—gasp—prebook their next visit to you!
High-lift blondes require regular upkeep, and not just because they don't want unsightly regrowth. This post from Hernandez shows a client who went three months in between blonding sessions, and it's clear when she should have come in vs. when she did. What is also clear in the photo is the risk she is doing to her hair by waiting that long. "The more you postpone your appointments the more intensive it is for your colorist to achieve an even result," he writes, explaining that as the new growth travels further away from the scalp, the harder it is to lift, creating bands and risks to hair health. 
What's more, says Rich, not all hair grows at the same rate, meaning that it's more difficult for a colorist to lighten hair because the line of regrowth isn't straight, and there's an increased risk of damage and breakage due to the chance of overlapping lightener on previously lightened hair.