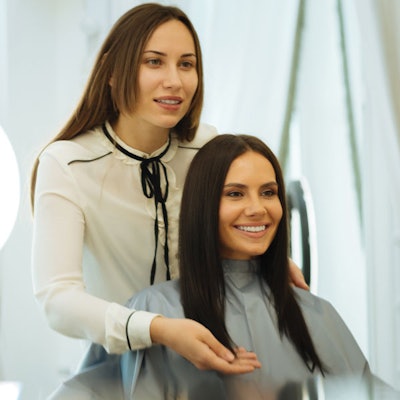 In a recent poll conducted among 200-plus clients by Nina Tulio, a salon business coach at 1N Agency (and former stylist and salon owner), she requested the top reason clients flee—and was blown away by the result: The stylist wasn't listening to her clients' needs. "As a close second, the clients simply got bored," Tulio reports. "Today, with access to so many stylists, the concept of loyalty has changed." To ensure your clients don't partake in these too-common complaints, Tulio shares her top five tips for ramping up retention.
1. Create Thorough Consultations: Consultations prove to be the key foundation for establishing relationships; Tulio recommends slotting 15 to 30 minutes for new guests. "Yes, time is money, but think long-term— those 30 minutes can gain you a 10-year loyal client," she explains. "You get to know the client face-to-face, taking the time to discuss desired looks, needs and future hair goals in a deeper conversation."
RELATED: Experts on What Constitutes a Color Correction and How to Fairly Price It
2. Don't Go MIA Mid-Service: Clients require constant tending-to—not only at the chair, but also during downtimes (e.g., processing). "Check on them a couple of times, instead of checking out," Tulio recommends. "Ask if they're comfortable, if they need a beverage, if the WiFi is working properly, etc., and they'll feel extra cared-for."
3. Seek Follow-Up Feedback: Within 72 hours, follow up with an email to first-time clients (the trickiest to retain). Extend a thank-you for visiting and attach a survey—five questions or less—for feedback: Would you return or recommend a friend? How would you rate the overall value? "Positive or negative, feedback is a gift—it says you care about clients when they're here and after they leave," Tulio notes. Bonus: Add a personal touch with handwritten thank-you cards by mail.
RELATED: How to Hire Your Salon Dream Team
4. Retail Smartly: As Tulio notes, studies show that clients who purchase retail enjoy a more loyal bond with their stylists; after all, retailing demonstrates you have their best interests (and haircare) at heart. The key? Reprogram your approach from "sales push" to education, detailing product info and benefits at every service step.
5. Up Your Education: To offset boredom, invest in education on a monthly (not yearly) basis, then show off and recommend new techniques or styles to clients. "As the expert, it's your job to offer suggestions and keep fresh, on-trend and relevant," Tulio concludes. "If you're not offering anything new, clients will seek another stylist."
[Image: Bigstock]
This story first appeared in the October issue of Beauty Launchpad. To receive the magazine, click here to subscribe.