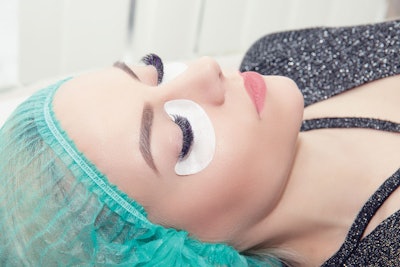 Applying lash extensions is detailed work that requires the utmost precision—which is why it's so important to keep those lower lashes out of the way. What's more, using lash pads can help the artist keep track of lash length and patterns so she doesn't get lost in her work. With so many products on the market, from tape to pads, everyone has their own technique. Here, we tap into a few lash experts who share their best advice for keeping lower lashes in place.
Choosing the Right Pad
Choosing the right lashes and adhesive, even the right tweezers, are what many lash artists spend their money on, but you don't want to skimp on secondary products like eyelash extension pads. "Low- quality under-eye pads can be too sticky where it almost hurts to take them off or not sticky enough and all the bottom lashes start popping through," says Denise Sanabria, founder of Texas Lash Ladies. That's why it's important to look for quality products and test them out first. "Not all lash pads are created equal. Quite a few under-eye pads that tout restorative ingredients tend to slide down during the lash service," explains Breanna Marcoux, licensed cosmetologist and master lash artist at Fabulash Faces in Neosho, Missouri. "They're just too gooey and slimy to stay in place."
Some lash artists supplement their gel pads with tape—Nexcare Sensitive Skin tape (aka "blue tape") is a popular alternative. "It's safe for fragile or sensitive skin and is water resistant and hypoallergenic," says Katie Gross, founder of the Lash Artist Box and owner of Suburban Lash near Akron, Ohio. "It tears easily by hand (bye, scissors!) and can be removed from the skin without causing pain to the client." Before applying tape, it's always a good idea to hygienically remove some of the stick from the tape before applying it to the client's skin for gentle and pain-free removal.
RELATED: 3 Products to Keep Brows on Point
Fit
Fitting eyelash extension pads is the first step. Depending on the size and curve of the client's eyes, different eye pads will achieve the desired effect, so make sure to look at the eye shape before applying the pad. "For clients with deep-set or protruding eyes, for instance, I use large pads because their shape accommodates larger, curvier eyes and cheekbones," says Soo-Jin Yang, founder and CEO of Illumino. Almond eyes are best suited for most gel pads, says Gross, which can often keep all of the lashes down without needing additional tape. "A round eye, however, will likely need one to two pieces of tape to keep all of the bottom lashes down," she explains.
Application
Every artist has her own method for applying gel pads, from having the client look straight up at the ceiling to looking back at the artist. However, what doesn't work is when the client stretches her face to "help." "This will cause the lash pad to move up into the water line and cause irritation once the client closes her eyes," says DeeDee Marcoux, owner of Fabulash Faces.
The traditional method is to have the client look up and place the pad. "I like to start at the edge of the lower lid waterline and gently press it down [across the lash line]," says DeeDee. If using gel pads, make sure you don't apply them too close to the lower lash line. "The warmth from the client's face and lights will cause the gel on most under-eye gel patches to soften up during the application, and if the gel runs into the eyes it can cause irritation," says Esther Bolkin, founder of Glad Lash.
Sometimes clients have extra-fluttery eyes or struggle to keep their eyes open while applying the pads. In that situation, Yang uses this technique: "Begin with the client's eyes closed. Slightly lift the eyelids and then slide the eye pads under the client's lashes while keeping the lids slightly open." Finally, always check in with the client to make sure that she isn't experiencing any discomfort.
RELATED: Nicolette Ventura on Going from Lasher to Franchiser
Tape Tricks
Paper tape (like 3M Micropore Surgical Tape) is a must-have for many lashers. Its versatility allows you to gently pull the lid away to help reach the tiny lashes in the corners. "It works wonders when you need to lift a client's skin off her lash line, particularly for those who have crepey or hooded lids," says DeeDee Marcoux, owner of Fabulash Faces in Neosho, Missouri. Another trick: Apply the gel pad first, then tape the lower lashes down on top of the pad, says Esther Bolkin, founder of Glad Lash. "This will prevent the gel patches from slipping and also protects the lower lashes from adhesive during application," she says. "I like to use this tape to vertically lift up the client's eyelids to get a better reach, but you can also use it horizontally to stretch the lids, which helps to expose the inner and outer lashes," says Katie Gross, founder of the Lash Artist Box. "It's a total game changer!"
Tip!
"Save the paper from the gel pads and use it to write down your client's information like curl, length and lash-mapping/style used. Add the info to your les to use as reference for her next appointment!" —Katie Gross, founder of the Lash Artist Box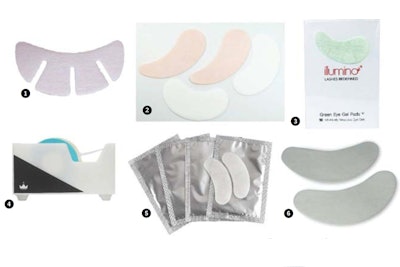 1. PremierLash Standard Hydro Gel Eye Pads - The patented deep V cuts on these ultrathin and lightly tinted eye pads provide exibility and better isolation. The ex-form technology allows for easy repositioning and leaves no gummy residue. 
2. Texas Lash Ladies Pink Eye Pads & White Eye Pads - Extremely gentle, yet sticky enough to keep bottom lashes out of the way, the nonslip Pink Eye Pads are ideal for clients with light-color lashes, while the smaller White Eye Pads offer the same nonslip gentle stick with brightening and moisturizing ingredients. 
3. Illumino Green Eye Gel Pad - These custom-designed green gel pads appeal to the photoreceptors in the human eye, which analyze the visual plane better when viewing green—making even the lightest blonde lashes visible. Available in three sizes to t any client, the simple formula incorporates hydrogel, glycerol, vitamin C and collagen to leave eyes looking well-rested after application. 
4. Bella Lash Tape Dispenser - Designed to store and hold lash tape for easy use, the Tape Dispenser utilizes a strong blade on one side so tearing tape takes little effort. The large, nonskid base holds two to three rolls of 1-inch core tape. 
5. Glad Lash Lint Free Eye Gel Patches - The lint-free, aloe-infused gel patches secure and protect the lower lashes while delivering a patented slow-release formula of moisturizing collagen and brightening arbutin to the skin around the eye. 
6. TheLashChick Eye Pads - The hydrating under-eye pads offer a cooling and soothing experience thanks to collagen and aloe. Available in curved and soft curve options. 
[Images: Courtesy of manufacturers; Getty Images]
This story first appeared in the July/August issue of Eyelash magazine. To receive the magazine, click here to subscribe.