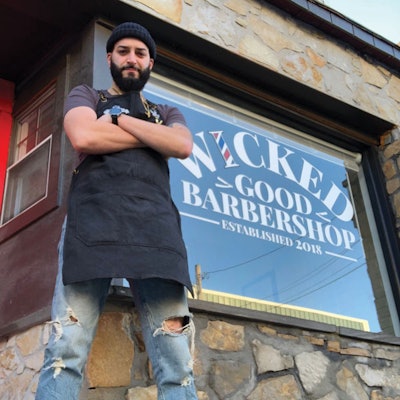 Men's grooming is booming, with predictions estimating this industry will hit a staggering $26 billion net value by 2020. The craft of barbering is experiencing an undeniable resurgence of cool as men come to care more about their hair. But while Forbes calls it among today's fastest-growing national professions, opening a successful chop shop requires more than just investing in a stellar pair of shears. We consider the fundamentals of how to launch a modern brick-and-mortar that goes way beyond your grandpa's barber shop.
Location, Location
Finding the right space starts by curbing egos and managing expectations. "Your first shop might not be a giant dream salon located on a high street; it's important to be realistic about what you can a ord," advises Matty Conrad, founder and owner of Victory Barber & Brand, with a product line and four barbering locations in Canada. Rather than straining wallets, sign a lease you'd be able to pay solo with existing bank funds in a pinch.
If possible, pros suggest taking over from a barber who's retiring, as such shops already have a proven track record. Further, interiors are typically cheap to renovate—work is often limited to electrical and plumbing overhauls. "Avoid shops that are closing down, or struggling and desperate to sell," says Conrad. "Untenable leases, bad landlords or inherent structural issues are among the reasons these salons might not survive."
When searching for a new space, keep two key considerations top of mind: parking and high foot traffic. "I'm on the corner of a busy street, which means lots of passing pedestrians, and there's also room for cars, which was the second factor that cinched my purchase decision," shares Daryl Reis, owner of Wicked Good Barbershop in Fall River, Massachusetts, and educator for Johnny B. A good realtor can scout an array of properties within a desired price range.
RELATED: Master Barber Danny Amorim on Getting Involved in Education and Opening a Salon
Crew Cuts
"Good employees are paramount," says Conrad. "There doesn't exist a single throwaway position in a barbershop." Vibe originates with valuable front desk sta , who set the overall tone by being first to greet and last to close out a service, ideally while also moving retail. "A skilled receptionist can further maximize the the efficiency of operators in the shop, which is essential to creating a happy, profitable atmosphere," Conrad explains. He therefore hires for attitude, paying close attention to the personal chemistry of all members, then trains for skill. Ditto for Reis, who looks for passion as the most important trait when sourcing barbers. "It's all about energy," he says. "I want to see how much you love cutting hair." John Mosley, Paul Mitchell head barber/educator and owner of Popular Grooming Lounge in Mansfield, Texas, likes workers who show up early, stay late, and care about continuing education. Conrad agrees: "I hire people who want to learn and become part of the team." A red flag is the barber whose résumé includes three or more shops in five or less years, as that's symptomatic of someone who jumps ship—potentially while also poaching other employees.
Social media is a good place to advertise when hiring. Reis also visits cosmetology schools to offer apprenticeships to grads.The decision of how big a crew to run depends on volume of work per individual shop. "You want to strike a balance between keeping all operators occupied, while minimizing the number of clients you're unable to book," says Conrad. "If I'm regularly turning away three to four customers a day, it's time to hire someone else." Employment regulations, which vary state by state, may serve as an additional deciding factor. Massachusetts state law, for example, requires a max of three apprentice barbers for every master barber. "I'll need to find a new master before I can hire my next employee," shares Reis. (It goes without saying that a valid barber's license is the first mandatory prerequisite.)
Branding Basics
The brand you create as an entrepreneur and barber serves as the umbrella under which all design decisions fall, from outfitting a shop to marketing both in the wild and on social media. Don't know where to start? Conrad offers these simple yet powerful words of wisdom: "Stop trying to be what other people like, and instead focus on what resonates as authentic." His shops are vintage-inspired, with chairs made by designer Takara Belmont. "Some are 85 years old and still rock solid," he marvels. "Don't cheap out on the fit-out, as a well-designed space can do a good portion of the work when it comes to creating a solid experience for a client." Reis tends toward a more modern aesthetic. "My interior is black and white with sleek, clean lines," he says. Chrome accents and pop culture-inspired art—Biggie Smalls wearing a crooked gold crown, the Monopoly man carrying an umbrella—add funky color splashes. Mosley favors Hobby Lobby, Home Goods and other home decor shops for furniture basics, along with a logo that's simple yet bold. When first starting out, Reis blasted his own salon logo on stickers, T-shirts and hats, which he handed out in lieu of business cards. "People tend to throw away a piece of paper, but guys would wear my shirts to the gym," explains the pro. "That suddenly sparked a conversation about my shop." Branding shouldn't be thought of as a onetime push, but rather a continuous effort that also encompasses online marketing platforms like Yelp, Instagram and Facebook. "As a business grows, so too should the brand," says Mosley.
RELATED: ​Reuzel Cofounder Bertus on What Sets the Company Apart from Other Brands
Calling All Clients
Facebook likes are nice to collect and Instagram Stories fun to view, but when it comes to attracting clientele, personal recommendations can't be beat. "A good haircut is your walking billboard," says Reis. Treat clients like gold, and word will likewise spread that yours is a shop where guests are valued and appreciated. "Barbers sometimes serve as counselors, so part of our job is to be discreet," continues Reis.
Never underestimate the power of pounding the pavement. "Clients are not engaged while sitting around an empty cutting room, but rather by being social and interacting with humans in real life," emphasizes Conrad.Meet fellow high-profile business owners and offer a free service. Partner with like-minded distributors such as boutiques, bakeries or modeling agencies for mutually beneficial giveaways. Create content for local newspapers and magazines, or plan a buzzworthy event. Craft incentive programs for customers who refer friends.
Walk-in traffic can generate steady income flows for barbershops, where the turnover rate for services is typically faster than at a salon; which is to say, you're missing out if your business doesn't appear inviting. "Some owners cover their windows in graphics, which might look cool, but I have three big windows I keep clean and bare because I want you to see me and I want you to come inside," says Reis. A "Walk-ins Welcome" sign goes a long way to luring passersby. Conversely, scheduling software systems like Booksy, Vagaro and Rosy Salon Software help ensure a smoother-running day by keeping wait times down and giving operators a heads-up regarding appointments. "To me, one model isn't better than the other," says Mosley. "Both walk-in and pre-booked clients come with their own sets of benefits."
Onward and Upward
"Opening a second location is like having a second child," says Conrad, laughing. "The jump from one to two is surprisingly difficult,and part of your challenge is ensuring the first won't feel abandoned." Start by making sure your shop is at maximum capacity. Stable management plus solid systems for daily operations are likewise mandatory. Identify the individuals you're confident would make dependable managers or lucrative business partners, if expanding. And get  finances in order by building up a war chest that can float new business operations for at least three months when the inevitable rainy day arrives. "Being a successful stylist and business owner are two disparately different jobs," says Conrad. Any first year as chief will necessarily include hard lessons, but meticulous planning can help pave the way to smoother results.
[Images: Courtesy of Wicked Good Barbershop]
This story first appeared in the Summer issue of MAN magazine. To receive the magazine, click here to subscribe.