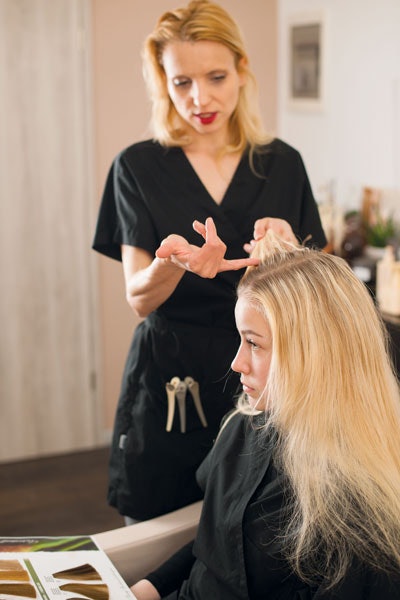 The debate rages on over what exactly constitutes a color correction— not to mention how to explain and appropriately price these services for clients. "Defining corrective color can be tricky," admits Jamie Pressman, owner/stylist of Ginger and Blondie in North Haven, Connecticut. "When you're fixing an at-home job or someone else's work, it's corrective. And, anything that takes more than three hours is likely a corrective color."
Similarly, Chad Kenyon, Olaplex ambassador and celebrity stylist at Los Angeles- based Ramirez | Tran Salon, defines the service (or series of services) as reversing unwanted results of previous color service(s). Though they're often performed on new clients, current clients (think: actresses seeking total hue revamps) are also common candidates—requiring a bit of forward planning. "My job is to soften or erase my previous color work and create the specific new color my client envisions," Kenyon explains. "I must formulate in a way that delivers the desired results, yet can be manipulated to create the next new look, without compromising the integrity of my client's hair."
Step By Step
Pressman notes that a corrective color may entail resaturation of bleach on color bands or glazing several times to neutralize stubborn pigments. In essence, Kenyon adds, it's all about erasing the existing and creating the new—which may include stripping color, filling the hair with previously removed underlying pigments (to ultimately go darker), and offering strengthening treatments as necessary to restore the hair's integrity prior to the color service.
"One type of color correction I do often: converting or transitioning a new client's previously foiled highlights to my color-melt aesthetic," Kenyon details. "I balayage to diffuse away all of the existing regrowth (aka foiled lines of demarcation) and simultaneously create new, hyperrealistic light and depth with strategic balayage painting and placement."
Talk Time
Considering the potential complications that surround corrections, how should a stylist break down the service to a client—and communicate why it's worth the cost? Kenyon advocates in- depth, detailed consultations, explaining the correction's procedures, upkeep and options for altering the color in future services. "All of my clients sign a waiver that clearly states it may take an unexpected number of services to achieve the desired result, with the prices of any and all color services I may need to get the look," Kenyon relates. "I never convince a client to do any color service—if she's not 100 percent on board, neither am I!"
Pressman also uses the crucial consultation to clearly communicate pricing and avoid surprises—and to clarify that results may vary. "I'm up-front and honest with corrective colors as I'm never 100-percent sure of how far I'll be able to push the hair in one session, and I like my clients to know that going in," Pressman explains. "It's a 'let's see what happens' approach, rather than 'I guarantee you'll get this color.'"
Price Points
Though some stylists may offer corrections as a color package, Kenyon charges per service. "Charging a set amount as a package can get tricky, especially when a client doesn't fully disclose her haircolor history," he notes. "You can end up doing a dozen extra services that you didn't initially imagine necessary to achieve a look—and therefore giving away your time and supplies."
Meanwhile, Pressman prefers to charge hourly for corrective color. "Charging hourly ensures not having to skimp on bowls of lightener, bond builders or extra glazes that are necessary to get the job done," she reasons. Both approaches to pricing work; you'll need to determine what makes sense for you and then be completely transparent with clients so there are no surprises.
[Image: Bigstock]