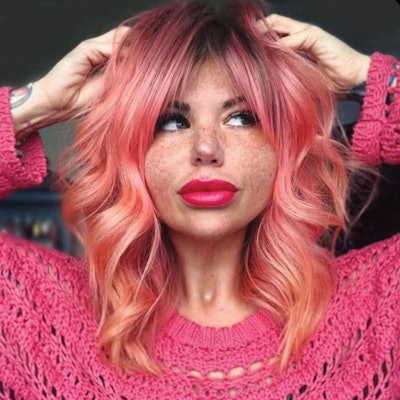 Rebecca Taylor is a force to be reckoned with. She has amassed a huge following on IG (642K); became a social media education forerunner in starting her own Facebook learning page, HEF Academy; and doubles as a creative colorist for Redken, a Sexy Hair ambassador and cofounder of Trillion Tones. We asked her to take over our page and answer your burning questions.
What do you recommend when finding out what colors complement the client? —@lexiloveseva_enzo
I feel like definite rules exist when it comes to colors that complement skin tone, but you can always bend or adjust the rules of complementary tonal values to suit any client or color scenario. For instance, some people think they can never go blonde. There's a shade of blonde that will suit any and every complexion. You just have to do something to anchor it, like add a shadow root that's complementary to the client's skin tone.
RELATED: Today's Hottest Cutting Tools and How to Care For Them
Can you talk about etiquette in regards to receiving free product from a company? Or is there really even any etiquette? You are always so gracious to the companies that gift you with products. —@theconfidentcolorist
You should always say thank-you to companies that take the time to send you a product. Now, you may not be able to say thank-you publicly if you're connected to a brand, but consider sending your feedback via direct message to the company. But just because you're sent a free product it doesn't mean that you—the artist or content creator—are obligated to talk about the product. It should be organic—be honest and transparent.
RELATED: Beauty Professionals Name Their All-Time Favorite Products
What are some of your favorite motivational books? —@bridget.house
Some of my favorite books are Calm the F*ck Down by Sarah Knight, You are a Badass Every Day by Jen Sincero and Girl, Stop Apologizing by Rachel Hollis.
What's your outta-this- world dream? —@silverkittenhair
Continuing to do what I love, being relevant and still very active in this industry, continuing to inspire and be inspired, evolving, and being happy and healthy.
Want your burning question answered? Follow @beautylaunchpad on IG for the next opportunity!
[Image: Instagram]