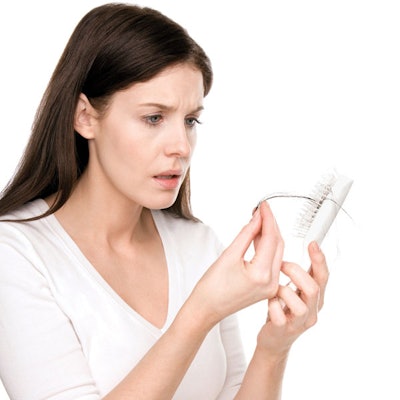 Jim Markham, founder and CEO of ColorProof Color Care Authority, notes that, according to the American Academy of Dermatology, 40 percent of American women will experience thinning hair at some point in their lives. But the causes—and therefore prevention and treatment techniques—can vary greatly. Here, we check in with leading haircare, lash and brow experts to determine how beauty pros can best proceed when faced with clients who crave a dose of added fullness.
Root Causes
Heather Ka'anoi, artistic director for John Paul Mitchell Systems, notes that aging, stress, hormonal imbalance, excessive styling, inadequate nutrition, pregnancy, an unhealthy scalp, heredity, breakage, dramatic weight loss, hypothyroidism, or an iron deficiency can cause hair loss. To identify the range of causes, Syrenthia Quinones, brand education manager for Nioxin, sums them up in six general categories.
Genetics: A family predisposition to thinning hair involves natural, age- related hormonal changes caused by the conversion of testosterone into the toxin dihydrotestosterone (DHT), which can be inherited from a mother or father.
Stress and Trauma: Stress can produce increased levels of testosterone, which converts to DHT, interrupting the hair growth cycle. Stress also constricts the blood supply through the capillaries, restricting oxygen, nutrient uptake and vitamins to the follicle.
Health: Underlying issues may include a malfunction of the hormone- producing thyroid or the natural changes women experience after pregnancy and menopause.
Environmental: Air and water pollutants, chlorine, metals, and minerals left in the hair and on the scalp—as well as pseudo-estrogens and toxins from within our bodies—can contribute to thinning.
Medication: Hair follicles are extremely sensitive to changes in the body—e.g. hormonal therapies like birth control, steroids, specific chemotherapies, and medications for blood pressure, diabetes, heart disease, or acne.
Nutrition and Diet: High consumption of animal fats, rapid weight loss and liquid protein diets can result in a lack of amino acids, biotin, iron, protein, and zinc—all essential for healthy-looking hair.
With these main culprits in mind, experts can break down how each affects the hair. Amir Yazdan M.D., founder of GroMD, explains that hormonal concerns, generally caused by elevated levels of DHT or menopause, create an imbalance of estrogen and progesterone, while conditions like polycystic ovarian syndrome (which can increase testosterone levels) or a thyroid imbalance may be to blame. April Cox, national trainer for Eufora, adds that everyone has testosterone in their bodies, as well as the enzyme 5-alpha reductase—but when testosterone and 5-alpha reductase couple together, that forms DHT, creating havoc on scalps, thinning the hair bulb and, in turn, creating thin hair and lock loss.
Markham remarks that at various times of life, the capability of hair follicle stem cells decreases, inhibiting the ability to regenerate the cells responsible for new growth. Rising levels of DHT cause follicles to shrink and produce thin, atrophied hair (and eventually stop producing new hair altogether). Stem cells, which contain the chemical messengers responsible for hair production, increasingly fail as we age, and the follicle is unable to generate a new, healthy growth phase—resulting in aging scalp tissue, thinning hair and graying. " ere's also poor microcirculation and buildup. A poor blood supply results in sluggish cell turnover, leading to the buildup of sebum and dead skin cells that plug the follicle, preventing hair growth," Markham notes. "Finally, there's the failure of new growth to anchor: As tissue repair mechanisms fail, the new, weakened hair is unable to anchor properly and begins to fall out."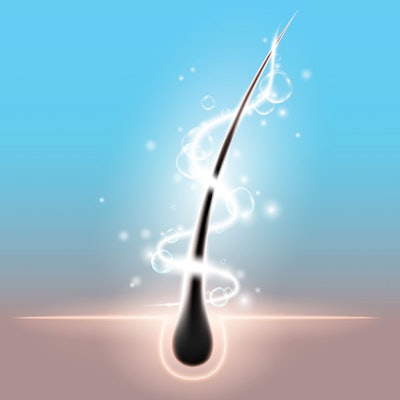 To complicate matters further, Michelle Blaisure, product development director for Bosley Professional Strength, reports that hair loss is often multifactorial; your client could have a myriad of causes at play, including genetics. "About 20 percent of women thin due to an inherited condition known as female pattern hair loss—the same inherited predisposition (androgenetic alopecia) that causes up to 66 percent of men to lose their hair by age 60," Blaisure details. " is genetic predisposition causes the follicle in the crown and hairline to be sensitive to DHT, which, over time, shortens the hair life cycle, producing finer and weaker tresses, and can lead to changes in density. Men can go completely bald, often starting in their late teens or early 20s, while women experience di used thinning and may notice it in their mid-30s and 40s, when perimenopause starts." Additionally, aging causes the hair growth cycles to slow, leading to a higher percentage of hair staying in the resting cycle—which, over time, leads to density and diameter changes: less hair, texture alterations, and weaker, drier, frizzier locks as hair loses its lipid layer.
Stress, a more common agent for hair loss in women, causes an increase in cortisol (the stress hormone), which over time "steals" hormones and nutrients the body needs to function well, leading to imbalance and deficiencies. "Since we don't need hair to live, hair is last in line to get what it needs to grow in a healthy manner," Blaisure explains. "Any type of traumatic event can also disrupt the hair cycle, leading to sudden excessive shedding (typically happening about three months after the event), but this will usually self-correct after a few months." Additional culprits, she adds, can be chemical processes (think relaxers and bleach) if they cause damage to the scalp, leading to inflammation, breakage and hair loss; this can even extend to overuse of dry shampoo.
Health states or conditions also play a role: During pregnancy, hormone levels are high, but after childbirth, hormones return to their normal range—so all of the hair that didn't fall out during pregnancy suddenly sheds at once. " is also starts at about three months and usually self-corrects over time," Blaisure notes. "Alternatively, many autoimmune disorders can cause hair shedding, and women seem to be more prone to these conditions." Dr. Yazdan points to autoimmune conditions—a classification of conditions wherein the body attacks itself, which can include destroying the hair follicles—such as alopecia areata, frontal fibrosing alopecia and many more—as culprits. "Medications such as hormone replacement and birth control pills, steroids and, of course, chemotherapy, may cause hair loss, but differently in different clients," adds Blaisure. Side effects of medications or chemotherapy treatments can generally be reversed if treated early, Dr. Yazdan explains, and notes that trauma, such as traction alopecia, accidents, surgeries, etc., can lead to short-term loss that can pass over time. Furthermore, Blaisure says, studies show that deficiencies in certain nutrients—namely vitamins C, D and B12, and minerals such as iron, zinc and omega-3 fatty acids—may contribute to hair loss. And, as hair is part of the skin structure, when the scalp receives sun damage, this injury can also impair the follicle.
Finally, according to Bridgette Hill, aka "The Scalp therapist," the location of the thinning can assist with determining if the cause is reactional or genetic. "Thinning around the hairline generally indicates a genetic predisposition, while allover thinning with no definitive bald patches typically points to reactional thinning," Hill details. "The hair loss plan and products to treat reactional thinning will be needed temporarily, whereas a genetics-related hair loss plan and products would involve a lifetime change in her overall hair regimen."
Preventive Measures
According to Markham, the best defense against hair loss is preventative care. "An ounce of prevention is worth a pound of cure—you wouldn't wait for your teeth to fall out before you start brushing," he says. "Just like using skincare products early on helps prevent wrinkles, treating your scalp and hair, while you still have it, will help stave o hair loss." His advice: Educate your clients on how to care for their scalp properly to deter future loss.
However, Dr. Yazdan explains that prevention depends on what's causing the hair loss. "For trauma or traction alopecia, remove whatever is causing pulling on the follicles," he advises. In the case of traction alopecia, examine the client's lifestyle for common culprits—think ponytail holders, tight-fitting hats, headbands, clips, hairstyles, and non-water-soluble styling products with petrochemicals (e.g. petroleum-based gels and alcohol-based sprays) that clog the follicle and dry the scalp. "Repetitive points of tension or pressure on points throughout the hair and scalp can lead to broken hair patches and thinning spots," Hill says. "To combat traction alopecia, lubricate and moisturize more than normal if your client wears a ponytail or headband; a layer of moisture gives the hair fibers more elasticity, so they're less prone to breaking. Also advise that she avoids clipping or wrapping the hair with too much tension."
With medications that interfere with hair growth, Dr. Yazdan notes that clients can consult with their doctors on alternatives. "Autoimmune conditions require steroid and anti-inflammatory injections, followed by close supervision from a doctor," he says. "And hormonal causes are treated by lowering levels of DHT or balancing out hormones that aren't within normal range."
If hair loss runs in the family, Blaisure advocates products that support healthy hair growth. "Minoxidil has been shown to be effective, especially for women, but since there is no cure for genetically driven loss, this must be incorporated into daily routines to maintain results," she explains. Her other tips for clients: Periodically use a scalp scrub to help stimulate and remove cellular and product buildup from the scalp and hair. Platelet-Rich Plasma (PRP) injections, administered by a licensed professional, have also shown promise in helping to stimulate growth.
Hill agrees that a multipronged approach is required for thinning hair. "The key to prevention and/or minimizing hair loss: Incorporate scalp care and take action early," she stresses. "Hair loss prevention must address the cell, the surrounding tissue and the blood—working internally and externally." For family history-related hair loss, Hill recommends quality supplements, as well as topical solutions that increase cellular turnover and keep the hair in its growing phase for longer periods of time. But, she adds, one simple change to help combat hair loss is to create scalp care routines by pretreating domes with oils that aid in circulation—for example, orange
and lavender oils, which encourage cellular turnover.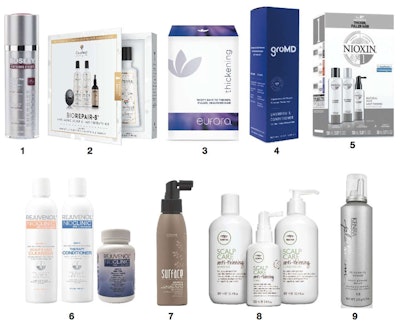 Thin Lines 
Recommend these scalp-nourishing and hair-thickening products for those with stressed tresses.
1. Bosley Professional Strength Follicle Energizer boasts stimulating activators and keratin-strengthening pentapeptides, increasing cellular energy and microcirculation in the scalp to support healthy hair growth in areas of low density. 
2. ColorProof Color Care Authority BioRepair-8 Anti-Aging Scalp & Hair Therapy Kit is designed to prevent and combat thinning hair by working at the bio- cellular level to stimulate, energize, nourish, and restore the scalp. 
3. Eufora Thickening Regimen Kit assures 30 days to thicker, fuller hair with advanced technology—including the exclusive ProAmino Cell Complex, which helps to nourish and protect the scalp, stimulate the follicle, and prevent follicular atrophy. 4. GroMD Hair Loss Shampoo & Conditioner tackles thinning hair with a proprietary blend of DHT blockers, plus anti-inflammatory ingredients to help reverse thinning and revert the follicles to produce healthy hair again. 
5. Nioxin System Kit 1 strengthens, nourishes and bestows thicker-looking hair with Cleanser Shampoo, Scalp Therapy Conditioner and Scalp & Hair Treatment.
6. Rejuvenol Nioclinic Care is a synergistic regimen of products for fine and thinning hair, combining gentle cleansing with scalp treatment and therapy products to improve the scalp's environment and sustain visually younger and thicker hair. [Not all products shown]
7. Surface Awaken Scalp Elixir features sandalwood extract to stimulate the scalp, speeding the delivery of D-biotin, vital nutrients and essential microminerals to the cellular generation area of hair.
8. Tea Tree Scalp Care Anti-Thinning Regimen—including Shampoo, Conditioner and Tonic—is a preventative system that contains proprietary Regeniplex Botanical Blend to promote healthy hair and scalp. 
9. Kenra Professional Platinum Thickening Mousse increases the density of the hair shaft by up to 150% in addition to providing humidity defense.
Extension Learning 
Though Cox admits that hair loss or thinning-hair clients often request extensions or wigs, too-tight "solutions" can cause traction to the already stressed hairline, while extensions may potentially pull on the follicle, causing even more loss and possible damage. "I try to evaluate for each guest the pros and cons, and have a conversation about which weft system is best for her particular hair type and need," Cox says. "For instance, with a guest who suffers from trichotillomania (pulling out her own hair), more long- term extension solutions and wigs provide a great option."
Monique Hale, owner of Extension Bar LA, believes that with proper consultation and stylist education, extensions can be suitable for about 90 percent of clients. "But ask the right questions," she warns. "Why do they want them? Why is their hair thinning—are they on any medication; have they had any surgery and been under any anesthesia; or is it alopecia? If they're the right candidate, extensions change lives!" In cases of clients with traction alopecia, Hale recommends a hair vitamin—and does not apply extensions unless cleared by the client's doctor. "But I have seen extensions over the course of six months make hair stronger, longer and healthier with proper installation and educating clients on how to take care of them at home," Hale adds.
Hill agrees that integrating extensions and wigs into a long-term haircare plan can be done in a healthy way, and properly applied extensions can be an excellent tool for transitioning into a healthier haircare regimen. "All hair types benefit from investing in a quality pair of clip-in extensions to add temporary fullness and length," Hill concludes. "But finer-hair clients should minimize any technique that puts tension on the individual strands of hair (such as beading)."
Quinones believes that extensions and wigs are ideal for temporary enhancement—if the client is willing to invest in maintenance to keep their scalp and natural hair healthy. "With a variety of extensions on the market (clip-in, bonded, tape-in, sew-in wefts, etc.), each has a specific maintenance regimen to ensure longevity, integrity and best results," Quinones details. "Adhering to these regimens is imperative. Wigs, with both synthetic and natural hair options, typically cover the entire head, creating a barrier over the scalp and the natural hair." She recommends giving the scalp a chance to "breathe" by removing the wig, cleansing and moisturizing the scalp and natural hair with conditioner—all essential to maintain a healthy environment for hair and scalp. And, to help combat traction alopecia, advise clients to take breaks between braiding services, and ensure styles aren't too tight (especially around the hairline area, where locks are more fragile).
Vicki Casciola, educator for Hairtalk, notes that the client's hair length and lifestyle are two of the most important considerations for successful extensions results. "If your client is experiencing more extensive hair thinning/loss and the scalp is exposed, look for options with maximum coverage and a comfortable, safe and semipermanent solution," Casciola advises. "The weight of the enhancement should be evenly distributed around the head to relieve any tension stress in certain areas." Meanwhile, stylists can help clients prevent traction alopecia by showing them proper styling and haircare, and how to avoid repetitive stress to the hair in any particular direction or area. "Educating your clients not only preserves the health of their hair and scalp, but protects your work and keeps them coming back to you!" Casciola says. Kristen Colon, educator for Hotheads, believes that everyone is a good candidate for tape-in extensions, so long as they're not currently experiencing hair loss for nongenetic reasons (such as medications or chemotherapy). For her clients, Colon takes before-and-after pictures, as well as a photo at each touch-up appointment before reapplication so clients can see the continued growth, strength and protection of the natural hair's integrity. "It also ensures that there isn't any damage happening," Colon adds. "I use single-sided tape with the use of a single extension piece around hairline areas so there isn't too much weight in those finer spots. It's all about customizing based on clients' natural existing hair."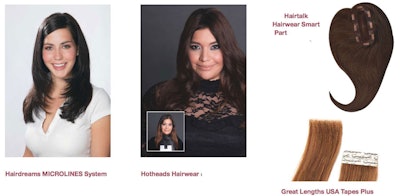 Hairdreams MICROLINES System easily adds volume for fine and thinning strands—even for clients with serious hair loss and bald spots—via high-grade, hand- selected 100-percent real human hair, plus a gentle, nondamaging integration process.
Hotheads Hairwear offers top-of-the- head hair enhancement without shaving or bonding, secured between two tape tabs that provide nondamaging attachment sites that seamlessly secure the piece to the client's head.
Hairtalk Hairwear Smart Part provides a semipermanent hair enhancement solution for clients with severe hair loss in a customizable, easy-to-apply, tape- in format.
Great Lengths USA Tapes Plus offer the appearance of natural hair growth at the top of the adhesive—ideal for parted areas or for clients with very fine hair.
Lash and Brow Losses
What happens when hair loss or thinning affects the lashes and/or brows? Lynn La Palermo, owner of Occhi' Lash & Brow Studio and Occhi' Lash Institute, explains that lash and brow thinning can di er from hair thinning, but similarities exist. For example, lash/ brow loss can also be caused by traction alopecia—for example, longtime wearing of strip lashes or waterproof mascara, or tweezing brows thinly for so long that a fuller brow is no longer possible. "We try to determine the source: clients' own self-abuse, medications, illness, drastic weight loss, etc.," Palermo explains. "For illness, if they're in the recovery cycle, we recommend a supplement (a biotin complex) combined with a topical growth and conditioning serum to help regrow brows or lashes."
However, brow loss from ongoing medications may not respond to these solutions, leading clients to permanent makeup options like microblading or powdered brows. For combating lash loss, Palermo opts for a soft Volume lash extensions set—but only if it won't damage the integrity of clients' own lashes. "Never compromise the integrity of the lashes by going too long or too thick," Palermo stresses. " e application technique remains the same, but you might use thinner lash extensions and less adhesive, focusing more on maintaining the health of natural lashes." Palermo's advice: Look for natural lashes in a growth stage as well as lashes that can hold a minimum of two .05- or .03-millimeter lashes, and evaluate the overall health of the eyelid—e.g. no existing inflammation or irritation. "The technician needs to be the professional and take the upper hand," Palermo concludes. "The lash extensions clients want might not be best for them, especially for weak or thinning natural lashes. If the extensions are too heavy and fall off, clients will notice gaps and broken lashes, and they end up blaming the technician. Or, when using more adhesive to get heavier lashes to hold, the clients return and say they hurt." In other words, direct the client; take into consideration what she wants, but know what the client's lashes can handle. Educate the client and use encouragement—for example, say, "As your lashes get healthier, we can do more, but we need your lashes in a more stable place to give you fuller or longer looks."
Dr. Yazdan agrees that traction alopecia affects brows via repeated plucking, but can also be related to medication side effects. Blaisure adds that eyebrow and eyelash thinning can also occur with specific conditions like alopecia areata and thyroid disorder. "As we age, brows and lashes can become sparse, just like the hair on our head does," she notes. "But products on the market are designed to support growth of lashes and brows."
[Images: Courtesy of manufacturers; Getty Images]