Any stylist with a smartphone and a head of hair can snap a photo and launch an Instagram account. Posting is that simple—but branding is an altogether different beast. Those online gurus we call influencers are successful precisely for one reason: they cracked the branding formula. Success often followed bouts of failure, yet no online authority with established credibility grew their subscriber count or client base by accident. Because few industries rely on social media more than beauty, we tapped top influencers for their tried- and-true tips on how to create a winning personal brand, and stay on message while promoting it.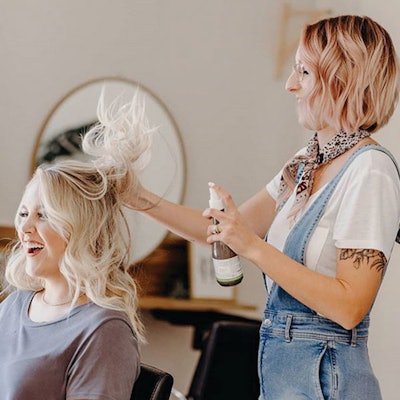 What is Brand?
"Many people mistakenly think a brand is a logo, or a name written in cool font or vibrant colors compiled together, but those are just elements that comprise a larger picture," says Jamie Dana, educator and owner of Pin and Plait Studio in Lake Forest, California. "The way you speak, the types of images you post, how you show up on videos or connect with your audience—these are the core facets of a successful brand."
On a deeper level, branding means determining who you are as a hairdresser or artist, and then compressing those disparate components into a single unified presence that can stand out in the sea of social media. "From styling to color to signature looks, consistency is key," says Larisa Love, Joico brand ambassador and owner of Larisa Love Salon in Studio City, California.
RELATED: Social Media Expert Nina L. Kovner on Increasing Instagram Followers
A social media brand is a powerful connection tool. "Platforms can simultaneously reach existing consumers, ideal prospective clientele and members of your working teams," says Jamie Sea, educator and owner of SALT salon in Cheshire, Connecticut. "If your brand has a strong heartbeat, it will energetically attract the right people."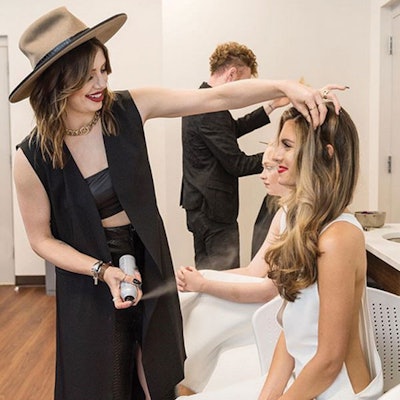 Why You Should Care
Here's the truth: We're oversaturated with online influencers. e world doesn't need just another beauty blogger, which is why it's more essential than ever to identify and highlight those qualities that make you a braid bu or master of #unicornhairdontcare. "In other words, when you're speaking to everyone, you speak to no one," Sea explains. ink quality over volume. "The niche you occupy in real life is the same one you want to share online," agrees Elizabeth Faye, educator and owner of Elizabeth Faye Salon in Saint George, Utah. "You don't have to be good at everything, just one or two things." Marketing strategies, which may loom as overwhelming tasks, suddenly feel simple when the pivot point becomes a pro's proven skill set. From tutorials to tags to testimonials, all elements of a personal brand should circle back to the distinguishing factor that makes each stylist unique. "I screwed it up a lot," laughs Faye. "I had to self- reflect, then rebrand many times, because I'd get inspired by other people's pages or designs rather than focusing on what fills me with joy."
RELATED: Instagram Tips on How You Can Attract a Brand's Attention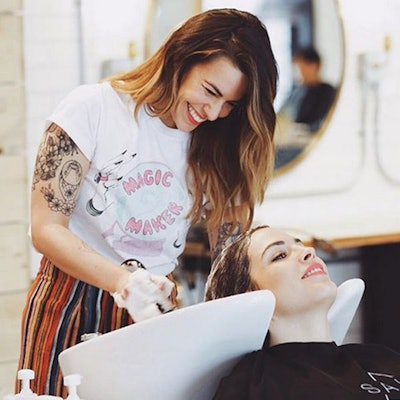 Find Your Audience
Dana started by inventing her dream client. She considered a wide variety of qualities, such as her consumer's physical attributes, preferred hobbies and pastimes, and top life and beauty challenges. en the pro dove into deeper detail: Where does she shop? What's her favorite cocktail? "I created this person I speak with and listen to, and even gave her a name, which is 'Brynn,'" says Dana. Every action she now takes on social media—photos, captions, Stories—is in consideration of how Brynn, the myopic representation of Dana's vast audience, will respond. at's enabled her, the stylist, to form deeper, more meaningful connections within the abstract blogosphere. Here's the ironic side note: A real woman named Brynn, who looked identical to the conjured avatar, did start following Dana shortly after the completion of that exercise.
"I used to wonder if I manifested her," laughs the pro.
RELATED: Instagram Tips for Creating Content to Attract Clients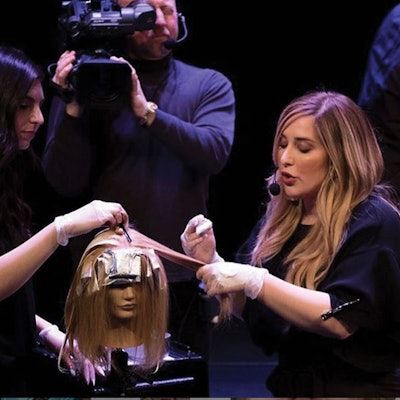 Get Personal 
A cool logo alone can't make a brand because viewing it evokes little emotion. At the end of the day, people use social media because they want to feel something— connected, validated and elevated. "My page initially started with transformative hair photos," says Sea. "But as time went on, I realized I needed to disclose more of myself and what I believe in order to convey the happiness I feel when creating magic behind the chair." A random professional posting before-and-after imagery is less accessible than a real stylist with a story. "It can feel uncomfortable or even narcissistic to stand in front of a camera, but your audience can't bond with you unless they get to know you," says Dana. Get past any initial "ick factor"—you're not being braggadocious!— and flip the lens to show up on Instagram Stories or Facebook Live. At minimum, each profile must include a headshot, and one out of every 10 posts should include a more personalized snapshot that exposes some aspect of the stylist's life, from work reveals to glimpses of time spent servicing other parts of the community. Whether serious or o beat, here's the chance to take a chance. "The point is to reveal the stylist behind the curtain, because 'the Great and Powerful Oz' is not an engaging figure," Dana explains.
Teach It Forward
Only post great content—that goes without saying. "If the background is busy, blurry or messy, scrap that shot," says Love. "Edit for clean, visually compelling work." Then, think beyond still images. Strong brands educate their followers via short tutorials, how-to instruction videos or inviting product demos. Overstimulated millennials and Gen Z viewers won't stick around for long-form content, so keep the lessons bite-size. "Education content always hits well," says Love. Apart from informing existing clients, quick video guidance on how to blow-dry bangs or correctly use dry shampoo can help attract potential new ones. "A stylist giving away valuable free information will appeal to customers who are eager to discover what more they might learn when actually sitting in that chair," says Dana.
This year, the pendulum swung back to earlier days of Instagram, when photos and videos were less perfectly curated. That means you can look undone online. "I turn up without makeup or filters, because I'm a real human and I know my audience likes to know that," Dana continues. Instagram Live, on the other hand, has become more useful thanks to a modern revamp that now lets participants save and repurpose videos to IGTV. (Videos previously expired after 24 hours.) "Posting videos allows viewers to stay on your page longer, meaning the algorithm changes and your content gets shown more on their feeds," says Love. YouTube is a powerful channel for sharing tips and techniques, though it may require a larger time investment than Instagram, Snapchat or Facebook. Says Dana, "I have a video editor and help behind the scenes because of the extra effort needed to craft content."
Practice Tactical Tagging
Hashtags are essential tools for helping users easily discover messaging and content, which is precisely what makes them so ubiquitous. "Use hashtags," urges Love. "More importantly, generate a memorable personal hashtag that's on-brand for your business, so that with a single click anyone can access all your images and work." Not all hashtags are created equal, so get imaginative with lettering. Think #wakeupandmakeup or #curlsforthegirls, as opposed to their less-catchy counterparts. Companies like Sprout Social provide media- management software plus analytics tools to help brands identify hashtags and platforms that can trigger greatest growth.
Revise Your Definition
"Don't think of your followers as customers," suggests Faye. "Rather, tweak that characterization so that clients become members of your community." Each stylist is uniquely positioned as an expert in her tribe. When brands evolve through the natural process of expansion, a stylist might lose customers—but community members remain loyal. "I've grown from working behind the chair to being an independent instructor to owning a salon to heading an education company, yet through those many shifting phases I've continued serving the same people," says Faye. "Your community will want to help you and tell others about you."
What Not to Do
You're well on your way to creating a personal brand, but with all exercises in brand-building, there are pitfalls that might not be easy to spot. Our pros share their branding no-nos to avoid.
"Don't only post hair," says Sea. "My COPE Method workshops relay the importance of evoking emotion, not just putting up good work."
"Don't think you need a large investment to launch a brand," says Faye. "Consider trading services with other artists." Think: images shot by a photographer in exchange for a free makeover. This win-win is collaborative and helps build community.
"Don't copy other artists," says Love. "Be original and authentic."
"Don't highlight professional work that goes off-brand," says Dana. "If you don't like doing unicorn hair, don't post it—even if you think your vivid color will get a lot of likes." Attract the audience you hope to serve.
[Images: Courtesy of artists]