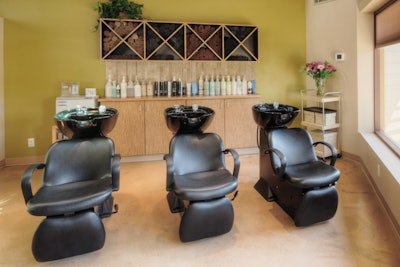 You've penned a business plan, waded through finances and— finally!—it's time to shop for the perfect salon space. "Renting space will be one of your biggest operating expenses," says Jonathan Wasserstrum, CEO of SquareFoot, a New York- based commercial real estate company. Therefore, go into the process with a clear sense of what you can afford.
Budget
Here's a good rule of thumb: Allocate 3 to 10 percent of salon gross monthly sales to lease payments. "But remember that retail tenants typically pay two rents," says Dale Willerton, The Lease Coach and author of Negotiating Commercial Leases & Renewals for Dummies. The first is base rent per square foot. The second goes to operating costs, like snow removal, pothole repair or other maintenance. The bigger your space, the more operating costs you'll pay. "Space comes with additional expenses that get factored into a lease," adds Wasserstrum. These include building class (from high-end Class A suites to Class C spaces in need of renovation), amenities (sprawling lobby, doorman, multiple stairwells) and, of course, neighborhood.
RELATED: How to Create a Financial Plan for Opening a Salon
Location
So which neighborhood to choose? Set up shop in an easy-to-reach spot, and consider who you aim to serve. "If you want high-end customers, look at swanky shopping centers," Willerton explains. "Visibility and signage are critical." Next, examine transportation. "the method that's ideal for clients will depend on your specific market," says Wasserstrum. Targeting young urban professionals? Think locales with public transport that are pedestrian and bike-friendly. Aiming to serve families or older guests? Suburban town centers with sprawling parking might be more your speed. If car lots are offered, make them ample. "Customers often complain about lack of parking by just never coming back," says Willerton.
Research area demographics to ensure you won't lack clientele. "I look at population density and income levels," says Van Council, owner of Van Michael Concept Salons in Atlanta. "You want a minimum of 8,000 people per one-mile radius, then 80,000 residents per three-mile radius, and onward." Stay on top of local business development: Hubs should feel buzz-worthy, but too much direct competition is disadvantageous. "Ultimately, your salon should fill a relatively unique local need," says Wasserstrum.
RELATED: How to Write a Business Plan for Opening a Salon
Design
"Additional costs include construction (called buildout), decorating expenditures (furniture, artwork, interior design as needed) and moving fees," Wasserstrum continues. Willerton warns that design and buildout can be pricey—another reason it's critical to project total costs prior to shopping for a space. "Base your floor plan on the number of stations needed to maximize profit in the given square footage," Council informs. "In terms of chairs, think one chair per 100 square feet." Natural lighting is a double-edged sword: great for aesthetics and colorists, problematic when it affects salon temps and client comfort. Says Council, "Invest in good window shades!"
[Images: Getty Images]
This story first appeared in the July issue of Beauty Launchpad magazine. To receive the magazine, click here to subscribe.