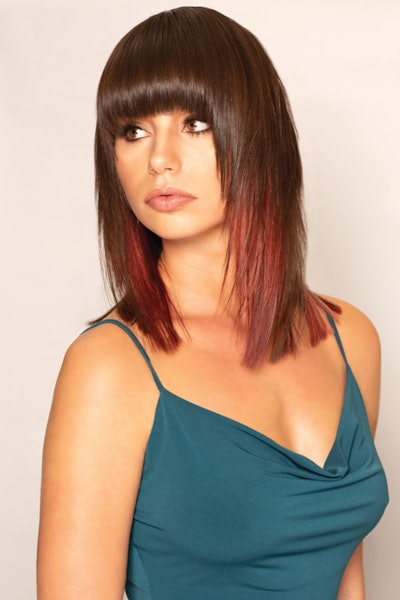 ColorDesign's latest look goes to the birds.
The peacock's colorful plumes were the driving force behind this fresh creation from ColorDesign artists Anthony DeFalco and Adel Shaw. A rich brunette hue transforms into red at the tips—an eye-catching display that's meant to command the attention of onlookers in much the same way as the peacock captivates its flock. Here, the duo shares how to achieve the striking design.
RELATED: Top Colorists Reveal Their Favorite Trends for Music Festival Season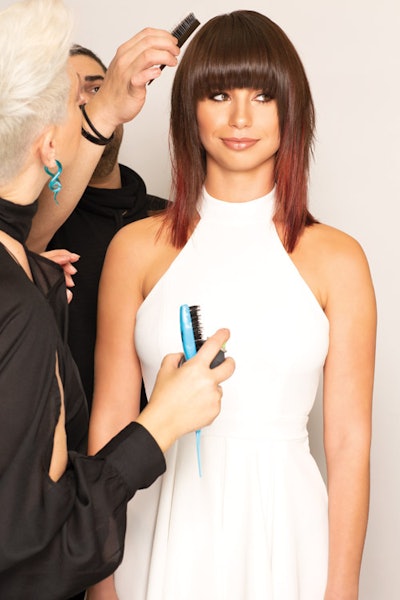 Get the Look
Formulas
RELATED: Celebrity Colorists Share their Most In-Demand Formulas
A 30g. Permanent 6.66 + 30g. 10-vol. Developer
B 10g. Permanent 7.62 + 10g. 1SV + 10g. Clear + 1g. 1SG + 31g. 10-vol. Developer
*Model had virgin Level 5 hair.
1) Section hair into three triangles, one on each front quadrant and one offset triangle in the center back. Lighten with 30g. SHINY BLOND + 45g. 20- vol. Developer (1:1.5).
Combine a second mixture of Permanent 30g. 7.32 + 45g. 20- vol. Developer (1:1.5). Apply to the remaining hair and process for 45 minutes.
Rinse with Reconstruction Shampoo, and then dry hair.
In each of the previously lightened triangles, take 1⁄2" diagonal back subsections and apply alternating applications of Formulas A and B.
Rinse each section separately to avoid color transfer.
Apply Reconstruction Mask, rinse, and then style.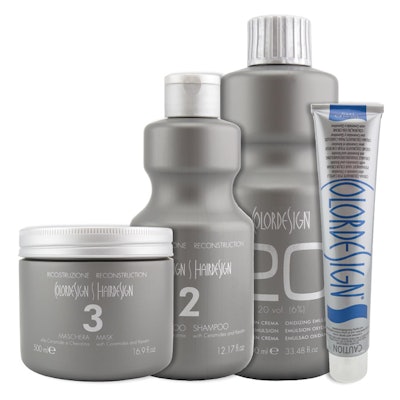 Key Products
From left: ColorDesign Reconstruction Mask, Reconstruction Shampoo, 20-vol. Developer, and Permanent Color Tube.
This story first appeared in the June issue of Beauty Launchpad magazine. To receive the magazine, click here to subscribe.
[Images: Courtesy of ColorDesign; Hair: Adel Shaw and Anthony DelFalco; Photographer: Victor Moreles; Makeup: Antonio Hernandez]