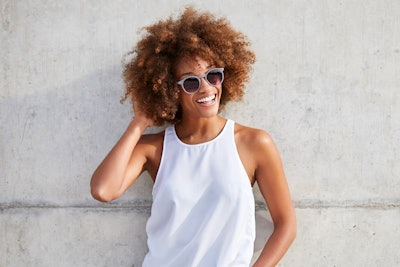 Curly hair is hard to cut.
That's a lesson every stylist learns— typically through trial and error. Though coil-cutting classes can be sought out, less frequently explored are the ways to care for textured tresses—which can be a drawback for both the hairdresser and client. Succeeding as a professional in today's multicultural society means being prepped for any hair eventuality. Yet common misconceptions about curls endure, including that stylists need to cut them dry (not true!). Or that product selections remain limited (once true, but no longer!). Or that each curl pattern was created equal, when in fact they range in unique shape from wavy to coiled to kinky. "It's rare for a person to have the same uniform texture all over his or her head," says Vernon François, celebrity stylist and founder of the eponymous product line.
The good news? Such fallacies are easy to overcome. "All you need to care for curly hair are two hands and an open mind," says Leysa Carrillo, colorist and stylist at Atelier by Square Salon in Las Vegas. Ongoing education can expand knowledge bases to significantly boost business bottom lines. "In today's world of YouTube tutorials, Facebook instructional videos and Instagram Stories, it's possible to instantly convey proper care tips and techniques," says Takisha Sturdivant-Drew, celebrity stylist and owner of Takisha Studio in Brooklyn, New York. Practice makes perfect, so it's worth getting kinky-mopped models who are game for hair experimentation.
RELATED: Prep Clients for Summer with These Go-to Hair and Skin Products
Never having to turn away a curly guest means pros use more products while increasing incomes. Lisa Vann, Eufora International national trainer and owner of Seattle- based Vann Studio, points out that offering services aligned with textured hair—including relaxers, smoothers, perms, re-texturizers, sets, braid twists, and moisture treatments—opens a new range of potentially unexplored menu options on which no stylist should be missing out.
High Bar
Proper haircare starts at the back bar with a thorough analysis. "It's important to address each guest's specific needs, considering hair texture, density, porosity, and elasticity, as well as scalp condition and desired results, and then tailor treatment based on that conversation," says Vann.
It's true that curls tend to be dry due to sebum's inability to flow easily from root to tip along a strand's natural bends and turns, but that doesn't mean shampoo should be avoided. "I almost always shampoo and condition with highly moisturizing products that include essential oils to help balance scalps," Vann continues. The pros agree that nine times out of 10, co- washing won't cut it. "Clients often carry heavy buildup from the oils and serums used at home, so a detox is required prior to the start of the service," Carrillo explains. Sturdivant-Drew remembers one naturally textured guest who so feared the cleansing agent's desiccating power that she only conditioned her own strands. That weighed them down, muting each curl's natural bounce. "I stopped counting after the tenth time I shampooed her hair and was still removing product," says Sturdivant-Drew.
A curl-compliant back bar should come stocked with a few staple ingredients formulated specifically for textured tresses, including moisture-rich shampoo and a cleansing conditioner to help clean curls without eliminating natural nutrients, a leave-in conditioner, a moisturizing mask, and a protein treatment.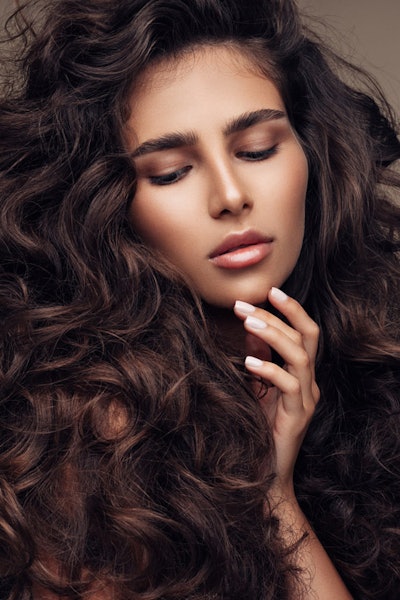 Maintenance 101
To cleanse or not to cleanse: Yay, not nay, votes Carrillo. "Curly hair has a naturally raised cuticle, which means it less easily maintains moisture," she says.
RELATED: How to Keep Curly Hair from Spiraling Out of Control
Sulfate-free, the way to be: When shampooing, sulfate-free options are a strict necessity. "It's easy to tell if products contain sulfates because they create big, foaming reactions," says François. " ey also deplete inherent oils, thereby dulling and drying hair, which is definitely not what a curly party needs." Look instead for 'poos with moisturizing ingredients like oils of argan, avocado, baobab, and jojoba. Other desiccants to avoid include alcohol and petrochemicals. "Stay away from heavy oils and silicones when styling curly hair, as they also create buildup on the cuticle that prohibits proper moisture penetration," notes Carrillo.
Conditioner Considerations: Curly hair's propensity to dryness makes conditioning a must to help boost moisture, strength and shine. "But know that less is more," says François. "Regularly saturating hair in thick conditioner can lead to buildup if not rinsed properly, which stops good nutrients from penetrating on future applications." How to pick between various formulas? "I first examine the density of strands, which can range from fine to medium to coarse, then consider their porosity," Carrillo reveals. "For hair that's highly porous, I leave in 30 to 50 percent of a rinse-out conditioner or mask." Leave-in conditioners and detanglers work for all types, but tweak the amount used: less for fine, more for thicker tresses. Spray-on rinse-out conditioners make it easy to achieve even application, and their typically light formulas help combat buildup.
Pillow talk: "Cotton pillowcases wick moisture away from strands and cause hair to tangle," François informs. "Whenever possible, urge guests to opt for a silk pillowcase
that minimizes friction, or to wrap hair in a silk scarf or cap to maintain moisture and prevent overnight breakage." is straightforward path to soft strands is cumulative and especially important for braided ladies and gents: e more it's done, the more you'll notice a difference.
Braid basics: Braids should never pull on natural hair—that's the take-home rule for every client. Strands grow at different rates so redo times will vary, but eight weeks is the longest any hairpiece or braid should be worn—and sometimes the max equals one month. "If hair is hanging from the root or if natural tresses turn into a fuzzy mess, it's time to get braids taken out and redone," says Sturdivant-Drew. Advise clients to prep hair with a conditioning treatment and wait at least three weeks before the next round, or else run the risk of creating unnecessary tension that may lead to breakage.
Final words: "Hydrate from the inside," urges François. "H2O is the way to go–that's a tip I love to give my guests, because drinking plenty of water is great way to keep hair hydrated and healthy."
Product Know-How
To enhance natural texture, pros often turn to naturally derived ingredients. "Fresh aloe vera promotes healthy hair growth while soothing scalps," shares François. "It also serves as a wonderful pre-shampoo treatment." Looking for more traditional products? "A good moisturizing mask plus leave-in conditioner are my go-tos for maintaining maximum curly hair hydration," Carrillo shares. Opt also for multipurpose stylers that protect from heat while saturating.
When it comes to maintenance and hold, Vann likes to have guests indulge in a ritual conditioning treatment. "Because textured hair grows slower, curly girls don't need to cut as often—but they should condition more to keep hair healthy," she explains. The ideal curly cut depends on face shape and lifestyle, which is yet another reason thorough consultations are key.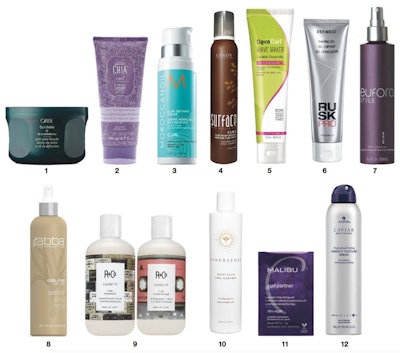 The Wonderful World of Whirl Products
Panicked you don't have the proper curl products to satisfy textured hair? Fear not! Unlike a coil that shrinks, product options have expanded; here are a few to stock.
1) Macadamia and apricot oils are among the ingredients that make up Oribe Curl Gelée, a moisturizing jelly that tames and loosens coils to keep them manageable. 
2) Trissola Chia Curl Cream works best on wet locks to fashion defined curls courtesy of frizz-fighting chia seed oil. 
3) Moroccanoil Curl Defining Cream ensures curl memory as it halts frizz via argan oil. 
4) Cocoa butter is the hero ingredient in Surface Curl Whip Mousse, responsible for enhancing the elasticity of gorgeous coils. 
5) Made with moringa seed oil and passionflower extract, DevaCurl Wave Maker pledges consistent curls and frizz control with every use. 
6) Firm yet flexible, Rusk Define02 re- energizes waves while keeping fuzz where it belongs: gone. 
7) Eufora Style Retain delivers the promise implied in its name: Curls are kept sleek and shiny from morning to night. 
8) From conditioning without buildup to infusing volume to repairing damage, ABBA Curl-Prep Hair Spray is a multipurpose texture tool. 
9) R+Co CASSETTE Curl Shampoo and Conditioner gently cleanse and moisturize for softer, smoother spirals. 
10) Certified organic shea butter moisturizes in Innersense Organic Beauty Quiet Calm Curl Control, along with nourishing rice bran oil and oat kernel extract. 
11) Malibu C Curl Partner mini detox removes hard water and environmental toxins that wreak havoc on follicles and scalps, bringing bounce back to lank spirals. 
12) Alterna Caviar Anti-Aging Perfect Texture Spray boasts bodifying polymers that create scaffolding between strands to add fullness and dimension. 
This story first appeared in the June issue of Beauty Launchpad magazine. To receive the magazine, click here to subscribe.
[Images: Courtesy of Armando Sanchez; Getty Images]