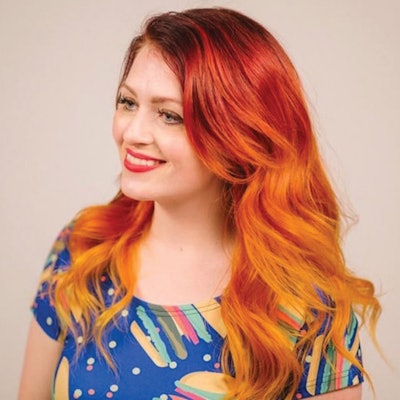 Ursula Goff channels her love of art and color in her rainbow 'dos and hand-painted recreations of famous artists like Vincent Van Gogh and Bansky, while also sharing tips and tricks across her social platforms and as part of the Goonies Education Team. Here, she answers your queries about maintaining clients' colorful hues, favorite products and advice for crafting designs on hair.
What's the best level to lift hair to for an intense dark blue? (Think: the "blue black" trend.) —@bridget.house
I prefer to lift hair to a Level 6 or 7 and let those underlying tones help me do some of the work. Layer a semi or demi deep blue on top, like Matrix SoColor Cult in Admiral Navy or the Cobalt Blue in the brand's ColorSync Vinyls collection. The underlying warmth will make the blue darker and give a more navy tone without the brightness.
Any tips on how to paint intricate designs directly on hair or a weft? —@erin.mane.maven
Keep hair as it naturally lies (don't elevate it). Use good brushes and adjust the consistency of your color to make it less sticky if needed. Use Framar or EmBee Meche alternative foils because they won't slip.
RELATED: Olivia Smalley on Working with Brands, Creating Content and Staying Humble
What's your favorite vivid color line? —@_microse_
For across-the-board consistency and coverage, I prefer Matrix's SoColor Cult line.
What do you recommend for at-home maintenance to your vivid-hair clients? —@celina_collier
I tell them to wash their hair with cold water, only shampoo one to three times a week, cut back on heat styling, and minimize UV-ray exposure and swimming.
What's your favorite vivid color remover? —@adina_pignatare
I almost never use removers. I work with the tones already present in the hair; however, if I must remove color, I have a few tricks that work about as well as any remover. Choose one of the following combinations: clear and 20-vol.; lightener and water; and high-lift blonde.
This story first appeared in the June issue of Beauty Launchpad magazine. To receive the magazine, click here to subscribe.
[Images: Courtesy of Ursula Goff via Matrix]