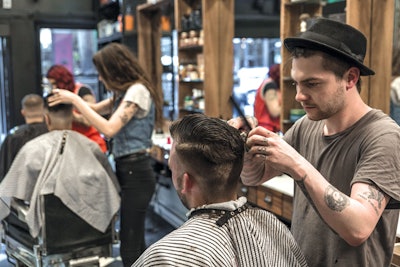 The lightening speed at which barbering has undergone its recent revamp means education couldn't always quite keep pace—but things are changing. Enter Pivot Point's newly launched Fundamentals: Barbering online undergraduate curriculum, specifically tailored for today's generation of men's groomers. To conceive it, top Pivot Point members first spent time researching the barbering industry, consulting tonsorial experts throughout the U.S., U.K. and Canada, and learning about the craft's rich history. "It was important to respect the many cultural aspects that make barbering a dynamic field," shares Sabine Held-Perez, senior director of education innovation. Yet Pivot Point likewise wanted its revamped education to keep pace with today's trends—especially the ever-evolving whims of consumers. "Current clients expect to feel pampered during services, and to be able to recreate the same looks at home," explains Held-Perez. Further, the course requires a systematic approach to teaching, wherein students master the technical base needed to consistently achieve predicted results by design, rather than by chance.
RELATED: Esquire Men's Grooming Barber Trevelle Baker's Modern Classic
Such intentionality is part of what it means to be a 21st-century learner. "Students prefer to actively discover information, rather than have it told to them," Held- Perez reveals. "They enjoy collaborating with peers for recognition, and expect to do it all via digital devices."
Pivot Point's program reflects these paradigm shifts, consisting of online activities, discussion groups and mini quizzes that provide instant feedback while making training social. Text is concise, written in language that sounds like conversation between colleagues as opposed to one-way lectures. "Every learner graduates with the foundational knowledge, design skills and consultation experience necessary for long-term barbering success," enthuses Held-Perez.
The Basics:13 Areas of Course Study
• Life Skills
• Science
• Business
• Client-Centered Design
• Foundational Cuts
• Tapered Cuts and Fades
• Style
• Shaving and Beard
Design
• Hair Replacement
• Color
• Perm and Relax
• Skin
• Nails
RELATED: Whitney VerMeer's Hot Look for Cool Weather
Meet the Masters
Five top experts played a hand in developing Fundamentals: Barbering.
Sofie Pok: Advised on transitioning from cosmetology to barbering, plus how to work with hair that's longer on top— an area in which many barbers feel challenged.
Chris Foster: Brought traditional British tress perspectives, plus classic design and grooming styles.
Anthony Giannotti: Lent entrepreneurial knowledge gleaned from running his two barbershops, along with stellar flat-top skills.
Martin Truong: Shared business insight as it relates to planning for profitability.
Roderick Samuels: Ensured lessons were applicable to undergrads.
This story first appeared in the March issue of Beauty Launchpad magazine. To receive the magazine, click here to subscribe.
[Images: Courtesy of Pivot Point]